Interboro: Negative Space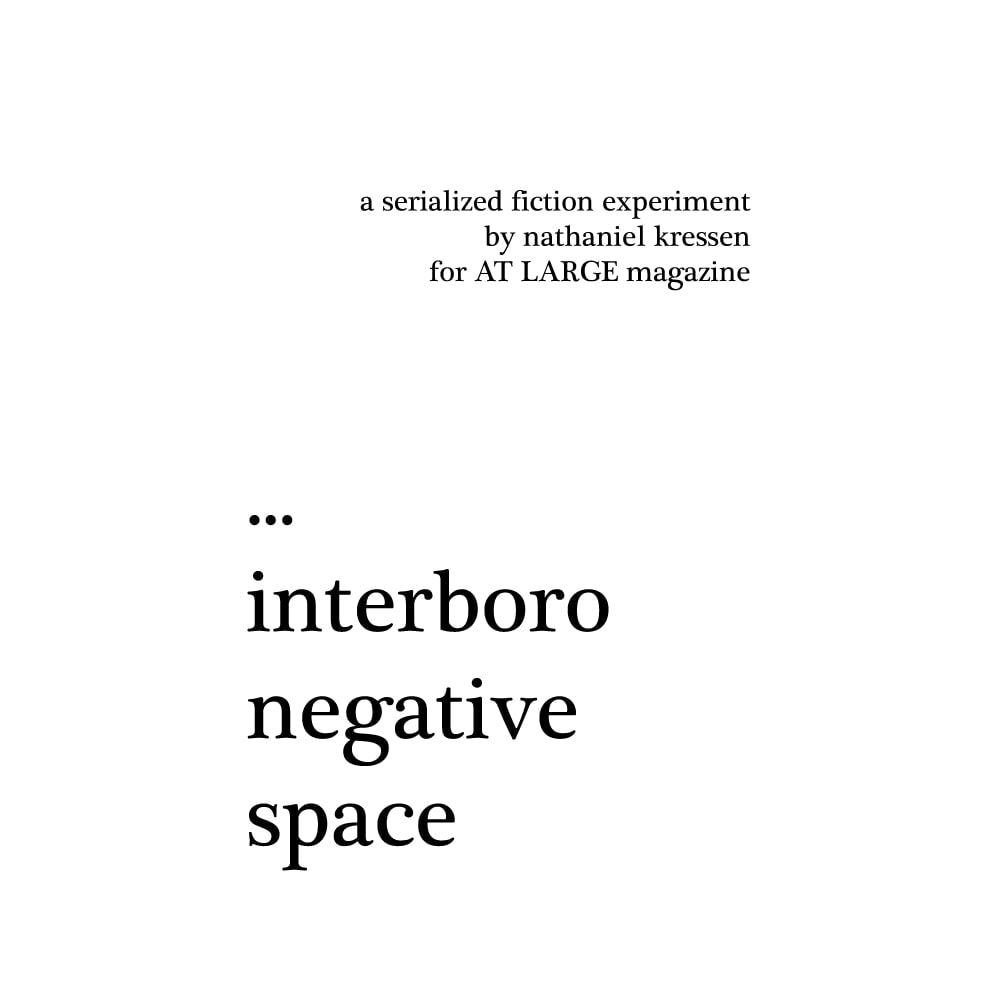 The work day starts with stalking my wife on social media. Online, we are still together. A framed picture of our wedding sits atop my desk, monochrome and timeless.
A junior staffer enters my office, the one with the pompadour. "Hey, boss. Have a minute?"
Pompadour has a name that smells of old money. He has a multitude of pocket squares and tends to hold eye contact a beat too long. His shoes clack on the floor.
He takes a chair and says, "I wanted to let you know that I'm really enjoying my position here. I think you're a effective manager."
I sit back.
"This is the kind of company where I can see myself staying for a while, really growing into a position where I'm part of the important work being done."
So it's this conversation. "You've been with us two months?"
"It'll be four next week."
"So, three."
His smile could sell watches.
"Well," I begin, "the company encourages mobility. I imagine you've checked the HR portal for openings?"
"I want to grow here," he says. "On your team."
"It's a small department."
"I appreciate that. And I value the opportunities you've afforded me thus far. I just want to let you know that I'm eager and ready to take on more responsibility."
"I'll keep that in mind," I say, hoping he'll leave.
Instead, he asks, "Do you get to work with the top brass at all? Conor Fidelity's a friend of my father's."
Crap.
"He's a character, right? My mom stopped letting him come by the house."
As a test, I don't acknowledge this. I simply stare back at him, daring him to break first. The effort fails. "I have some work I should get back to."
"Of course," he says, rising. I fix my eyes on the monitor, he lifts the picture off my desk. "You have a very attractive wife."
"We're separated," I say, without thinking.
I blink and he's back in the chair. "I'm very sorry to hear that."
"It's. It's not permanent. I don't want it getting around."
"My lips are sealed."
I retrieve the picture. God, we look young.
"Say, a few of us are headed to this distillery tonight," he says. "Just opened out in Brooklyn. You should join."
"Brooklyn's not my thing."
"Listen," he says, leaning forward, "I could tell something was going on when I came in here. You work hard. You deserve a night out. A drink or ten." He actually winks at me. "That way, when your wife's done making whatever point she's trying to make, you'll be better off for having had some fun while she was gone."
"I don't —"
"I respect you, the team respects you, now let us get to know you." He stands. "Agreed?"
Speechless, I seal my fate.
Somehow, at some point, someone convinced us white collar workers that the world owed us everything. Higher incomes. Better conditions. And yet, we are not satisfied.
Nowhere is this more apparent than on a crowded subway car.
My junior staffers grab what few open seats exist this rush hour, ignoring day laborers and grandmothers for whom exhaustion is a way of life. The remainder of our group blocks the doors, wreaking traffic jams. I manage to elicit a sacrifice from Pompadour so that a pregnant woman is able to sit. He stands and nods to the woman as though he's performed a great service.
I wonder if anyone on this train can tell the two of us apart.
And that gets me thinking: What if this is it? What if my wife never comes back and I never find anyone and every single night for the rest of my life becomes a toss-up between hanging out with coworkers or ending up alone? What if I never achieve anything?
Nolan Buckle, Survived By No One. Nolan Buckle, Good at Numbers and Not Much Else. Nolan Buckle, Did He Ever Truly Live?
The subway brakes and Pompadour falls into me. The priss smells like leather and goddamn figs.
I have ridiculed Brooklyn my fair share but I will give it this — the girl tending bar has compassionate eyes and legs that should be qualified as weapons.
Only one of the young women in our department opted to join this field trip. Naturally, the men flock around her. No side conversations occur. They all want to make her laugh.
I'm the oldest person here by a decade.
"Let me buy you a drink," Pompadour says, clapping his hand on my shoulder.
"First round's on me," I respond. "Find out what people want."
I end up with an ounce of this upstart distillery-slash-brewery's clear, unaged whiskey. An ounce at a time is all they pour. Appropriate to its lack of color, the whiskey is called Negative Space. There is vinyl playing and exposed wood everything and a vintage automat by the door that's been populated with tiny works of art. I suppose, when one decides to finally embrace Brooklyn, it is important to do so with the cautious, measured approach of a crack addict.
I end up positioning myself at the bar. I cannot deal with the junior staffers and their small talk designed to separate this poor girl from her clothes. They have not asked her a single question of substance. My glass drains quickly.
"How do you like it?" asks the bartender.
"Neat," I say, nudging the glass toward her.
"I meant the taste."
"Color's weird but it drinks smooth."
"I'll take that as a compliment." She points with a tattooed finger. "It's made right over there."
The tattoo cradles her knuckle, a tiny little bow. "Trying to remember something?"
"Meaning of life."
"Care to share?"
"I'm sure it's different for you, but for me? It's keeping a song in your heart and good booze in your glass." She tilts the neck of the bottle. "And you've got the second part covered."
If nothing else, she gets me to smile. "Neat."
"I was listening," she says, letting the spirit flow.
"Are you the one who makes it?"
"I just pour."
"Don't shortchange your salesmanship. Or, would it be saleswomanship?"
"The term's gender-neutral." She pours a taste for herself and touches her glass to mine. "Fiona."
I sip, it carries the right amount of burn. "Cornelius."
"That's not your name."
"How do you know?"
"You have a tab open."
"It's a name that people have."
She claps the bar and leaves me for another customer. The vinyl starts skipping.
If money buys company, I will pay any price. Ounce by ounce, I will drink all of the whiskey in this place. I will deplete their supply and fill their pockets until the owner retires and I am left alone with this bartender with her sweater dress and her knee-high boots and her scarf six feet long and her thick dark hair made for grabbing and her soft pale skin made for blushing and her warm, warm eyes made for consoling every last heartache. Ounce by ounce, she will return to me.
I will not call my wife tonight. I will not text my wife.
The distillery's tee-shirt has two arrows pointed away from each other. One of them appears to be bleeding.
This piece appears as part of a serialized fiction experiment by
Nathaniel Kressen
for At Large magazine. New installments will be published weekly, each based around a different liquor.
Nathaniel Kressen is the author of two novels — 
Dahlia Cassandra
(named Best of 2016 Fiction by Entropy & Luna Luna Magazine) and
Concrete Fever
(Bestseller, Strand Book Store) — as well as the co-founder of Second Skin Books and the leader of the Greenpoint Writers Group.