Reign of Terror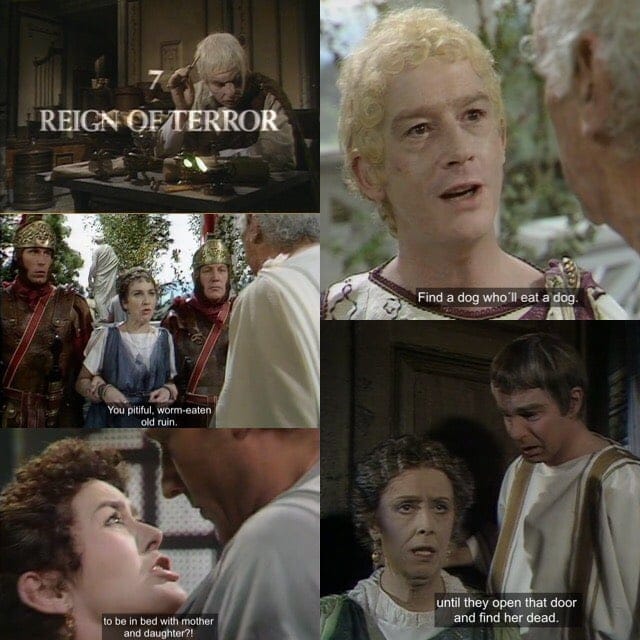 A crucial reason for the continuing pop culture relevance of  generic viagra online canada I, Claudius is its fortuitous casting in supporting roles of British actors who went on to greater international film and television stardom. The three most famous appear in this episode, all taking dangerous chances to advance their positions in the court of the deranged elderly emperor Tiberius (his balding scalp sporting large sores from untreated venereal disease). 
John Hurt had debuted in cinema a decade earlier, in films like 1966's viagra online canadian pharmacy  A Man For All  http://trustedtablets911.online/ trusted tablets Seasons — as an ambitious English youth, whose betrayal of Sir Thomas More helps lead to the beheading of Henry VIII's former Lord Chancellor. At the time of  I, Claudius, Hurt was coming off a BAFTA win for playing Quentin Crisp in 1975's The Naked Civil Servant, but still a few years away from his most enduring roles as the victim of a chest-bursting in 1979's Alien, and the deformed protagonist in 1980's The Elephant Man. At the start of Reign of Terror, he is in the tenuous position of Tiberius' favorite pet — one whose mother and brother have been banished. To protect himself, Caligula sticks close to the emperor on the isle of Capri, while Sejanus continues to consolidate power in Rome.
Patrick Stewart was a full decade away from beginning his most famous role as Captain Jean-Luc Picard on Star Trek: The Next Generation. After I, Claudius, he would score a number of supporting roles in films — including would-be science fiction epics Dune and Lifeforce. Yet, it was live theater where Stewart had trained, found acclaim, and which prepared him for the nuance required of a complicated villain like Sejanus — specifically, his opportunistic gamble on becoming emperor. The ultra-ambitious commander of Rome's 4,000 Praetorian guards has murdered and manipulated his way to the position of Tiberius's right hand man, and is angling to become part of the royal family by marrying Claudius' sister, Livilla — after she poisons her husband (and Tiberius' son), Castor. Carrying out Sejanus' deadly orders is his own second-in-command, Sutorius Macro.
At 32, Jonathan Rhys-Davies was four years younger than Hurt and Stewart when I, Claudius premiered, and not as well-known to film or theater audiences. However, he had already dabbled in British television miniseries, like 1974's 14-part Fall of Eagles (joined by Stewart, who played Vladimir Lenin). He would later raise his profile playing Rodrigues, captain of the Portuguese "black ship" in the 1980 miniseries adaptation of James Clavell's Shogun. The next year, he broke through in cinema as Sala in Raiders of the Lost Ark. As Macro, though, he is at a professional stand-still, unable to rise any further with Sejanus in his way. Caligula shrewdly observes this fact, after Tiberius turns on Sejanus when he learns of Castor's poisoning and plans for his own death. Summing up the difficult task of defeating Sejanus, Caligula says of Macro, "If you can't find a man of integrity, I always say look for a man with ambition. Find a dog who will eat a dog." When Tiberius asks If he has actually met Macro, Caligula answers nonchalantly: 
Caligula: "No, but I've slept with his wife several times."
Tiberius: "And is deception with a wife these days regarded as a sound introduction to the husband?!"
Caligula: "He knows about that. I told you, he's ambitious."
The emperor is convinced, and names Caligula his successor… if their plan works. He gleefully gifts his new heir a backhanded compliment:
Tiberius: "Rome deserves you. I will nurse you like a viper in her bosom."
Caligula: "Is that a joke, uncle?"
Tiberius: "No, but it will be."
The scene ends with Tiberius and Caligula strolling off to draw up a long murder list of Sejanus allies, while the emperor crows, "The city shall be purged, as surely as if she gorged herself on figs for a year. I will open Rome's bowels! The streets will run like a sewer!"
The episode's most wrenching death, though, involves a member of Claudius' family. His sister Livilla (Patricia Quinn, who had just played Magenta in 1975's The Rocky Horror Picture Show) is completely infatuated with lover Sejanus —who takes a more practical view of their affair (and is himself obsessed with keeping custody of his children by his previous wife). When the secret couple makes the tactical mistake of asking Tiberius for permission to marry (which is denied), things unravel badly. Sejanus floats Tiberius' idea of instead marrying Livilla's daughter, Helen — which so infuriates Livilla, that she not only begins poisoning Helen, but pens an incriminating letter to Sejanus that mentions Castor's poisoning, and a plan to assassinate Tiberius, so as to expedite their marriage, and Sejanus' rise to emperor. When Claudius' mother Antonia discovers the discarded letter drafts, she uses Claudius as a courier to Capri to alert Tiberius of Sejanus and Livilla's treachery, while personally seeing to her daughter's death.
We see a shot of a desperate Livilla, locked in her bedroom, pounding the doors and screaming for her mother to release her. Then a reverse shot of the door's other side, and a stone-faced Antonia sitting arms-crossed outside the room. When Claudius approaches to ask his mother how long she will keep Livilla imprisoned, Antonia answers resolutely: 
Antonia: "Until she dies."
Claudius: "Dies? Dies? She's your daughter. How can you leave her to die?"
Antonia: "That's her punishment."
Claudius: "But how can you bear to sit out here and listen to her?"
Antonia: "And that's mine."
The episode ends by living up to its title, with the murdered bodies of Sejanus, his allies, and family (including his children) filling the streets of Rome. Only his sister Aelia escapes, thanks to her marriage to Claudius — who divorces her, but returns her full dowry to live on. Of offering such kindness to his ex in a time of great cruelty, the elderly Claudius comments with the episode's final line, "She must have thought me a fool."