It Was A Very Good Year
Glenfiddich releases a 1973 Rare Collection Cask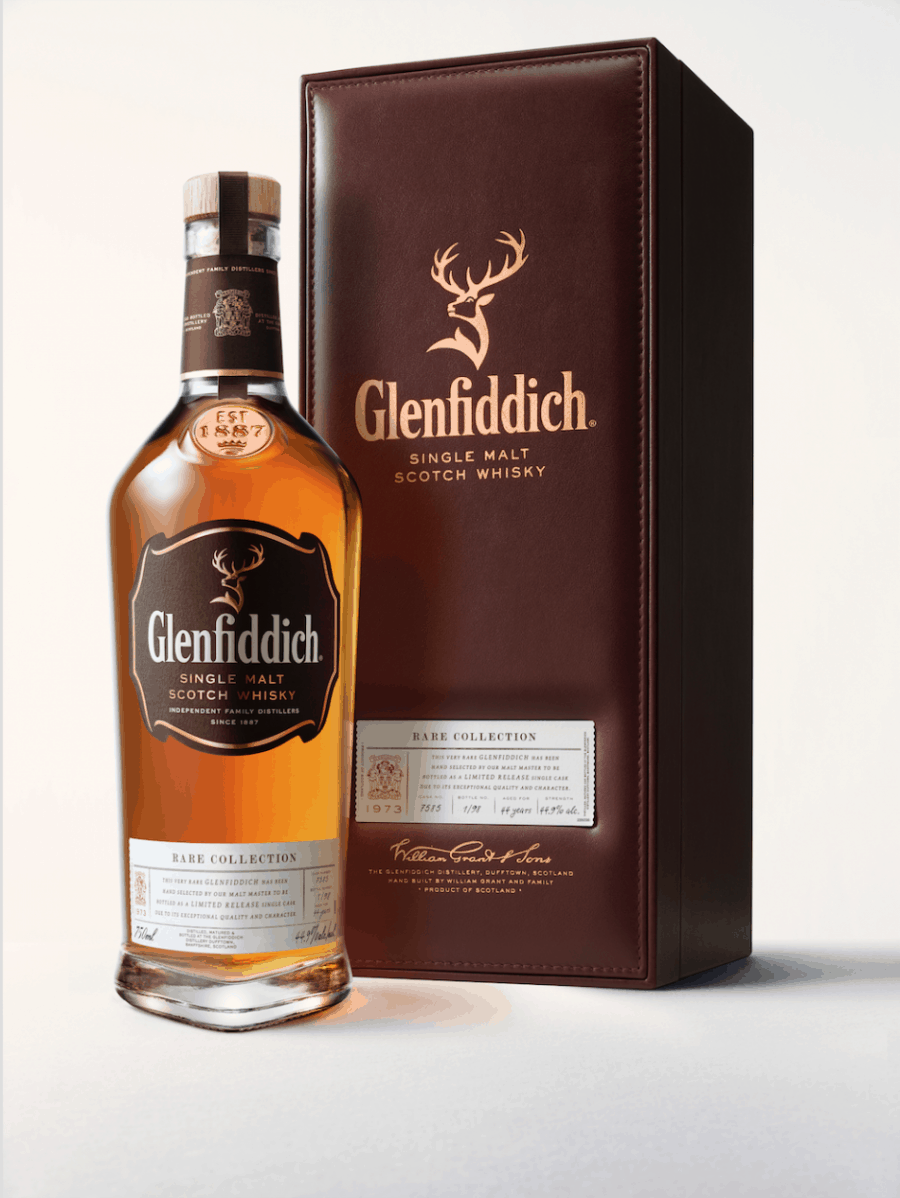 Anyone who loves scotch whisky and can distinguish by nose a Speyside from an Islay has, at some point in their adult life, lusted after a bottle from Glenfiddich's Rare Collection. These are whiskeys that, during a sampling decades ago, presented such unique and sophisticated flavors that they were set aside until childrens' grandchildren came of age, then released in limited editions — they're literally once-in-a-lifetime liquids. This year, the family-owned distillery has selected a single barrel for release exclusively to the American market for just the second time: 98 tempting bottles from Cask No. 7585; holding the rich, golden juice that began maturing back when R. Nixon was president. After this Rare Collection vessel tips its final pour, it can never be tasted again. So, I traveled to Dufftown, Scotland, where the Glenfiddich distillery, the world's most-awarded single malt scotch whisky, sits at the mouth of the Robbie Dhu spring, to share a dram of 44-year-old scotch with the Scotsman who hand-selected it for my fellow Americans, malt master Brian Kinsman.
Somewhere along the way, probably stumbling, I was taught, or maybe I assumed, that single malt was to blended whisky as 24K gold is to alloy: just better. Like all things worth arguing over, this is both true and not, depending on what sort of whisky drinker you are, which in turn depends on what kind of person you are, roughly. A "blended" whisky is a mix of spirits from two or more distilleries, combined for a smooth and predictable flavor. A "single malt" is a whisky produced at a single distillery and made from a mash of malted grain, in scotch's case barley, 100 tons of which comes through the Glenfiddich distillery daily. But the debate about "blended" vs. "single malt" turns out to be moot. Tour a distillery and you learn that all whisky expressions are blended, technically. Take, for example, the Glenfiddich 15 Year Old, which uses a process inspired by Spanish sherry distilling. Scotch whisky is barrel-aged, whether in 250-liter hoggies, 400-liter puncheons, or 500-liter sherry butts (AKA big wood); casks go as big as 700-litre pipes. Anything larger doesn't count towards the aging process, for regulatory scotch whisky reasons. After fifteen years, dozens of barrels hand-selected for their typically Glenfiddich flavors (soft vanilla, poached pears, a hit of spice) are blended into Glenfiddich's enormous Oregon pine tun, called a Solera vat, already half-full of whisky from the same, earlier process. The combined liquid is left to mellow for a few days before the vat's juice is half emptied again, bottled, and the process begun anew. Every Glenfiddich 15 Year Old bottle has some liquid in it that's as old as the Solera vat itself, and from every year hence. Whisky's age statements are determined by the youngest liquid in the bottle, under scotch's sacred laws. My mouth waters at the thought.
Whisky's a living liquid; breathing, evaporating, exchanging characteristics with its barrel's wood and, in the case of refilled casks, with another kind of spirit — rum perhaps, or sherry — matured in that same barrel a decade before. Two barrels filled the same day from the same pot-still will, over years of development, yield whisky different in color, aroma, taste, even A.B.V. It's the malt master's job to understand these changes on a barrel-to-barrel basis and to select casks like ingredients for Glenfiddich's core expressions. It's a job for an obsessive alchemist, or, in Brian Kinsman's case, an actual chemist with a Ph.D and a bloodhound's nose.
Kinsman samples from 500 casks a week, which is just quotidian quality control and ingredient shopping. But during these evaluations a barrel may stand out for a particular tasty reason. In such a case it's marked, notes taken, and the cask number recorded in an Excel Spreadsheet — an uncommonly modern step in an otherwise near-luddite operation. The barrel is then patiently reserved for a future malt master's appraisal and, in exceedingly rare cases, a special release. Enter Cask No. 7585; a refill American Oak Hogshead left to mellow forty-four years ago in Glenfiddich's legendary warehouse 8 until, half emptied by evaporation (the angel's share), a few dozen bottles remained at peak Glenfiddich flavor. The only thing blended into this juice is patience, and, perhaps eventually, an ice chip.
"The Grant-Gordon family possessed incredible foresight when they decided to set aside their finest casks, rather than release them in the 1960s and seventies, to build this stock of aged whiskies that can be found nowhere else in the world," Kinsman says. We're in the blending room, a small lab-like chamber in the distillery's main building. Glass cupboards on all four walls are stacked with mini bottles in various stages of decanting, and change in aureate hues from one side of the room to the other. Nondescript labels on the bottles record their liquid's ABV, cask number, year, and salient flavors with haiku-ish precision and thrift. Kinsman has opened his personal valise and set a few glass flasks on the countertop in the room's center. These, he explains, were contenders for the Rare Collection release; samples from Glenfiddich's finest casks. Alone with these bottles I'd be the youngest in the room, almost. Tasting from these bottles runs Glenfiddich's flavor gamut: a '78 is typically vanilla, with a grain's-worth too much cereal. An an 80's oak is lumbermill perfect but heavy on the ABV, while the petrichor from a '79 is a bottled summertime storm yet punches below its weight. The aromas alone are mind-altering. Then Kinsman produces a flask with "USA" handwritten on the label — the 1973, Cask No. 7585. Even with a hangover and a deviated septum, I sense this stuff is special. The nose is a lively balance of ripe berry fruits, vanilla oakiness and what Kinsman calls "freshly caramelized crème brulee," but what I recognize as bananas foster. I want to drop in a wick and light it. The taste is tongue-bathing: silky smooth and sweet, with initial notes of soft brown sugar, oak tannin and creamy toffee, poached pears with a touch of spice, finishing with long lasting oaky sweetness.
Each 1973 Rare Collection Cask bottle is presented in a handcrafted leather box, and, in true bespoke fashion, individually numbered. But with a taste so bold and individual, it should really be served with a fireworks display and a full Thanksgiving dinner.