The Importance of Philippe Avignant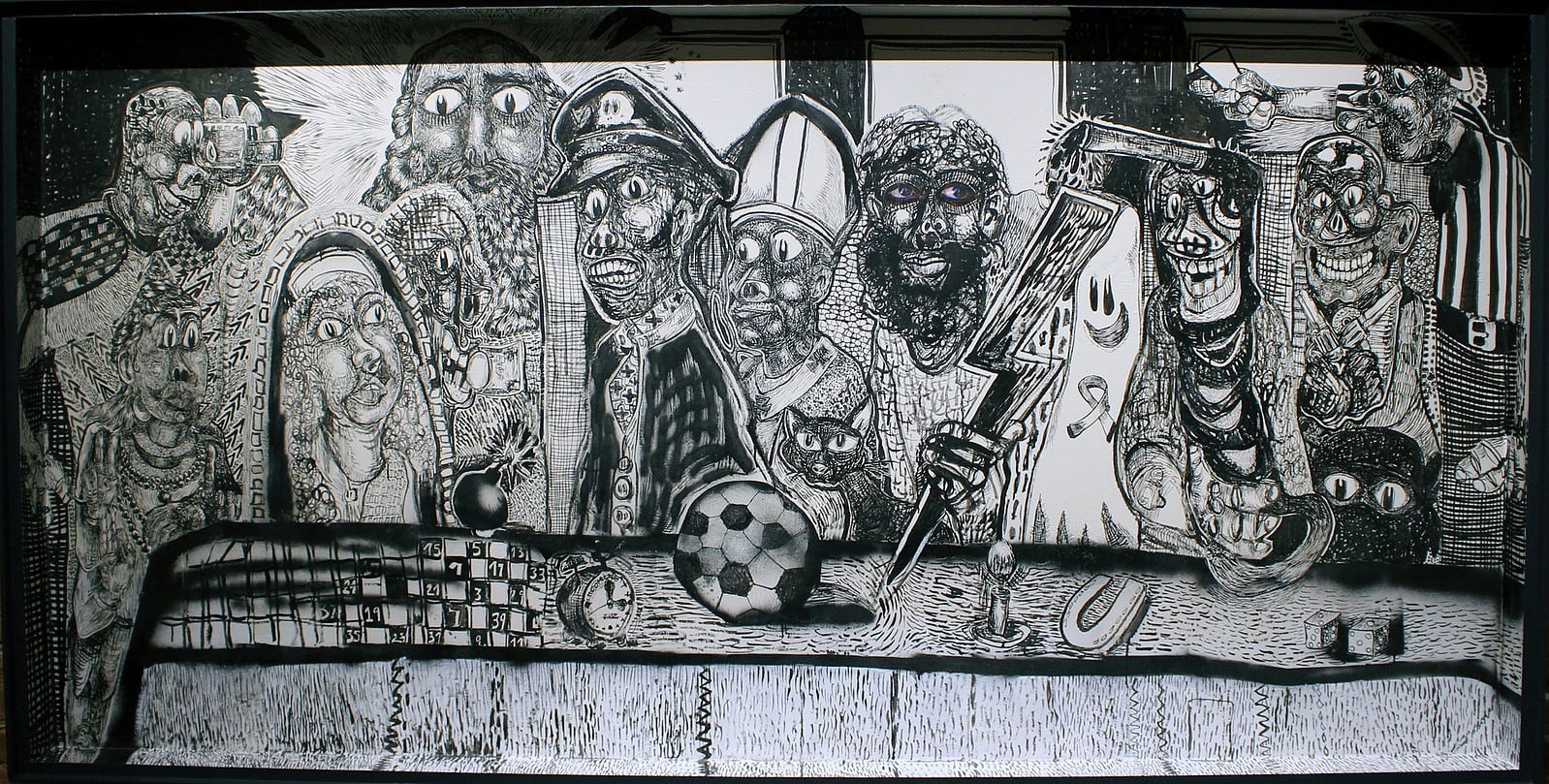 I enter a divided loft space during Greenpoint Open Studios. As I approach each studio, I'm greeted with enthusiastic artists who believe in the work they're creating. This is a good thing. All artists should stand by their creations–but these artists know just the right ways to talk themselves up. They have the selling points: Foster the People blaring from their wireless speaker, quirky business cards with holograms that link to their growing Instagram account, vegan cookies free for the taking. All of these things add to who the artist is as a person and allows us to get closer to them simply from entering a room. It helps us understand what their work is about. What part of culture they're in, so even when they are shy or humble, we can buy into what they're selling. And we do. We get it. Or we don't.
It's not until I enter the studio of Philippe Avignant that I really see paintings that speak to me. There was nothing but his work on the walls. No music. No snacks. No promotional materials. In one painting, dark characters lined themselves at a table. Their faces varied in expression. A Bishop was involved. There was a cop. A ghost smiled. They all appeared to be gambling. Mediums of spray-paint, acrylic and pen were used to define grit. This is real life. This is art.
I introduce myself to Philippe because I'm floored by his paintings. He nods quietly and thanks me profusely for understanding what he's doing. I tell him I want to help get his work out there. People need to see this, really see it. I'm not that important, but I do have connections, and art like this is what I live for. He said he would love to have shows because it's rare he gets to share his paintings with the public. Months later I invite him to attend a group show my own work is in in the East Village. To thank me he makes me a 6×4 ft custom painting and brings it to the event. I unroll it and fall in love all over again. Little figurines of pizza, syringes, pills are peppered in the background of two men. A black sun looms overhead. It is the most special gift I've ever received.
I spend the next two years pitching his work to galleries and bringing his name up at openings, but I get blank stares when I explain why he can't always make it out and show face at such events. "He has children and lives in New Jersey," I state being honest when asked why he's not in attendance. "He would be so thrilled if you would look at his portfolio, though. And I promise it's astounding." They roll their eyes in dismay. I know it's futile. People don't want to see your portfolio until they've seen your face–not the other way around. When I do bring him out he's too shy to speak confidently about his work, so his face gets lost in the crowd. People shake his hand and forget. This cycle repeats over and over. A year later I invite Phillippe to a big-to-do art benefit to which I have an extra ticket. In response he sends me a text message saying:
"Dear Dallas
Only the sky can show how grateful I am
Even though today is cloudy"
Minutes later I get a follow-up text.
"I guess a good thank you would have made me being understood easier."
Minutes later I get a final text.
"Please understand French into English literal is the most surrealistic nonsense ever."
It is the perfect message and all at once illustrates the beautiful struggle of an artist like Philippe. Passionate. Honest. Conscious. Not interested in being cool.
While at the benefit I once again attempt to explain to a Chelsea gallerist on Philippe's behalf that his work is bigger than him. It's about the people. The universe. The downside of a soul that makes us both revolting and beautiful at once. She is kind and listens, and after perusing some samples of his paintings on his iPhone she suggests I tap into some galleries in Brooklyn that don't really sell  before even attempting the Lower East Side. She's honest with me. "No matter how strong the paintings are, presence is important." Just a year earlier this route was also suggested by someone who then asked if I was trying to get a show for Philippe because I wanted to sleep with him.
"What? No! I just really like his stuff."
"It's okay, you can tell me the truth, I get it," this curator said.
If I had said yes would that have gotten the gallerist to look at his work? Is being fuckable really what it takes to get a show in this town? Is being fuckable the prerequisite?
Philippe and I walk from the event to the train together. He tells me about how he ended up in New York. He was working in an art store in Paris and a man walked in asking if anyone spoke English. Philippe was the only one. The man asked if he could buy the "fish pen" he saw in the window.
"Fish pen?" I asked. "What's a fish pen?"
"It's a pen that was shaped like a fish. I told him I didn't know of any fish pen. So he brings me outside and it's in the window of the shop next door. But it turns out that shop was closed! So he never got the fish pen. Anyway, I got to talking to him and he said if I came to New York to call him. So I wrote his number down and called him when I got to New York."
It turned out Mr. Fishpen was a very wealthy man with expensive taste in art. He was floored by Philippe's sincerity in actually calling when he arrived in New York and decided to meet up with him. He saw Philippe's work and knew instantly he wanted to begin collecting it.
It doesn't stop there.
Philippe has another wealthy art collector who regularly seeks out his work and buys it for thousands of dollars. This whole time he had neglected to tell me that two patrons were actively purchasing his work.  I felt annoyed at him for omitting such important information while I was working so hard at getting him a show, but also at myself for lacking the purity not to care. The level of rejection he had for such systematic notions allowed him to see the light in people and create an alternate universe in his paintings that made everything seem beautiful.  
"Philippe!" I said, still processing what had been happening this whole time, "You need to tell this to people! That gallerist–if she thought you had wealthy collectors coming after your work, I'm sure she would have been more enthusiastic about getting you a show."
"Oh no!" He exclaimed. "I would be too embarrassed. I do not like to talk of myself that way. And I am humble and grateful to anyone who likes my work. If the gallerist saw my paintings and she enjoyed it, that is all it should take for me to have a show. I cannot operate any other way."
The thing is, I couldn't argue with him because he was right. Art is a business, but it should be about the work. The problem is, when there's so much art to see and so many talented artists, today you must have enough ego to also be a salesman to get your submission to the top of the pile. You have to have a comprehensible story, right from the beginning. A narrative that you can sell, and one that can be eaten up. The vegan cookies, Foster the People, and the Instagram account. You need to be digestible as a human and a friend.
The fact that Philippe's website is bare and he is not active at all on social media proves cumbersome. It makes me wonder–if his art is so powerful that people who could afford to buy whatever they wanted in the world chose him, with no name and no background–if after seeing a hundred studios in one day his is the only one I remember–if he's able to be bypassed by "influencers" in art, then what is the art we really promote?
Dear reader–I'll leave that up to you to decide, but in sincerity, I don't believe any of this matters.  The business is the business, but it will never stop people like Philippe from making art. There will always be honesty, even if you have to look for it. So keep making work for the sake of work. Keep enjoying the rawness of the art you see. Stand for it. Push it. Get it to the top of the pile because it deserves it. I told Philippe I was going to submit this very article to this very publication for this reason. He sent me a message saying:
"Dear Dallas
I'm very happy to hear from you.
I thank you always for your kindness.
And if I may say so, I offer you flowers from my heart to thank you and honor you for who you are.
Kind Regards
Philippe"¹
¹After Philippe heard the news that At Large would be publishing this story, he texted its author: "How can I ever thank you? It is like applying the theory of the ropes."
See Philippe Avignant's work at philippeavignant.com.