"…because Florida." It's a phrase that Miami-based filmmaker Billy Corben often attaches to social media links for news stories that deal in a certain level of strangeness and corruption easily associated with America's southerly "Sunshine State." Here's a recent selection: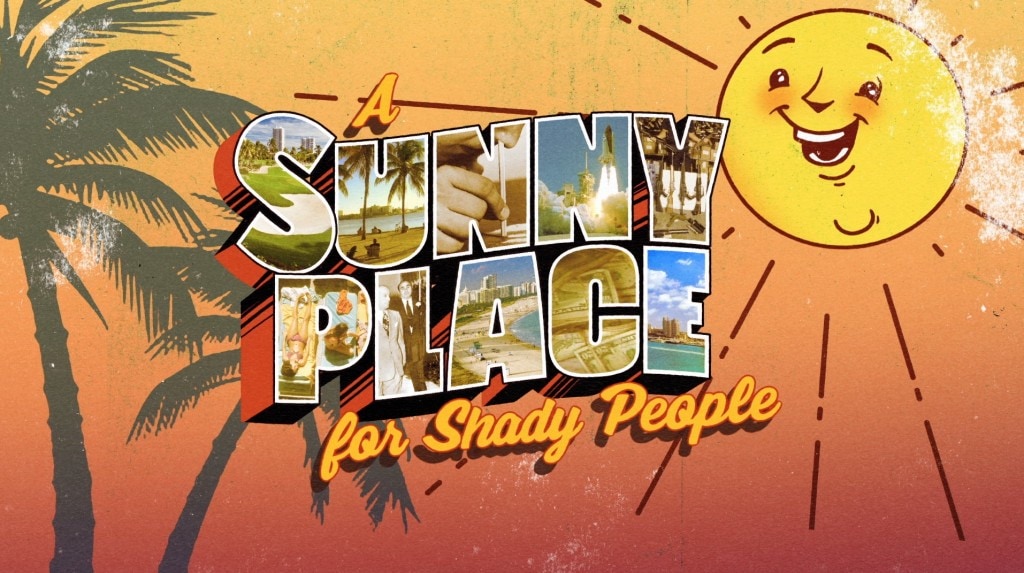 Sunny Place For Shady People promo
(February 28th)
https://twitter.com/BillyCorben/status/836626415164481538
(February 28th)
https://twitter.com/BillyCorben/status/836652265490558976
(February 28th)
https://twitter.com/BillyCorben/status/836775979267866624
(March 1st)
https://twitter.com/BillyCorben/status/837146213703106560
(March 4th)
https://twitter.com/BillyCorben/status/838100355460313088
Don't get the wrong idea — beyond the dark humor of scandalous arrests and political shamelessness, "because Florida" is a phrase born of deep frustration. Billy Corben is a native of the state, cares deeply for his city of Miami, and has long been fed up with the recurring causes of Florida's reputation. So much so, that he and friends/business partners Alfred Spellman and David Cypkin dedicate their professional lives to (in part) exploring the degenerate roots of Florida's modern societal and government dysfunction (particularly in the state's southern region) by chronicling it through the films of their Miami-based documentary production house, Rakontur — the company name stamped on screen at the start of each film beside a definition: " n. one who tells stories with skill."
On March 10th at the 2017 Miami Film Festival, Corben and Spellman will screen clips from their new docuseries, A Sunny Place For Shady People, described as being "about the scams and schemes that flourish in Florida" — and in promoting the event on Twitter, Corben has maintained the dark humor of his "because Florida" tweets:
(Florida became a state on this day in 1845. Celebrate 172 years of Florida Fuckery with me at @MiamiFilmFest)
https://twitter.com/BillyCorben/status/837851338558025728
The festival screening will also include clips from another upcoming Rakontur docuseries, Cocaine Cowboys: Los Muchachos. It's the latest in a string of projects that have helped earn Rakontur their storytelling reputation — specifically, due to a detailed attention to South Florida's involvement in the cocaine and marijuana trade. Their past documentaries on the topic include 2006's Cocaine Cowboys, 2008's Cocaine Cowboys 2: Hustlin' With The Godmother, 2011's Square Grouper: The Godfathers of Ganja, and 2014's Cocaine Cowboys: Reloaded.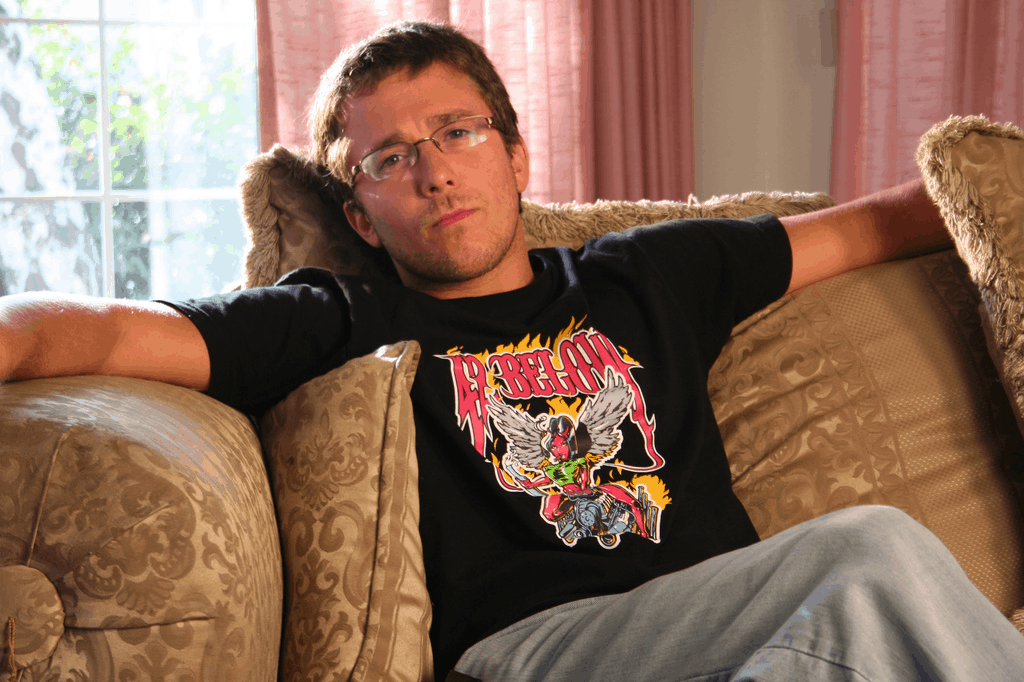 Billy Corben during the filming of Cocaine Cowboys 2
But the salacious nature of cocaine and marijuana smuggling as a subject satisfies only half of Corben's storytelling mantra — found in a longtime-pinned tweet at the top of his busy Twitter feed:
(Documentary filmmaking in 2 steps: 1. Find a good story. 2. Don't f*ck it up.)
https://twitter.com/BillyCorben/status/650372615576621057
That approach has brought Rakontur acclaim for sports-centered stories like 2009's The U (and its 2014 sequel) and 2012's Broke, produced for the ESPN Films 30 For 30 series, and dealing with themes of race in college football and poor economic choices in the pro ranks, respectively. Rakontur also explored the introduction of ecstasy into 1980s & '90s New York City club culture in 2011's Limelight, and the illegal backyard fist-fighting scene of Miami-Dade County's most impoverished pockets in 2015's Dawg Fight. The poster art for these films are often stamped with some variation of "From the creators of Cocaine Cowboys," but it was Rakontur's handling of their 2001 debut documentary that made the ongoing Cocaine Cowboys brand possible.
Rakontur's first screen story took place 300 miles north of Miami in Gainesville, on the night of February 26th 1999 — centering on a hired dancer who claimed she was raped by a fraternity brother in the Delta Chi house at the University of Florida. Following the efforts of media and campus groups, Florida State Attorney Rod Smith released a videotape of the sexual assault filmed by a second fraternity brother, and urged those watching it to "make up their own minds." Corben took things a step further by constructing the documentary Raw Deal: A Question of Consent, wherein the released footage stands beside new Rakontur interviews with all involved. Setting a precedent for future Rakontur films, there is no third-person voiceover narration. Not only do the participants tell their own story, they at times answer each other through cross-cutting of their interviews.
Rakontur wouldn't release another documentary until 2006. But that film, Cocaine Cowboys, would expand the scope of their storytelling from one house, to the entire city of Miami — and how revenue from the 1970s and '80s cocaine trade helped build the downtown skyline, while surrounding streets were stained by the blood of hundreds of drug war murders. Cocaine Cowboys' use of vintage still images, neon text fonts, and atmospheric Jan Hammer music would mark Rakontur as filmmakers who could tell a sprawling story with a stylized flourish to complement their established foundation of investigative substance.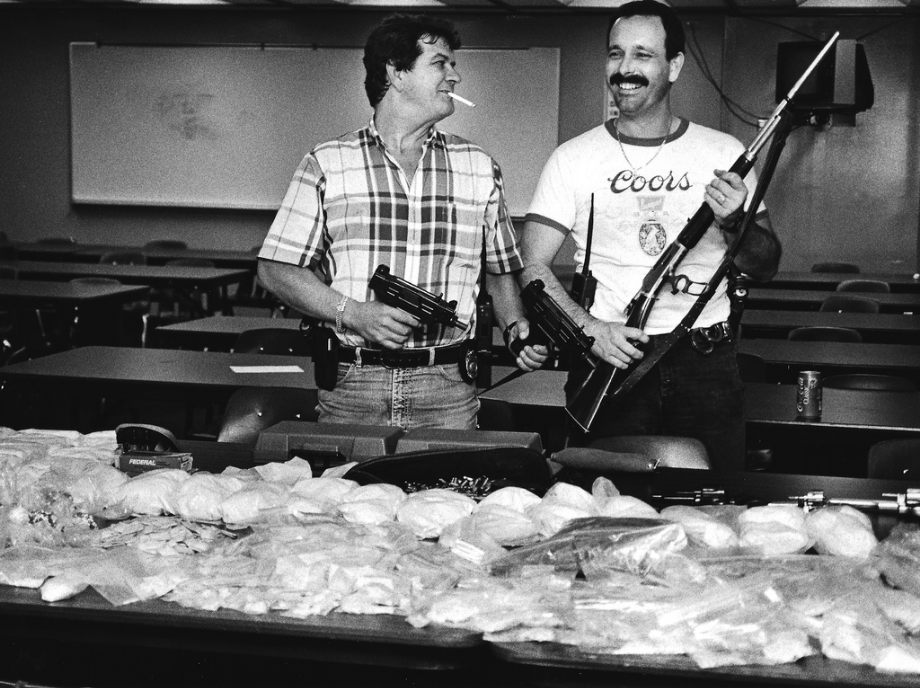 Lawmen after a drug bust
In 2011, Corben talked to me about the long road from Raw Deal to Cocaine Cowboys in an interview for my film site, Camera In The Sun:  
After we had done Sundance [Film Festival] with our first documentary, Raw Deal: A Question of Consent, we attempted industry financing. We failed. The responses we were getting (true to form in the absolute vacuum that people in this industry attempt to function), it was like, "Yeah, haven't we seen this in Blow already? Haven't we seen this in Scarface and Miami Vice?" And everybody misunderstood what it was. We were going to nonfiction buyers and financiers and said it was a doc, and it was very difficult to convince people. I don't think it was a lack of effectiveness in our presentation, so much as just a complete lack of understanding of the significance of doing a real Scarface or real Miami Vice, and how relevant that was culturally even in 2003, or at the time we were trying to make this happen. And part of our pitch at the time was, first of all, Scarface had been recently re-released on DVD for the 20th anniversary. I believe the sales statistics were (from NBC Universal, in terms of their sales records) had outsold Jurassic Park and ET combined on DVD at that time. Miami Vice: Season One was finally being released on DVD. Michael Mann had announced he was finally going to begin pre-production on the long-anticipated Miami Vice feature film, and the best-selling videogame of all time at that time was Grand Theft Auto: Vice City. And so, to us it seemed like with the cycle of nostalgia, which seems to come in these 20-year spurts, seemed to be in a legitimate Miami 1980s nostalgia moment there. Not to mention that you need only watch an episode of MTV's Cribs at that time to understand the lasting influence and cultural impact of Scarface on an entirely different generation of young people — many of whom weren't even alive at the time the movie was originally released. So, we thought both creatively and economically that this was just a no-brainer. Everybody agreed later after we released it, suddenly it's "We're gonna make a movie, and we're gonna make a TV series, and we should do a video game!"
Corben starts the story of Cocaine Cowboys by cutting to Dadeland Mall on July 11th, 1979, at 2:28 PM.
Peaceful 1970s/'80s-era clips of local shoppers flash across the screen, concluding with a shot of Crown Liquors. Then, cut to a modern re-creation close-up of a cartel gunman opening fire with a machine gun. Scores of spent bullets fall to the ground, liquor bottles smash, actor bodies spout blood, then vintage crime scene footage of the victims wheeled out in body bags — filmmaker blood squibs and real-life dead bodies telling the visual story of the first shots of a drug war.
Multiple audio sources are cut together to provide a single voiceover narration:
A newscaster: "They call them the 'cocaine cowboys.' Yesterday, they struck busy Dadeland shopping mall, executing two latin males in the Crown Liquor store."
A police officer: "There was an exchange of fire between the two groups."
A newscaster: "Smashed glass and liquor bottles flying."
A newscaster: "The shooting continued outside."
A newscaster: "Two men cut down in a hail of gunfire."
A newscaster: "Victims of Miami's drug war."
A witness: "The one guy had a machine gun."
A Miami resident: "They've gotta find some way to stop this."
A Miami resident: "What are they gonna do about it? What can they do about it?"
A newscaster: "And south Floridians wonder where the cocaine cowboys will strike next."
Cue the driving Jan Hammer music score, over an opening montage of glowing credits and sweeping Miami imagery. The title letters of "Cocaine Cowboys" are outlined in a neon blue aura, reminiscent of Miami Vice for one generation, Grand Theft Auto: Vice City for another.
I wanna say I didn't like him. The first time I meet John, he's driving this black Mercedes, two-door, that's got drug dealer written all over it.
Early on, Corben utilizes interview cross-cutting to tell the tale of how Florida cocaine trafficker Jon Roberts came to work with Florida cocaine smuggler Mickey Munday — around the time when cocaine became more popular than marijuana.
Roberts: "The popularity, it began to shoot up. Everybody that before was doing these pot things, was now into doing cocaine."
Munday: "We stayed in the pot business until it got to the point where there was so much pot here, that you couldn't sell it."
Roberts: "And you just couldn't get enough cocaine."
Munday: "I said, 'The best way to do it looks to me like if we got into the transportation end. You're not buying it. You're not selling it. You're not using it. You're just an importer.' The Colombians threw a number at us that was more than agreeable. $3,000 a piece (or a kilo, in your terms), and they wanted to move at least 400. We went down there, and the first trip we got paid $1.2 million. That was enough to excite us, saying, 'Maybe we'll stay in this trade for a while.'"
Roberts: "The people that I was dealing with had a limited supply. And as the people I was selling to expanded their business, I couldn't get enough. You know, one guy would say, 'I want 15 kilos' or '20 kilos' or '25 kilos.' I could only give him 15 or 10. Then it was money coming out of my pocket. I could sell 100 kilos a week, easily."  
At this point, a third interview subject is introduced into the story flow: Jon Roberts' ex-girlfriend, Toni Mooney:
Roberts: "I got lucky, I think in about 1979, I met this girl."
Mooney: "I flew to Miami. And I was working on a shoot with a girl, and she told me that she had somebody for me to meet."
Roberts: "A friend of mine fixed me up with her. He was a lawyer. He was dating this really beautiful girl who was a model for Ford."
Mooney: "After I had known John three months, it was my birthday, and I went into the garage and he had a brand new [Targa Carrera] Porsche, and it had a huge bow sitting on top. A huge red bow. For me. But it was kind of a whirlwind thing with John and I. I mean, we fell very much in love. The story I got was that he had discotheques in Manhattan."
Roberts: "As I started dating her, obviously she saw I wasn't working. Whenever I wanted to go to New York, I was in New York, and she got curious. I'm the type of person, I'm pretty upfront, and so I told her, 'Hey, this is what I do. You don't wanna see me anymore, fine.' She said, 'No, I have a friend, and he's a pilot, and he works for these Colombians.' So the guy introduces himself. His name is Mickey Munday, and he's like a redneck from Florida that's been here his whole life."
Munday: "I wanna say I didn't like him. The first time I meet John, he's driving this black Mercedes, two-door, that's got 'drug dealer' written all over it."
Roberts: "Mickey Munday had a very successful transportation for these people from Medellin."
Munday: "Flamboyant. He just looked like somebody that I don't want to have anything to do with."
Roberts: "I mean he's… you remember the show, MacGyver? That's this guy. He could do stuff that just was incredible."
Munday: "A sharp guy, but I just didn't like his vehicle. To me, it looked like all the other guys who were in the drug business."
Roberts: "I told him I outgrew the Cubans, and it became a necessity to find a Colombian that could supply the large amounts that were needed at the time. And he said, 'Well, I'm gonna hook you up. I can take you to these Colombians that I know, and this guy can give you whatever you want.' And I'd heard stories like that many times, so I just said 'Sure, whenever you're ready, let me know.'"  
Audiences proved so ready for the Cocaine Cowboys story that its sprawling saga allowed for multiple sequels, as well as a multi-faceted prequel of sorts — Square Grouper: The Godfathers of Ganja, chronicling three groups involved in Florida's marijuana smuggling industry, and the ferocious legal repercussions they faced.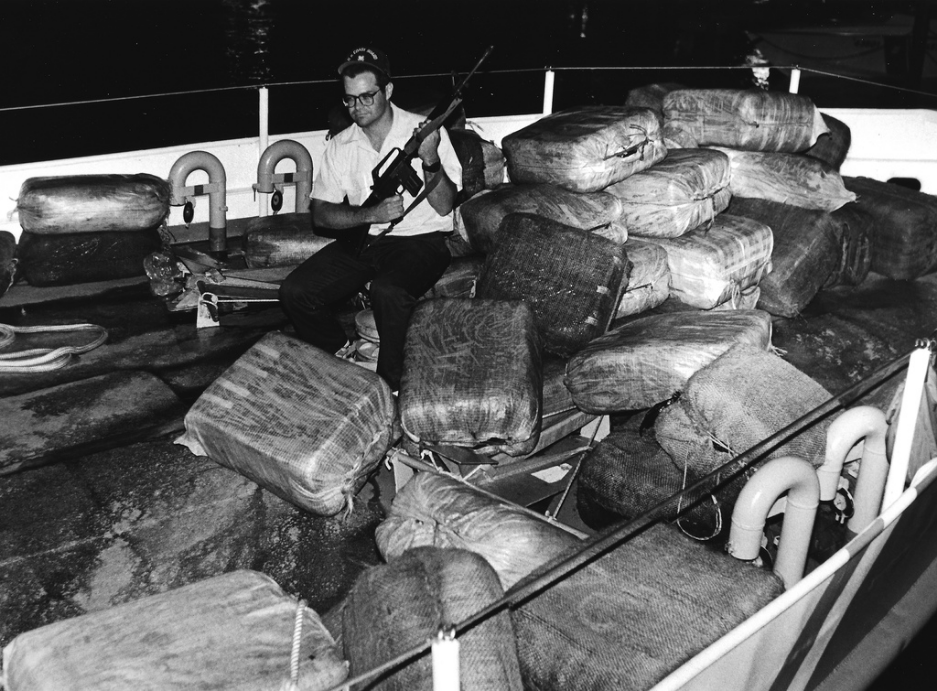 Lawmen with "square grouper", nickname given to bales of marijuana thrown overboard or from a plane in South Florida.
Check the Journal Friday for Part Two.