Last week was Modernism Week in Southern California's Palm Springs area. The annual desert-sprawling festival celebrates mid-century modernist architecture, design, and art, along with contemporary thinking in these fields. Since its inaugural in 2006 (a year before the AMC television series "Mad Men" premiered), Modernism Week has grown like the valley's rain fed bromegrass. This year, 250 mostly sold-out events took place in and around homes and buildings that define modernist ethos. At Large Editor-In-Chief, Erik Rasmussen, spent a weekend touring show houses and seminars and learned a lesson: If you don't laud John Lautner; if the words "Streamline Moderne" only strike you for that growth-like "e" on the end; if you can't tell a shed roof from a mansard, chances are good that there's still a little mid-century modernism in your life, or rather in your hand, in the form of a cocktail.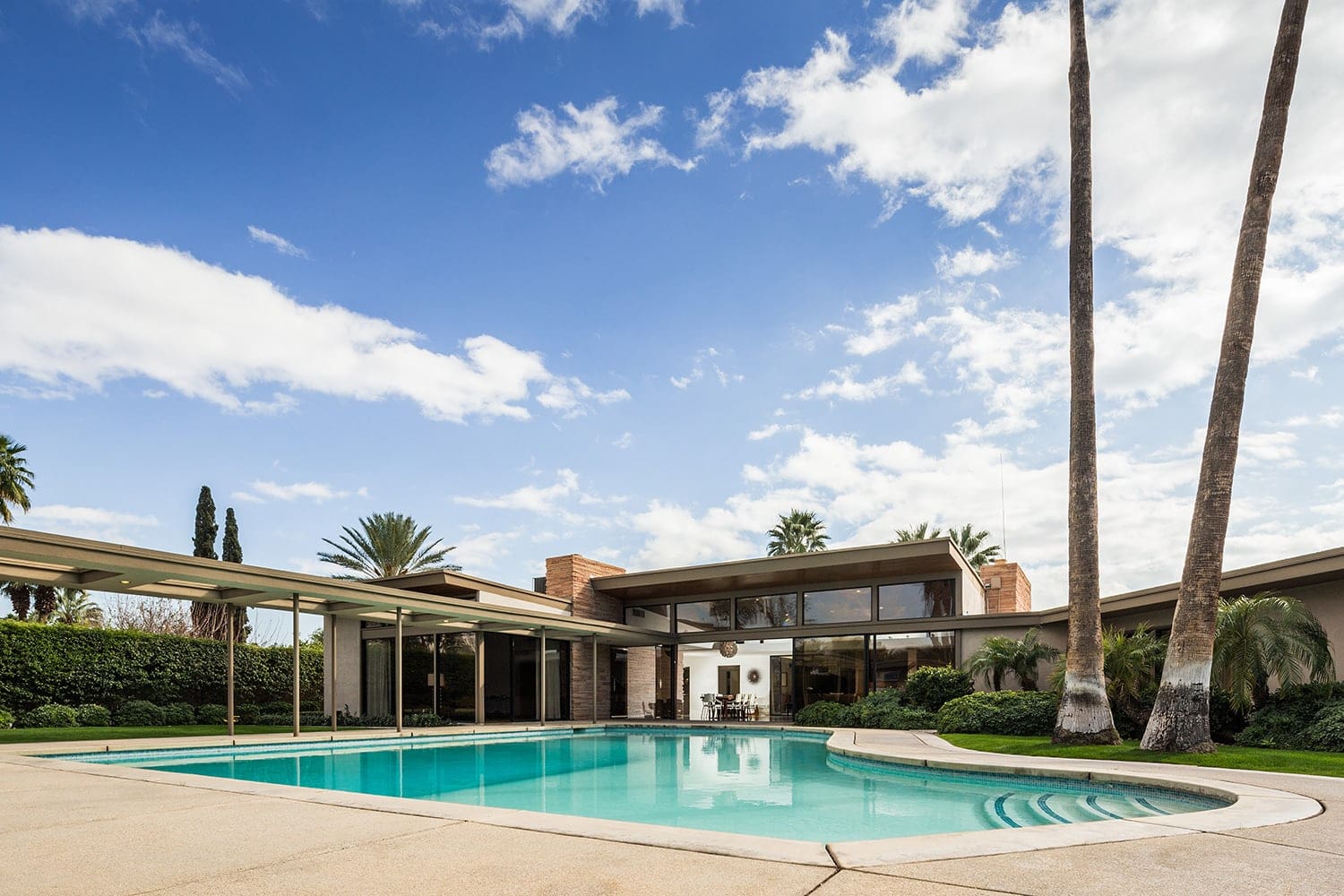 Frank Sinatra's piano shaped pool. After making his first million dollars in 1947, Sinatra approached architect E. Stewart Williams for a new desert home in Palm Springs.
Modernism Week's kickoff party is James Bond-themed at an event space called The Bank, originally the Coachella Valley Savings and Loan building designed by local architect E. Stewart Williams in 1955. At 38 years old, I'm one of the younger people here, and the only one in jeans. Dress ranges from black dinner jackets to plaid tuxedos in luridly colored tartan, tattersall, gingham, and glen, plus nifty blazers in motifs you might find printed on, like, Jonathan Adler wallpaper. Nobody wears a tie, that wouldn't be modern. Women's fashion is a transitional stage between garden party and Oscar party. Live models in bikinis balance themselves atop human-sized martini glasses aiming pistols over the crowd, non aggressively. There are two bars, one serving three "Signature Cocktails" crafted by a Hendrick's Gin brand ambassador, the other serving "Signature Martinis" — plus ad hoc mixers you can order with Reyka Vodka, Sailor Jerry Spiced Rum, Milagro Tequila, Balvenie 12 Year Old Scotch, and Drambuie in them. Not a beer in sight. It's my first night at my first Modernism Week, and I'm about to taste my first cocktail. Traumatically hungover once from a Molotovian mix of spirits and sweeteners, I've avoided them for nearly two decades. I've also long considered cocktails' themes a ruse to mask the active ingredient's taste, like chewable vitamins and baby aspirin do, with sugar and artificial flavors. My real interest in sampling a proprietary Hendrick's Gin beverage has to do with the reason I'm here at Modernism Week — I've been invited by the distiller William Grant & Sons to an event at Frank Sinatra's "Twin Palms" estate, where they will be pouring their 21 Year Old Balvenie in the master's bedroom, and featuring a drink immortalized by the Rat Pack, the Rusty Nail.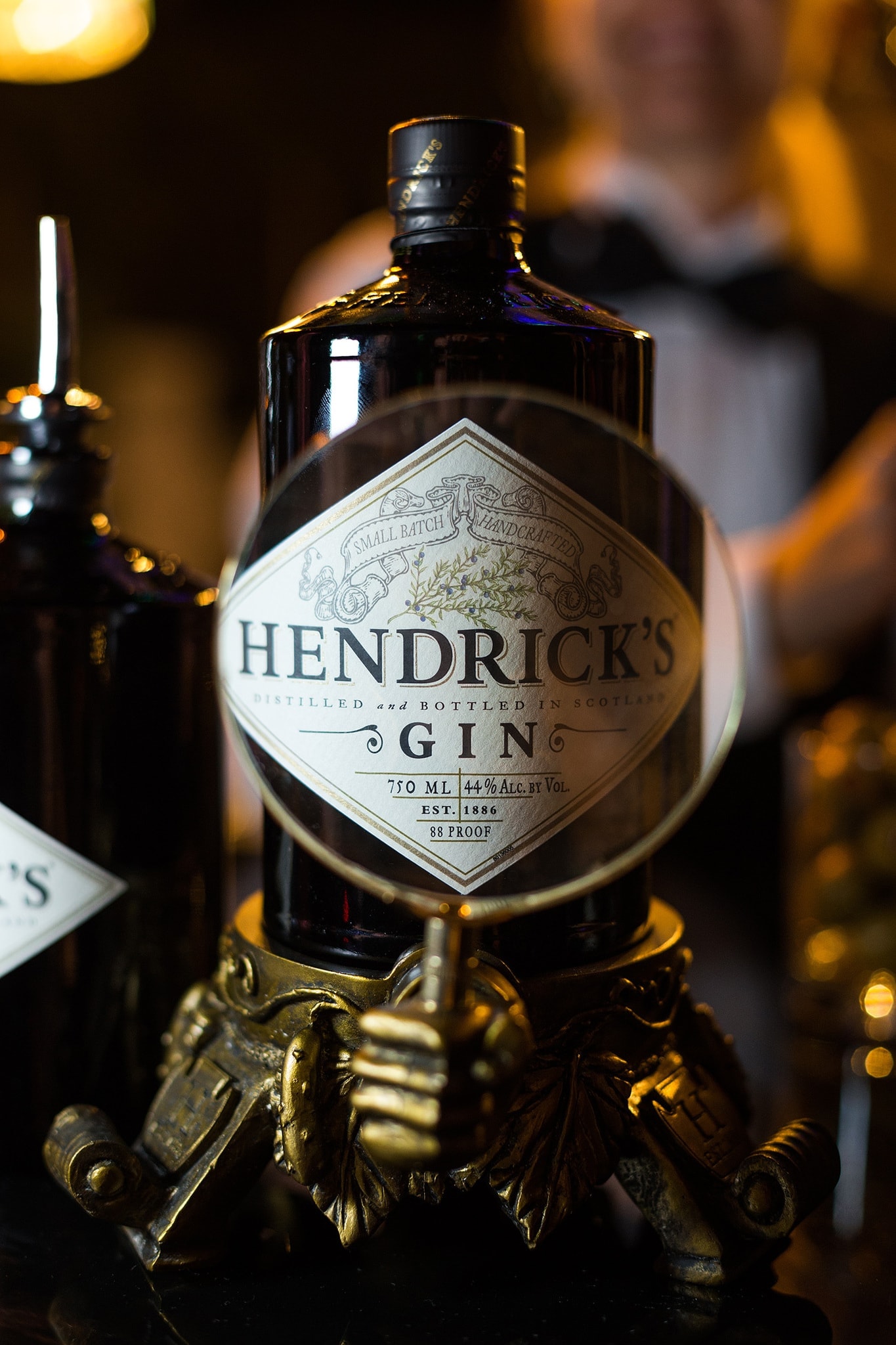 A Hendrick's Gin bottle is displayed at the James Bond-themed Modernism Week Kickoff Party's bar.
I order what the bartender assures me is the lightest drink on hand, a Hendrick's Gin Cucumber Cooler, plus a water back to mitigate the inevitable sucrose induced hangover. The Cooler is made with cucumber purée, fresh lime juice, simple syrup and gin, and poured over ice. To my surprise, the simple syrup is almost undetectable, the gin a mere suggestion. The flavors are so well balanced that I barely distinguish an individual ingredient, besides the ice clacking against my teeth and making it hard to sip the last drops. The overall flavor is closer to spa water than what I know as a cocktail. Encouraged, I order another and make my way to the Mac N' Cheese buffet.
To a long life and a merry one; a quick death and an easy one; a pretty girl and an honest one; a good cocktail and another one.
Despite drinking three Cucumber Coolers, I have no hangover the next morning at the festival's Community And Meeting Place. CAMP is a cluster of giant white tents set incongruously amidst S. Palm Canyon Drive's shops and restaurants. You can't miss it. Inside the main tent is the press registrar, an information center, "enter-to-win" tables, a Room and Board living room showcase that eager representatives invite you to kick back in, bus tours and events check-in, and other local fare like a Palm Springs Life store and a Coriander pop-up studio. Linen draped tables spread everywhere have empty cups and crumpled napkins on them. The main event underway is a live cooking show. The chef is mic'd into overloud speakers. Most of the spectator chairs are empty. This area's faux wood floor is different from the rest of the CAMP's plywood floor. Giant TVs present overhead views of the cooking's preparation. I'm unclear whether it's being broadcast into homes. Sponsorship panels from Dunn-Edwards, DuPont Corian, DXV, Ferguson, and Thermador hang from the tent's rafters. William Grant & Sons is Modernism Week's sole spirit sponsor. Their presence is low key, just a few tempting bottles on the Cheeky's To-Go lunch counter. The main ingredient on the cooking presentation's menu is branzino. The chef offers a 20% discount to anyone who buys a Thermador oven today, then jokingly offers to throw in Bob, an audience member turned volunteer sous chef. Bob's parents have had a Thermador in their house since 1949, Bob says into the mic. This is unverifiable.
Desert Palisades tour, about an hour later. I'm at "O'Donnell House 1", designed by the local Palm Springs architect Lance O'Donnell. The entrance fee is an eyebrow raising $65, which also gets you into the "Al Beadle House 1" under construction a quarter mile away. The roads are lined with parked cars and tour buses. Not a tree for miles. What I like about the O'Donnell House is that you never feel like you're fully inside of it. Your sightline lands outside from any vantage, even from the shower. Off the master bedroom a balcony overlooks the Palm Springs International Airport. "I can sit here with a Cucumber Cooler watching planes land and takeoff at sunset," I tell a stranger. "The house is for sale," one of the ubiquitous blue-shirted tour officials tells me. For $3.5 million. The terrazzo flooring throughout the house is the same as my Long Island elementary school's floor. A glut of rain has turned the nearby mountains oddly green, and snowcapped. The walls are hung with original paintings by Basquiat, Christopher Wool, Raymond Pettibon, Ed Ruscha, and other dark smeary art I don't even recognize and can't read the signature. Every surface is stacked with books; on the work of Le Corbusier, Keith Haring and James Turrell, modern hotels and fashion designers, an enormous set of Gerhard Richter's four volume Atlas — a collection of 20th century communication suggesting you'll need more than three-and-half mil' to feel at home with O'Donell.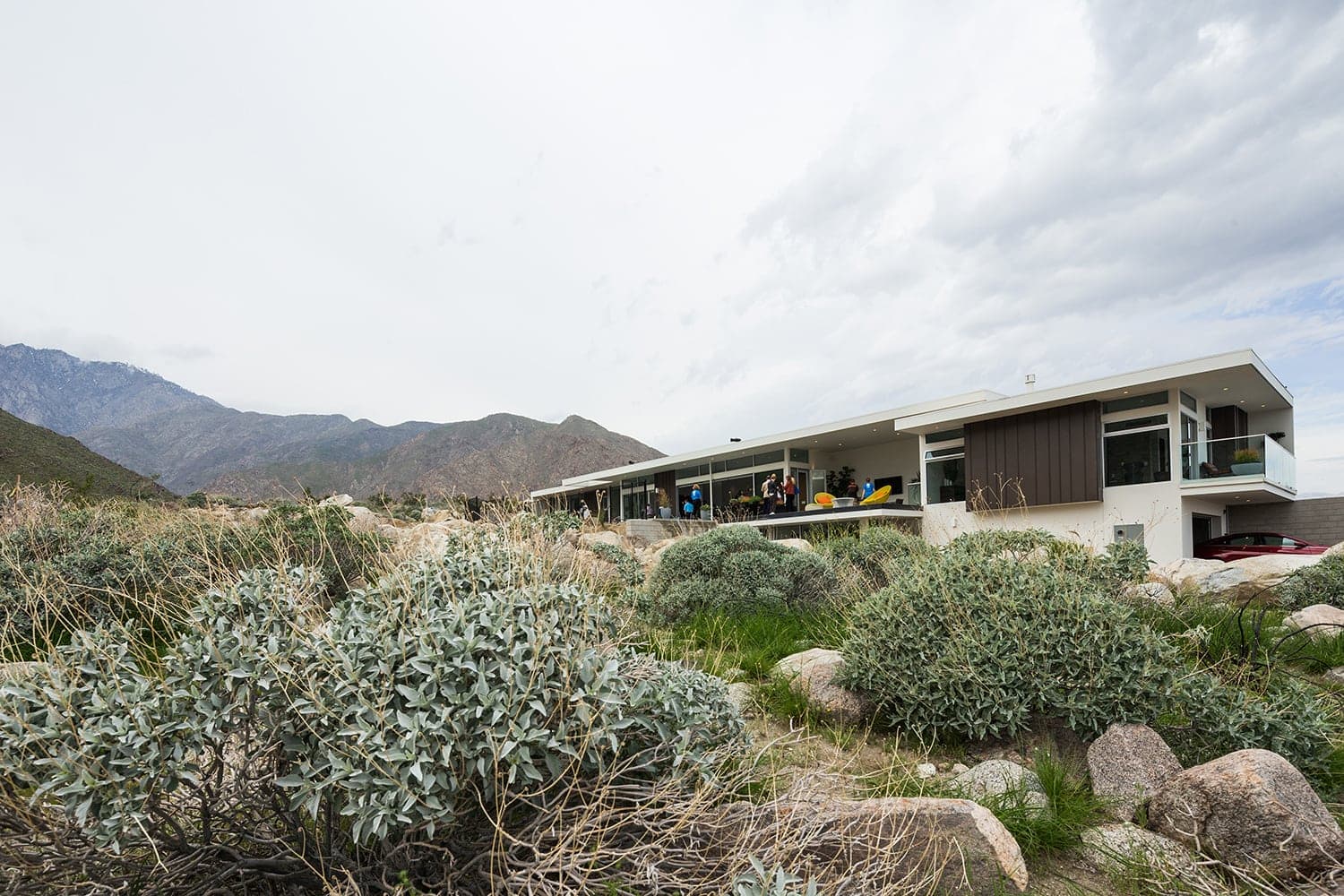 O'Donnell House 1 in Desert Palisades, a Jake O'Donnell designed split level structure with architecture optimizing sun, shade, rainwater and desert breezes, debuted at Modernism Week. It was built with resilient inorganic material and features a cutting edge solar energy system.
Back at CAMP for the 1 o'clock Cocktail Academy, which takes place in another tent behind CAMPS's main tent. Mark Stoddard is a Cocktail World Cup champion and the U.S. Brand Ambassador for Hendrick's Gin who will be teaching a hundred Academy students how to "step up their cocktail culture using a few local, seasonal ingredients." What makes it gin and not another kind of liquor is the main ingredient, juniper berry. Hendrick's turns out to be a blend of eleven herbs, berries and flowers steeped and distilled through two separate processes — a 170-year-old Bennet still boils and condenses the hardier botanicals while a Carter-Head ("the Rolls-Royce of stills") finesses the gentler ones, like rose petals and cucumber, at lovingly mild temperatures. Then it's combined, with certain ingredients acting like spiritual velcro holding Hendrick's essences together. Stoddard knows gin at the atomic level.
The chemistry explained, we begin crafting simple cocktails, the Cucumber Lemonade and Hendrick's Blueberry Delight.
Liquid filled carafes, halved lemons, ice bucket, jars of berries, sliced cucumbers, a long twisted spoon and other essentials are spread before us. Stoddard directs our attention to the fractions prefixing each ingredient in the recipe. Measurements, as in architecture, are the key to a great cocktail, Stoddard admonishes. The gin's been pre-poured. We do the rest, squeezing lemons, measuring two parts simple syrup with millimetric concentration, then stirring in the soda water.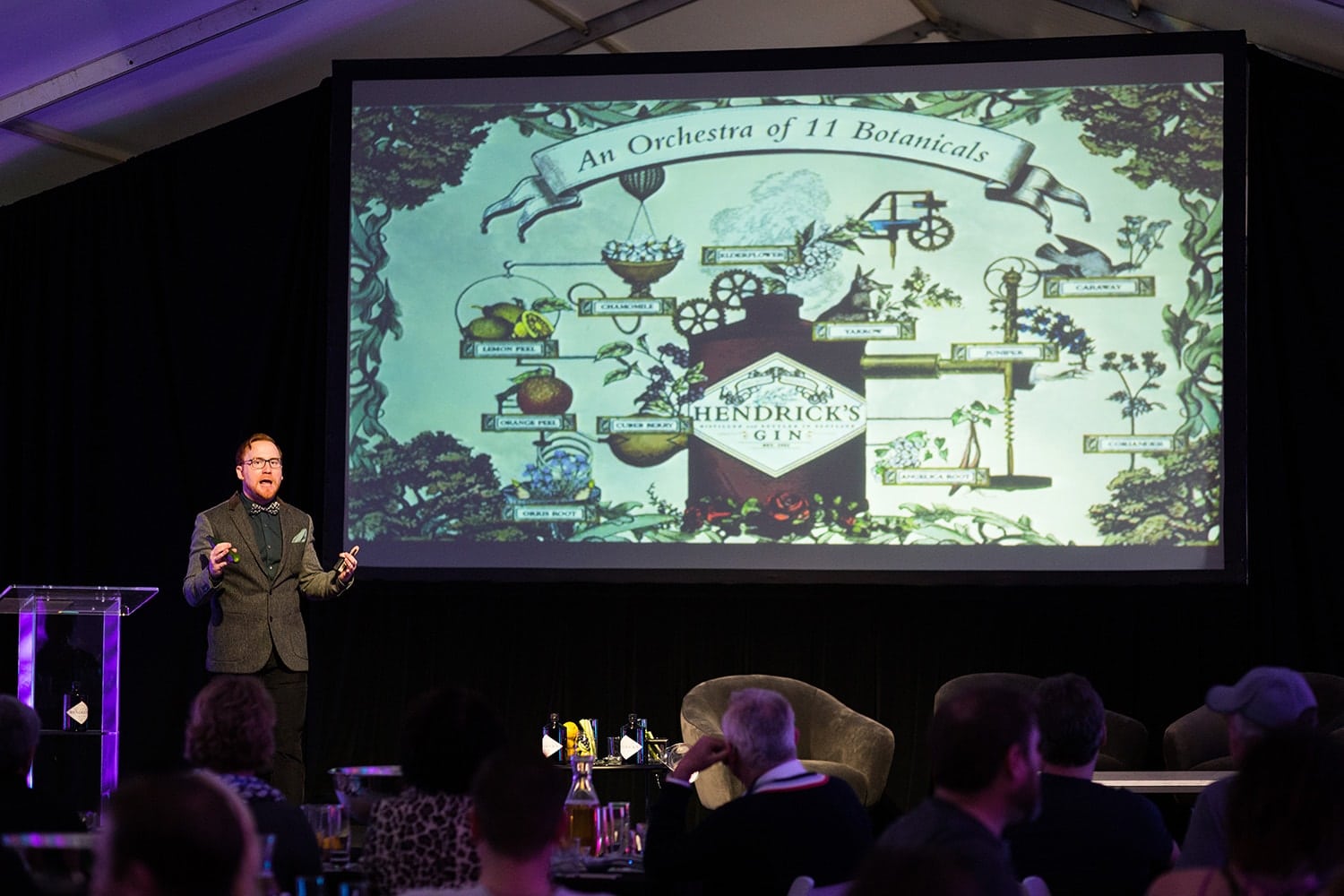 Mark Stoddard, Hendrick's Gin U.S. Brand Ambassador, takes his Cocktail Academy through the distillation process.
"How is it?" Stoddard's come to sit with me. He's wearing a tailored jacket in donegal tweed, with a bow tie and pocket square, more classical than modern. And slim black jeans, which I totally appreciate.
"Gone," I tell him, holding up an empty glass and shaking the ice.   
"Easy to make, easy to drink. I want you to be able to craft elementary, five ingredient recipes — home kitchen-entertainment level cocktails — from scratch and still be able to enjoy a conversation with friends. That's the point of this," he says, meaning the festival.
Class is not dismissed. On the menu's flip-side is a another recipe: Winter Toe Tickler Punch. Servers materialize from the tent's wings to place bowls and ladles and full Hendrick's Gin bottles on the tables. The room is abuzz. Cocktails originated from your classic five-ingredient punch, Stoddard explains, then begins to emit historical data at a great rate. The word "punch" is Sanskrit-derived, meaning five. The drink was exported from India to England by spice trading merchants and sailors in the 1600's. Later punches were rum-based and ladled from giant bowls into, like, clay or tin mugs. In the New World, new ingredients and new glassware technology inspired new recipes. Individualist Americans wanted their preferred "punch" made in an individual glass, is how America invented the cocktail, Stoddard explains with open pride. The word "cocktail" made its first American print appearance in 1806, and so on. Coming full rhetorical circle, Stoddard declares cocktails "America's greatest culinary contribution" before dipping a glass in the bowlful of Toe Tickler he's made and toasting the Academy: "To a long life and a merry one; a quick death and an easy one; a pretty girl — or handsome fella — and an honest one; a good cocktail and another one."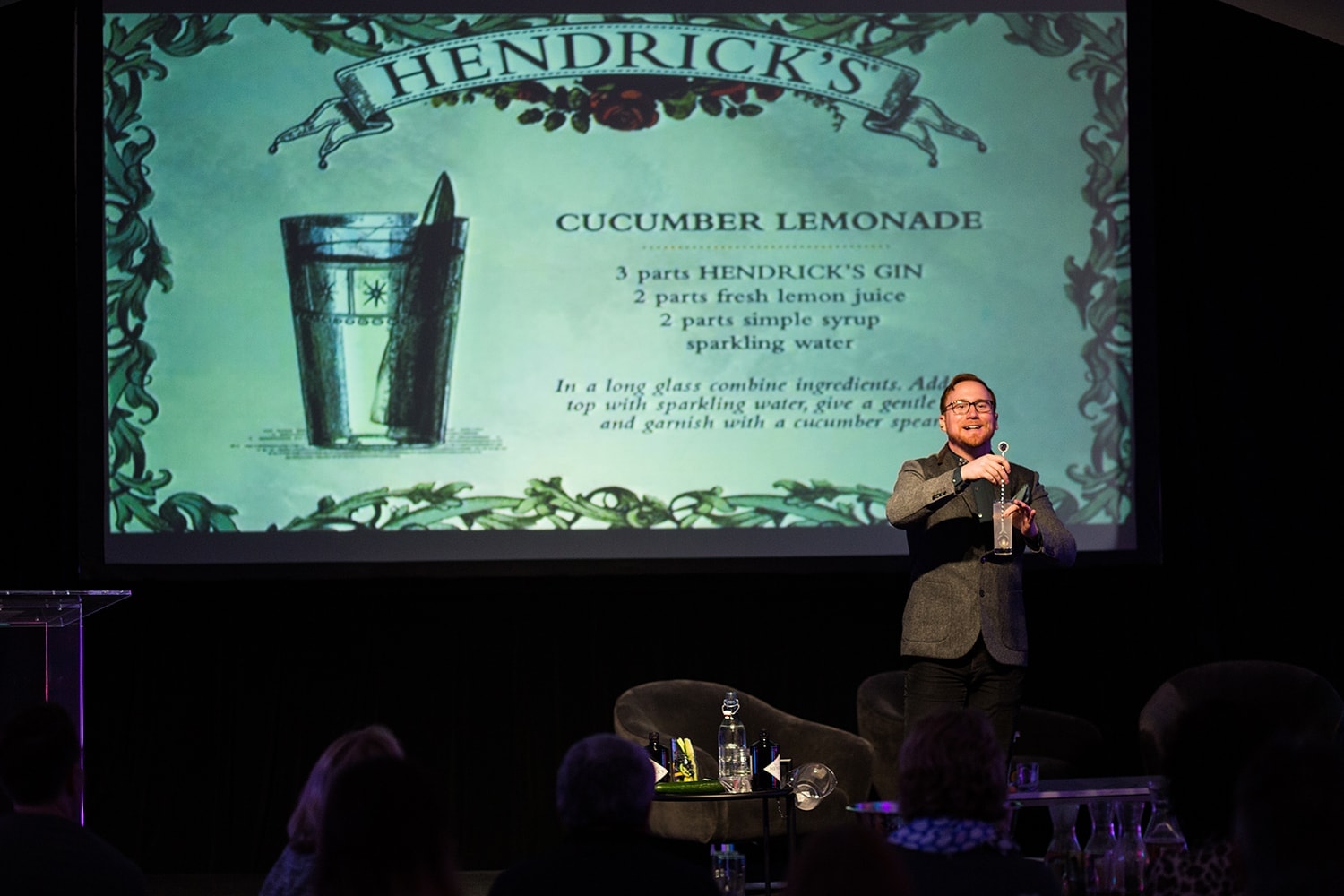 Stoddard explains the Hendrick's Gin Cucumber Lemonade (Editor recommended).
Modernism Week's official show house is called the Christopher Kennedy Compound at Villa Golightly. Its owner, Kelly Lee, is the designer behind the blog Kelly Golightly. Parking nearby is easy. Kelly's Andreas Hills neighborhood is something out of a Hanna-Barbera cartoon. Every room in the house has a title and sponsors: The Entry by Kate Spade; Living Room by Barclay Butera; West Patio by Jean Liu; West Guestroom Bath by Meg Caswell, winner of HGTV's Design Star Season 6. A sign outside Klaus's Office & Bath announces that designer Michael Smith Boyd's "sumptuous style" is "renowned for its distinctive, cultivated, and soulful vibe." Boyd is on hand if you'd like to consult with him. Someone leaving Joy Cho's pastel West Guest Room Suite calls it a "very happy-childhood bedroom right here." Maya Williams's Master Bathroom, with a wine fridge and a walk-in closet, is literally bigger than my Manhattan apartment and has more appliances. Forget about the Master Bedroom, it's got its own lounge. Nearly every item in the house can be found somewhere else for sale.
The Villa Golightly Master Bedroom's lounge with views onto the pool. 
There's a great deal of history to be told through the elements of what today is called mid-century modernism — from atomic fusion to the jet age, the Interstate Highway System to the Rural Electrification Administration: for every space age advancement there's a corresponding clock, couch, or cantilever. In light of this, the greatest expansion of middle class prosperity in human history, "Modern" could rightly be a euphemism for post WWII American optimism. In fact, if modernism's optics often seem futuristic, it's because mid-century America was the future. The optimism of the time was not a belief that better days were on their way, it was in the realization that good times were here.
And it still works. Even amidst the carnival of commercialism at Villa Golightly, it's hard to maintain my East Coast cynicism. Maybe it's the sunlight dappling the pool, or the catering. Maybe it's the vintage Charvet Ibex dining table and Tommy Bahama sideboard in the Christopher Kennedy Dining Room that I'm mentally arranging in my wee Avenue C walkup. There's an infectious aesthetic about this lifestyle, built around leisure and placing it's highest standards in the way one shares their life and their home, namely by entertaining friends. It's pretty optimistic stuff.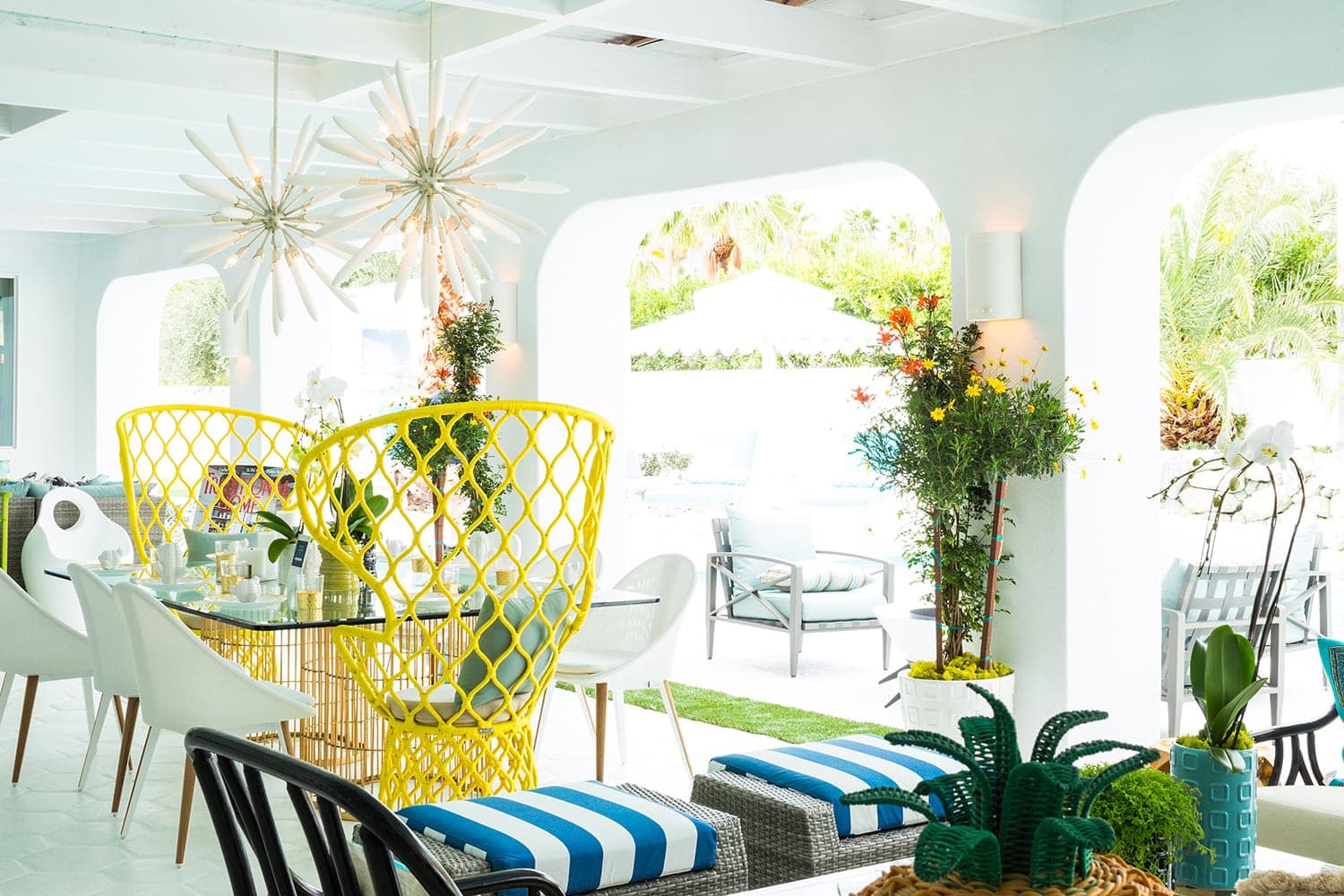 The Pool Area by Gray Malin at the Chris Kennedy Compound. Modernism Week's show house in Andreas Hills is owned by Kelly Lee, the designer behind the blog Kelly Golightly.
Speaking of home entertainment — Frank Sinatra's house. Entry is through the back and a flurry of valets. Tickets prices are astronomical. But there's loads of good booze. Most of the attendee's are eligible for social security. Dress here is tack sharp. Modernism Week is the desert's answer to Pitti Uomo. I wear a black jacquard dinner jacket with leather lapels. You don't come to Sinatra's house in jeans. A small youth contingency has gathered at the pool bar where Drambuie U.S. Brand Ambassador Vance Henderson is behind the stick.
"The world's most famous crack is in the master bathroom," someone jokes by the piano. He means the crack in the sink purportedly made when Sinatra threw a champagne bottle during a fight with Eva Gardner. "Could just be shoddy craftsmanship," someone else says inside the actual bathroom, examining the porcelain. "Nah, they made things to last back then."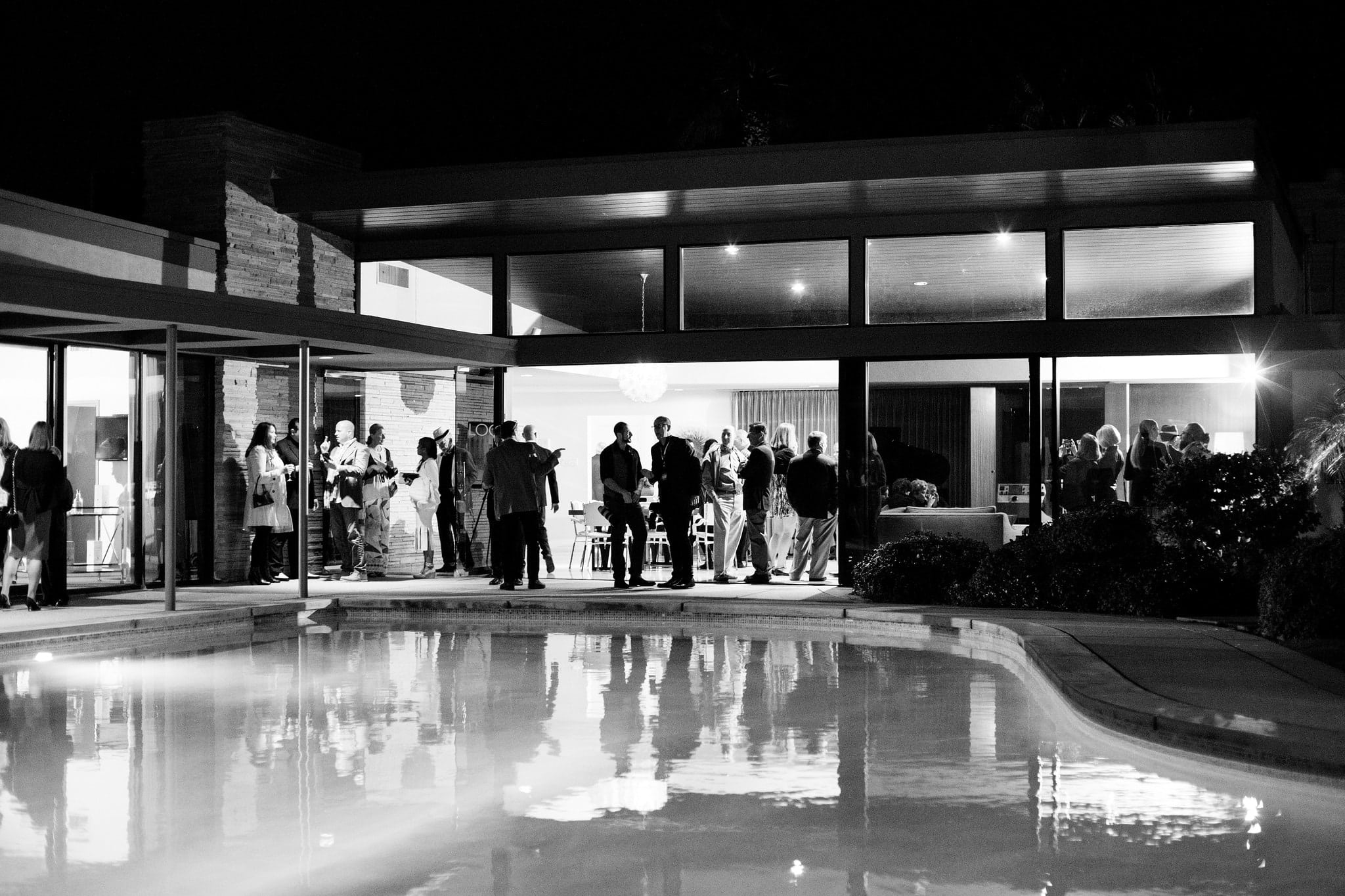 A view from the Pool Bar where Drambuie U.S. Brand Ambassador Vance Henderson crafts a Sinatra favorite, the Rusty Nail.
Sinatra's bedroom, he'd be happy to know, is full of women. Balvenie 21 Year Old Scotch is pouring at a brass bar cart in the corner. The piano shaped pool is illuminated in the background, blue as — why not — Sinatra's eyes.
Vance is cranking out the Rusty Nails in honor of Sinatra, who made it an iconic cocktail. But he wants to get that out of people's minds. "Drambuie's been around over 270 years. It's a living liquid legend," he tells me. "As much as we love and cherish the Rusty Nail, [Drambuie] is a Scotch whiskey liqueur infused with heather honey and herbs, it's got this beautiful brass color, you can do so much more with it. It can push the creativity in bartenders."
What's important tonight is the lifestyle Sinatra embodied, Vance says about the Rusty Nails sweating in glasses throughout the party. But this is also precisely why Vance calls Drambuie "timeless and timely". Cocktails are coming back in a major way.
In fact, a report released in February by the Distilled Spirits Council of the United States shows American whiskey sales grew 7.7 percent in 2016, outpacing the entire spirits industry and gaining on American brewing companies' market share for the seventh straight year. According to the Council's senior VP, David Ozgo, that growth was "led by millennials' interest in authentic consumer products and experiences." Ozgo goes on to say, "cocktails are exceptionally well positioned to meet adult millennial's demand for unique and varied experiences." 
The crowd continues to get younger, and by the time I'm on my third drink the average age isn't much older than the scotch. "I've been likening Drambuie to Jazz," Vance says. "There's no script for how to play it."  
In other words, like Sinatra, do it your way.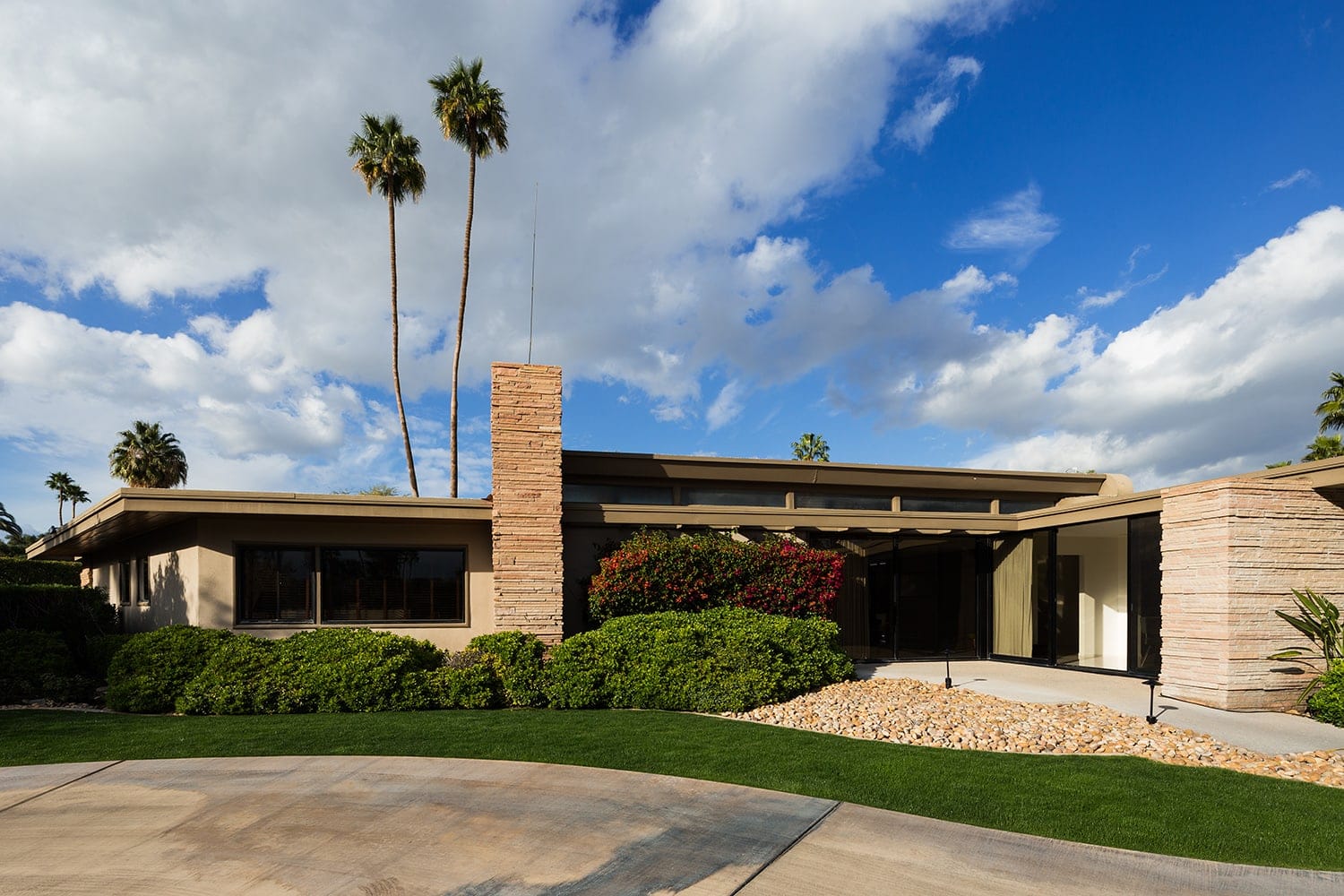 The 1148 East Alejo Rd entrance to Frank Sinatra's Twin Palms Estate.