Santoni
for



AMG
What do luxury Italian shoes and German engineering have in common?
At Large's Editor-In-Chief  laced up a pair of Santoni's and headed to Sweden's subarctic Lapland to race high-powered Mercedes across a frozen lake to find out. That is, if flying through northern Europe mid-winter didn't knock him out of contention first.
Written by Erik Rasmussen
Photography by Tom Koenig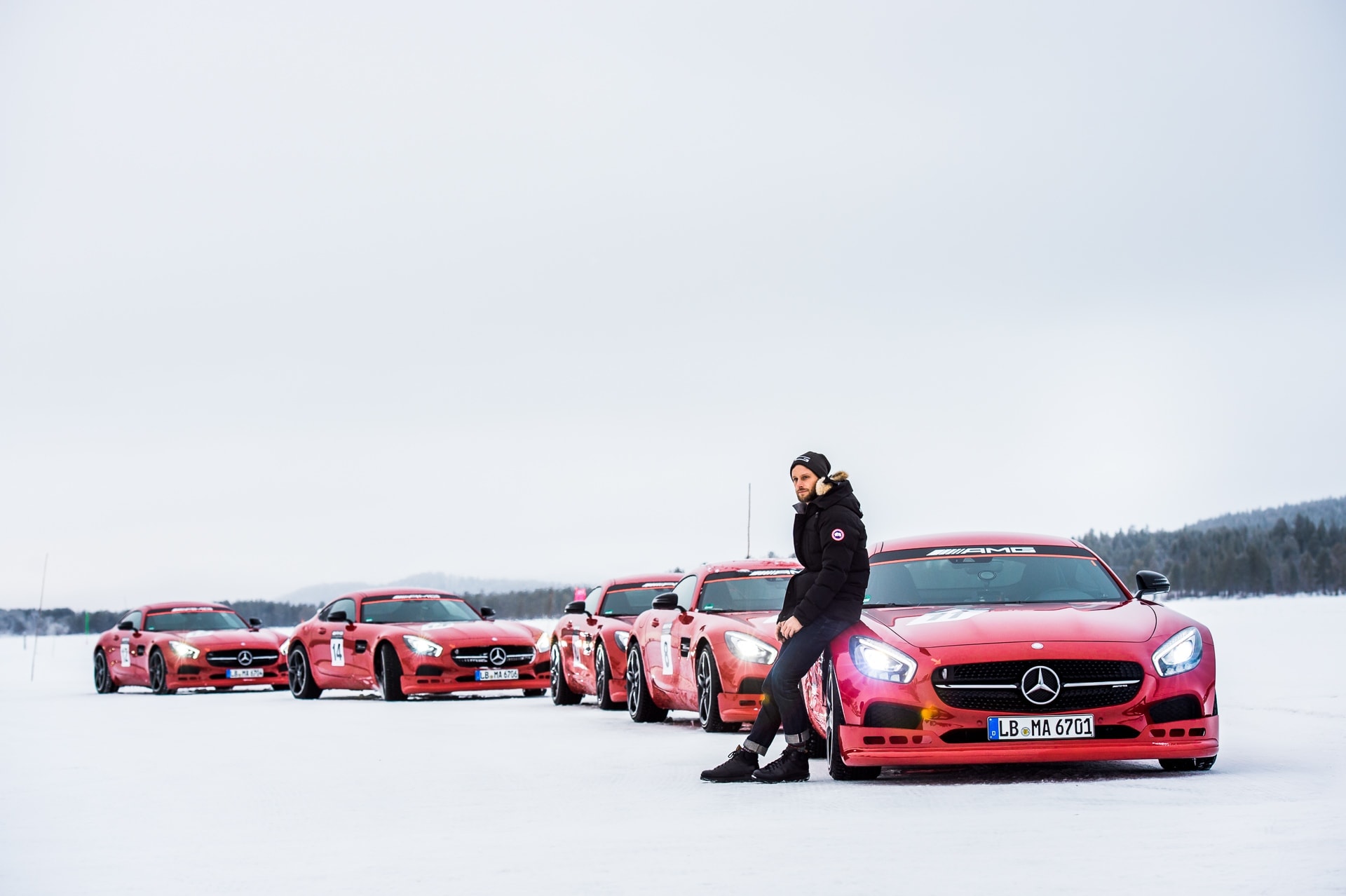 Erik Rasmussen, in Santoni black leather sneakers, before testing the Mercedes-AMG GT on the 2100 meter "Laguna Seca" track.
TRAVEL — DAY ZERO
Tuesday, 3:27PM United Airlines' Newark Liberty Airport economy check-in is on the second floor. It is a far more heavily trafficked hall than the "Premier" check-in, one floor up, and it shows. The floors are seriously scuffed, and where they aren't scuffed the waxed surface reflects artificial light in polarized streaks, revealing warbles. The ceiling is lower here, its air vents whiskered with black gunk. Stains are painted over with a different white than the original white. Nobody looks excited.
I am excited. I have been invited to the AMG Driving Academy in Arjeplog, Sweden, just south of the Arctic Circle, as a guest of Giuseppe Santoni, CEO of his eponymous luxury footwear company. According to the AMG Driving Academy travel guide sent in advance, "you can enjoy a weekend so cool you'll be sweating with excitement." This includes developing and challenging my ice driving skills on the frozen lakes of the Lapland. In the PDF are adrenaline jolting photographs of AMG tuned Mercedes in winter conditions, jets of snow spraying from their wheels as they "drift" through ice track circuits. Santoni, the company, has partnered with AMG and produces a line of AMG-branded specialty driving shoes and leisure shoes.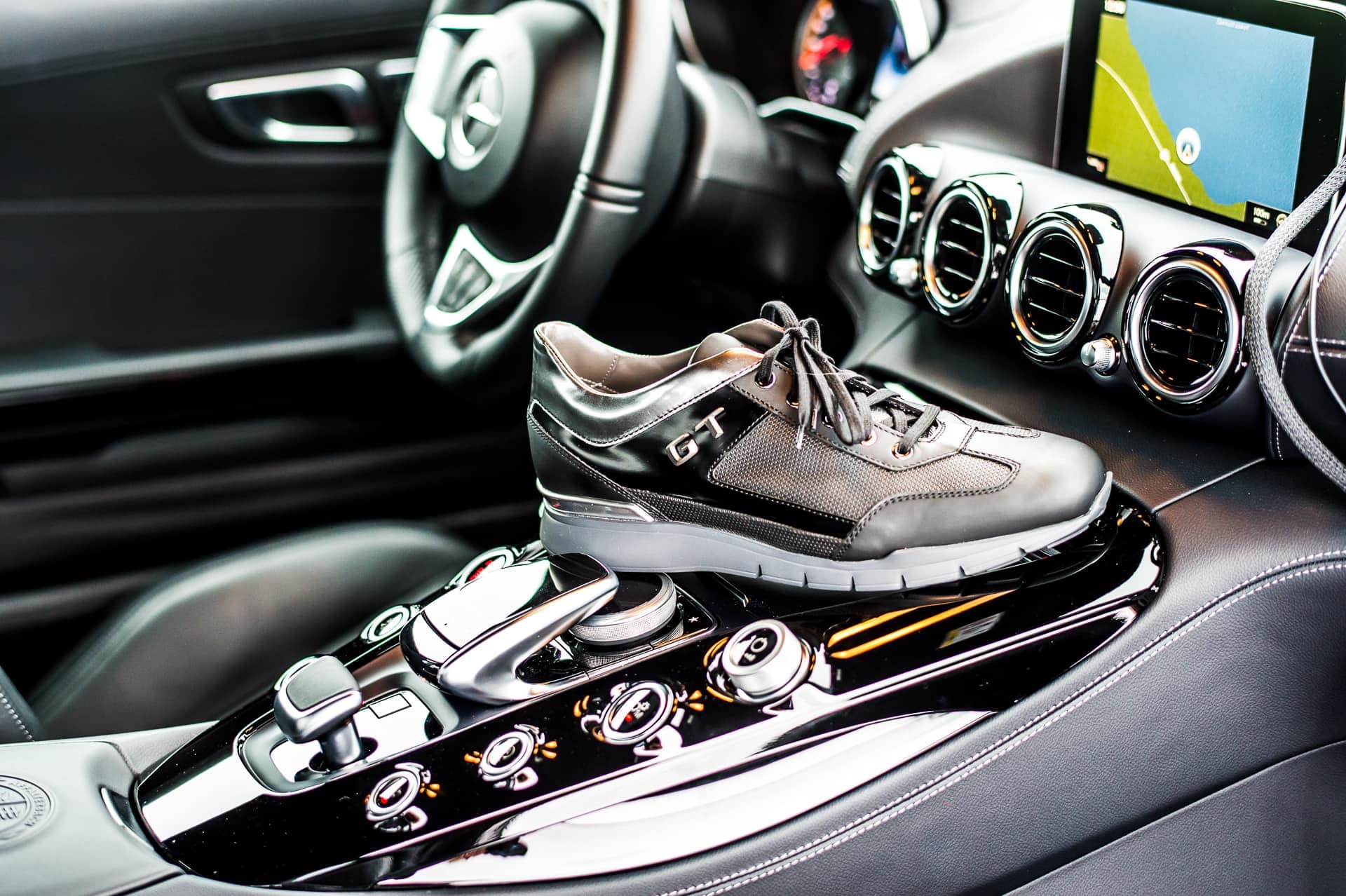 Santoni for AMG collection expands with a new line of sneakers and travel accessories inspired by the latest Mercedes-AMG model, the Mercedes-AMG GT.
4:04PM At the gate. Security process not even worth mentioning. People here look more content. Among them I hear English, German, Italian, Russian and other languages indiscernible to your journalist. A Russian-speaking man has kicked off his shoes and rests his white ankle-socked feet on the chair across the aisle, causing me to move for olfactory reasons.
5:15PM Flight UA 30 is scheduled to fly from Newark, New Jersey to Munich, Germany in under 8 hours. I'm in seat 18A in a Boeing 767-300 twin-jet aircraft. There are two babies audibly nearby. A quick inspection locates them in the seat directly behind me, and across the aisle a row behind me, respectively. Soon as the aircraft doors close I move to an empty seat in an empty row ahead of me and am immediately approached by a cabin steward. Unapparent to me, these are crew rest seats, she explains, reserved for overtired long-haul crew. "Didn't you wonder why they're so nice?" she says. You'd expect a person who spends half her life in the air to conceive differently how a "nice" seat looks and feels. My idea of a nice seat, unlike the crew rest seat, has room for both elbows to rest comfortably at my sides, and secure upholstery, odor free. But that's me. Also, there were four of these empty seats. If there were cause for four flight attendants to need emergency mid-flight rest, it occurs to me, we'd be in a whole other level of in-flight emergency. 
A field of snow and distant pines whip pan across the windshield. Great arches of blended ice crisscross as we plow through the snowbank, backwards.
6:24PM A malfunctioning temperature probe is not being properly heated, which dissecting the conflictual technicalities here I'm not going to even try. Already an hour late, we return to the gate and deboard, with usual impatience. Everyone tries to stand in the aisles at once. I'm curious to see the effects that pharmaceutical grade sleep aids will have on the irritated flyers once we're back in the terminal.
There's confusion as passengers mingle with another flight's passengers waiting at the gate. Some people instinctively follow other people, and an entire arm of deplaned passengers follows them. Muffled announcements, vocal alarm at the possibility of missing connecting flights and sedatives add to the chaos. All I really want to know at this point is whether I will be offered a food voucher.
8:44PM Back in seat 18A. Different plane, same kind. I've spotted an additional baby, one row up and across the aisle. This trip is beginning to feel like a conspiracy. The baby ahead, in row 16, is squealing and gurning. The baby directly behind me has joined in chorus. Other passengers coo reassuring sounds, smiling at their mothers. The third baby remains quiet. I like that baby. The safety video plays again. There's something mocking about the spacious seating and the general conviviality of the passengers shown in the video.
We haven't left our parking space and my heart is beating about throat level. Caravaning to the lake sounds like war's about to break loose. Drift snow and steamy exhaust envelope. My fingers are pale from the cold and from early adrenaline.
There is no historical information about the AMG firm in the PDF, and it occurs to me I don't know what "AMG" even stands for, or what any other lettered nomenclature in the Mercedes lineup means. You have your A class, your C class, E class and G class, and within these headings are subclasses. I've seen GLA and SLK along with numbered appellations on the back ends of Mercedes cars that correlate, I'm guessing, to displacement; a word I know and yet can not explain in terms of a car and its engine. I know how to change oil and tires, how to "jump" a car's battery, and can describe in generalities what alternators and spark plugs do. But as the plane taxis to the runway, and I think about mechanized movement, cars begin to seem like a mystery. And yet I consider myself a "good" driver.
SANTONI / AMG DRIVING ACADEMY — DAY ONE
11:34AM Munich. I've missed my flight to Sweden's subarctic by nearly two hours. The solution is three more flights, eventually arriving in Skellefteå, Sweden at 10:30 tonight. Munich's airport is bright and bustling, gates seemingly every ten feet announce departures to cities I've never heard of; its feeling is more like an exquisite bus depot than an airport. By the time I clear immigration and security and find my gate, they've begun preboarding. I connect to the airport's free Wi-Fi and my phone is a frenzy of sounds and buzzing: voice and email and text messages I have to triage in order to find flight and other details before boarding and losing connection.
4:45PM Oslo Lufthavn is a beautiful airport: hardwood floors give onto marbled stone, high serried ceilings unstained, clean glass, softly lit. The SAS lounge is spitting distance from my next flight's gate. In the lounge I eat bowl after bowl of hot tomato soup with white beans, glassy slivers of onion, and hidden chunks of mincemeat that I mistook for mushrooms. Something like excitement is refreshed by glassfuls of the lounge's gratis beer, and espresso. There is a two-hour delay.
The Wi-Fi here is faster than my home's Wi-Fi.
Some lounge researching reveals that the "A" in AMG stands for Hans-Werner Aufrecht. Aufrecht was a dynamometer engineer and motorhead working for Daimler-Benz in the sixties, testing their 300 SE engine. While employed there, he met Erhard Melcher, the "M" in AMG, who was fresh out of college, also an engineer and racing fanatic. Some deeper online investigation reveals that the beginning of their relationship was tense, but when Daimler-Benz withdrew Mercedes from motorsport, their shared passion for racing drew them together. They began tuning Mercedes Benz's for individual racers, the first in 1965 when "Manfred Shiek drove the Mercedes Benz 300 SE, modified by Aufrecht and Melcher, at the German Touring car Championship," I read from photographed pages of the book AMG 45 — The Story, The Cars on Google Images. Further squinty-eyed examination finds that by 1967 Aufrecht's and Melcher's reputation for tuning 300 SEs into winners had grown to such demanding height that they left their jobs at Daimler-Benz to rent a workshop space in a barn — the now famous "Old Mill" — in the Swabian town of Burgstall, Germany. They named their firm "AMG", the final letter coming in honor of Aufrecht's hometown, Großaspach. The following year, Mercedes released its 300 SEL 6.3, which AMG developed into the fastest sedan in the world, and it soon won its class in the 24-hour race, Spa-Francorchamps. From AMG's barn, the concept of aftermarket car customization trended globally.
I feel like a better driver already.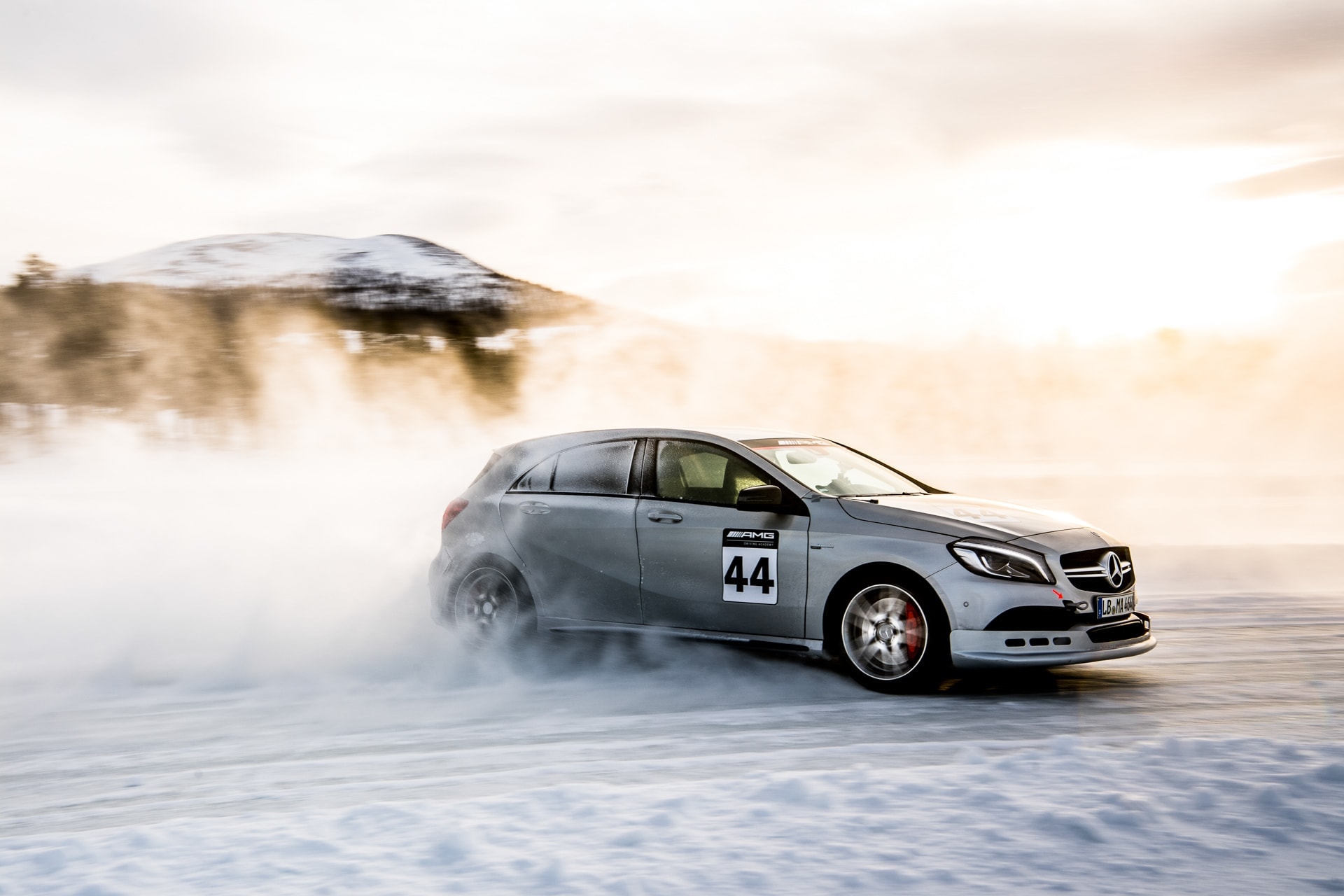 Erik drifting in the Mercedes-AMG A 45 4MATIC on the 1500m "AMG Arena" track
Incidentally, Santoni offers a sneaker called A45 (part of an FIA approved line of Santoni shoes dedicated to racing) named for Mercedes's compact A 45 AMG and where it takes its cues for "an extremely broad selection of optional equipment and appointments, colors and materials." AMG has always been about modification, and as today's luxury market continues to move towards personalization, Santoni's A45 appeals to a younger, "trend-oriented" consumer who values selectivity as much as quality.
Getting stuck here would require intent and effort. The Santoni team is going ape shit through the circuit. The sound is like a lumberjack competition's chainsaw buzz.
7:32PM Aboard a Scandinavian Airlines flight from Oslo, Norway to Stockholm, Sweden after a two-hour delay.
8:40PM Stockholm Arlanda Airport's ice rimmed runways and lambent snow covered fields look dazzling and forbidding from an altitude of 1,000 feet. We land at terminal one. My next flight is scheduled to depart in 20 minutes and I'm hoping for a delay — not an unreasonable expectation, considering — so that I have time to make the connection. Stockholm's airport is not as nice as Oslo's. There's less marbling and hardwood, more shopping opportunities. I see quite a lot of it walking a long corridor from terminal 1 to 4: "McD's", hip young people selling yoghurt at a kiosk blasting European rap, ads feature young women in brands I've never heard of, and hip regional stuff. No one has looked at my passport since Munich, and even there glancingly. Security is like the honor system compared to New York airports' virtual strip searches. In Stockholm the gate agents don't even check my ticket, allowing we passengers instead to scan ourselves aboard.
9:54PM Ascending after a 45-minute delay. I take off my boots for the first time in over 20 hours. The feeling is a pleasant draining, and the cold of sweat drying in the airplane's recycled winter air. The flight is shorter than your average NYC interborough subway ride, or maybe I dozed off.
The atmosphere inside Skellefteå airport is like a high school reunion's. A few dozen young men and women, observably local. My name appears on a board alongside a taxi's number and the taxi driver's name: Juan. My phone searches for connection and fails. I search my phone for instructions to and from this point, and fail. In my confusion I feel foreign, searching for my driver, roaming Skellefteå's ice encased parking lot asking every parked taxi driver "Juan?" until my boots' leather soles lose traction and down I go hard on the compact snow, my computer bag landing with a worrisome thud.
Like luck, I hear my name.
Driving through northern Sweden's unlit roads, each mile looks like the mile before it: snow banks, silvery pines, a glitch on the horizon's clouds is a sleepy town's ochre light, snow banks, pines … In Sweden, "Juan" is pronounced "you-won". The road ahead is an arm's length before it's swallowed by dizzying snowfall. Juan drives like he's evading something. Not once do headlights pass the other way.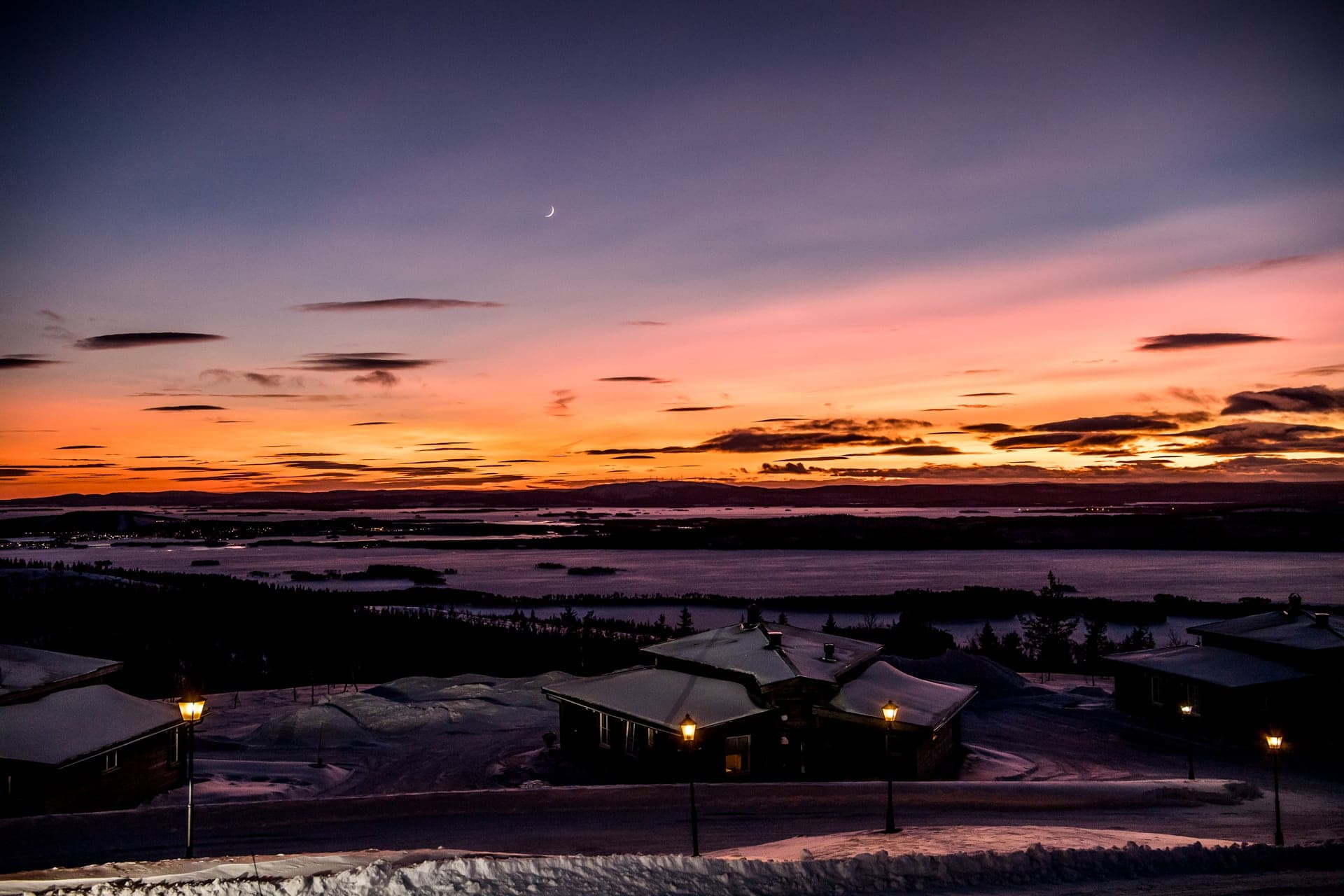 Pro drivers' lodging at the AMG Driving Academy. 
2:?AM Alas, arrival at AMG Driving Academy's frozen hilltop lodge. My room is very warm, and the air is so dry I can taste it. There are two boxes with my name on them, along with a handwritten letter from Mr. Santoni. In the first box is a pair of black high top sneakers, all leather, with thick black rubber soles that have enough grip to climb walls. The other box holds a pair of slim, black sneakers, the leather butter-soft, with thin soles that run up the heal's back, looking a little like a lowtop boxer's shoe, but these are handmade for serious driving: part of Santoni's AMG collection. Both pairs have that new shoe smell.
With the lights out, I lay in a darkness not seen since maybe my birth. Not even the wind makes a sound.
SANTONI / AMG DRIVING ACADEMY — DAY TWO
7:30AM Breakfast is underway. Breads and cheeses, yoghurt, sliced fruit, cured meats, iron-your-own-waffles, eggs to order, bacon, reindeer sausage, muesli, juices and smoothies. A single serve coffee machine whirs nonstop. I have three espressos before even attempting to interface with other drivers.
I've missed the first day; practice day. But as the breakfast service ends, "driving class" begins, right here at our seats. My chance to catch up.
We've been divided into teams, I observe, and these teams sit at different tables. Class consists of a video presentation live narrated by a professional rally car racer with a German accent, and is mostly concerned with over and understeering. We're taught: if the car spins into a turn, the ass end kicking out and around, you've oversteered. If it slides past the turn, that's understeer. One of the teams is all Russian, and a translator speaks between the pro driver's sentences in Russian-ized summaries. Video shows a pro driver's technique in side-by-side action: on the left of the screen we see hard in-turn steering immediately followed by a maintained countersteer. On the right, we see a foot steady on the accelerator, never braking. The translator is explaining this in what sounds like exaggeratedly fast Russian. The video jump-cuts to a high-angle shot of a silver Mercedes "drifting" around a right hander. The action is smooth and comprehensible, visually. But add braking and set positioning, balancing your steering with acceleration, and variables from wheelbase length to load change and even the condition of the track itself … well, only experience will learn you.
With that, we load into sprinter vans and head to AMG's lakeside garage.
This is not as easy as it sounds. Nor as intuitive. Several times I spin (oversteer), throwing a hundred thousand dollars worth of Mercedes against the snowbank.
9:21AM Three lines of cars, one per team: silver Mercedes-AMG A 45 4MATIC, white Mercedes-AMG C 63 Coupé, and hello-officer-red Mercedes-AMG GT S. Besides the Russian team you have the Dutch team, and Santoni's team; a mix of Italians, Germans, Japanese, and me the American. Plus there are a handful of pro drivers and support crew in Sprinters and SUVs. It's well below freezing. The cars' engines are running and prewarmed. We all hurry to get seated inside, two per car. I'm partnered with Gabrio Santoni, Giuseppe's son, a college student, and a driver's license holder of one month. Our team loads into the C 63 S Coupé, an unassuming wolf. Gabrio, who'd driven it the day before, calls it "the crazy motherfucker" because it's a rear-wheel drive and has 700Nm of torque, more than enough to overpower the lake ice's traction by roughly 698. There are several modes to drive it in, from Sport to Sport Plus, with or without traction control, manual or automatic, all a button's click away. The college kid is most concerned with Mercedes-AMG's engine-sound enhancement, a feature that tunes the exhaust and makes the engine sound like someone's stuck a finger where it doesn't belong.
We haven't left our parking space and my heart is beating about throat level.
Caravaning to the lake sounds like war's about to break loose. Drift snow and steamy exhaust envelope. My fingers are pale from the cold and from early adrenaline.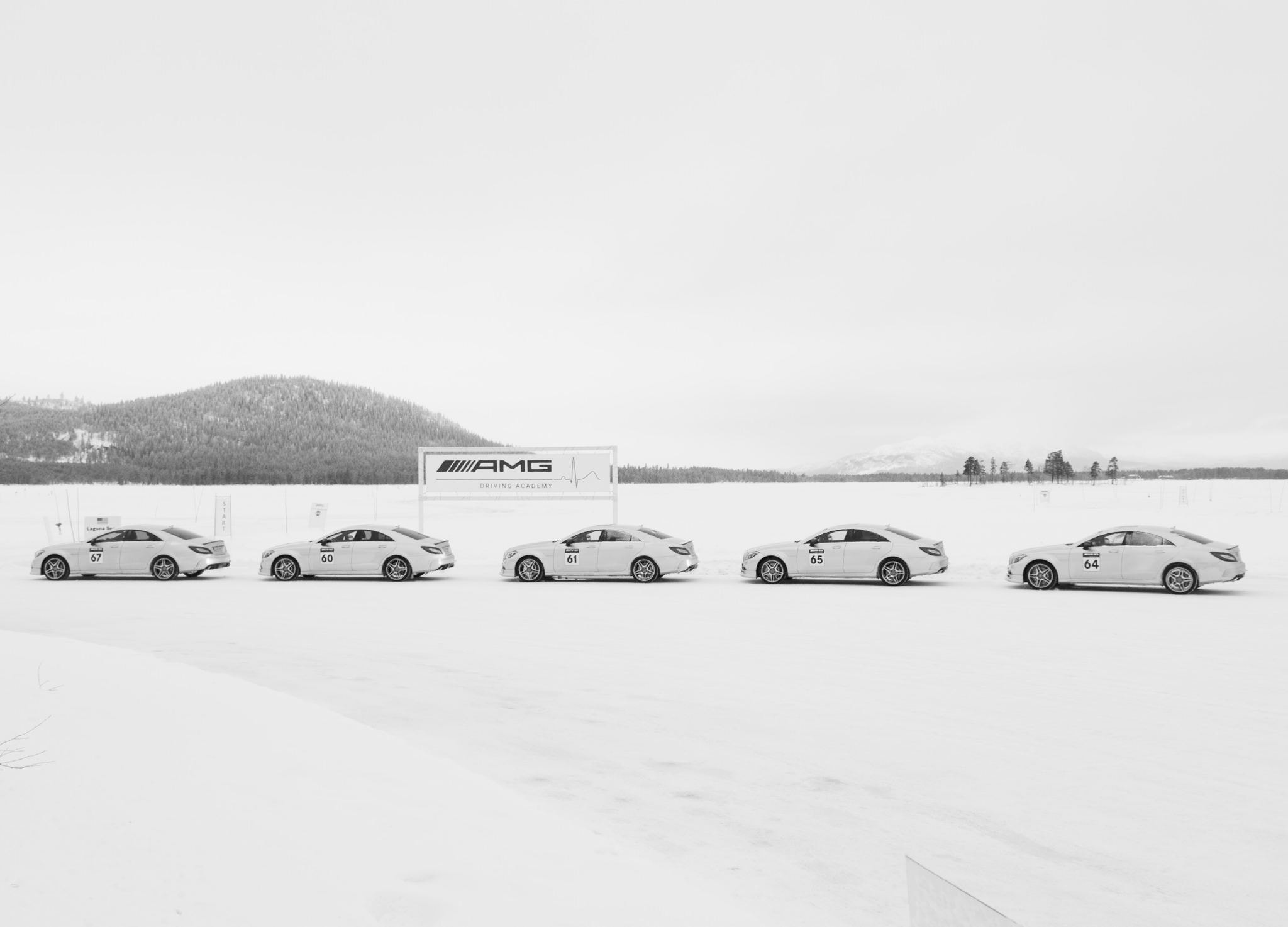 Mercedes-AMG C 63 S Coupé line up before heading to the "Circle" track. 
9:42AM Warm ups. As in literally jumping jacks. Then a friendly competition before climbing back into the cars and heading onto the course. The track is a faint impression on the ice. The horizon is a blur of windswept snow.
Each team is to pull a Mercedes G Class SUV (AKA the "G Wagon") by a rope, from a stand still to a cone 15 meters away. This is a timed effort. Pure adrenaline fueled, fast-twitch muscle explosivity and without strategy, you would think. But then, ask a German.
One of my team's AMG pro drivers calls a huddle. He admonishes us to spread ourselves evenly along the rope. "One: to bring consistency to the rope so you don't work against one another; and two: so you don't end up stepping on another's foot and falling."
I'm wearing a solid pair of high top Santoni's that grip like they have pads and claws. The rest of the team is similarly outfitted. The race is too close to casually call, but I can report that ours is the only team to have no fallen members. If style counts, we win.
In the hairpins you steer with gasoline. The machine's power is obscene fun, once you get the hang of it.
10AM The "Circle" track. A ring maybe eighty yards in diameter. My first drifting trial and the least challenging course. Gabrio has left the C 63 in it's rawest mode: Sport Plus, traction control off, manual transmission, exhaust tuned to snarl. The tires bristle with nearly 200 metal spikes apiece. Three cars at a time on the track. I touch my foot to the accelerator, a pressure that wouldn't bend a mouse's ear, and the wheels whip fury. Rear windows fill in white. A walkie talkie in the center console ("the crazy mother fucker" has cup holders) crackles with directions from our pro driver standing trackside. "Smooth with the throttle, Erik. Accelerate through the turn until the back comes around, then counter steer." This is not as easy as it sounds. Nor as intuitive. Several times I spin (oversteer), throwing a hundred thousand dollars worth of Mercedes against the snowbank.  
Overnight, a fine powder had covered the tracks, which, after a few biturbo powered runs on metal studded tires, has been mixed into pureed ice. The consistency is like the sugar you rim a margarita glass with after it's been used by a few wet margarita glass rims. The snowbanks are made of this stuff and when you hit them the noise is wicked.
The rules mandate that team members pull over and help push a stranded car back onto the track. Overtaking is dangerous. I don't want to asperse, but the German drivers seem to have memories lasting right up until that rule was explained. They pass slowly, waving and smiling.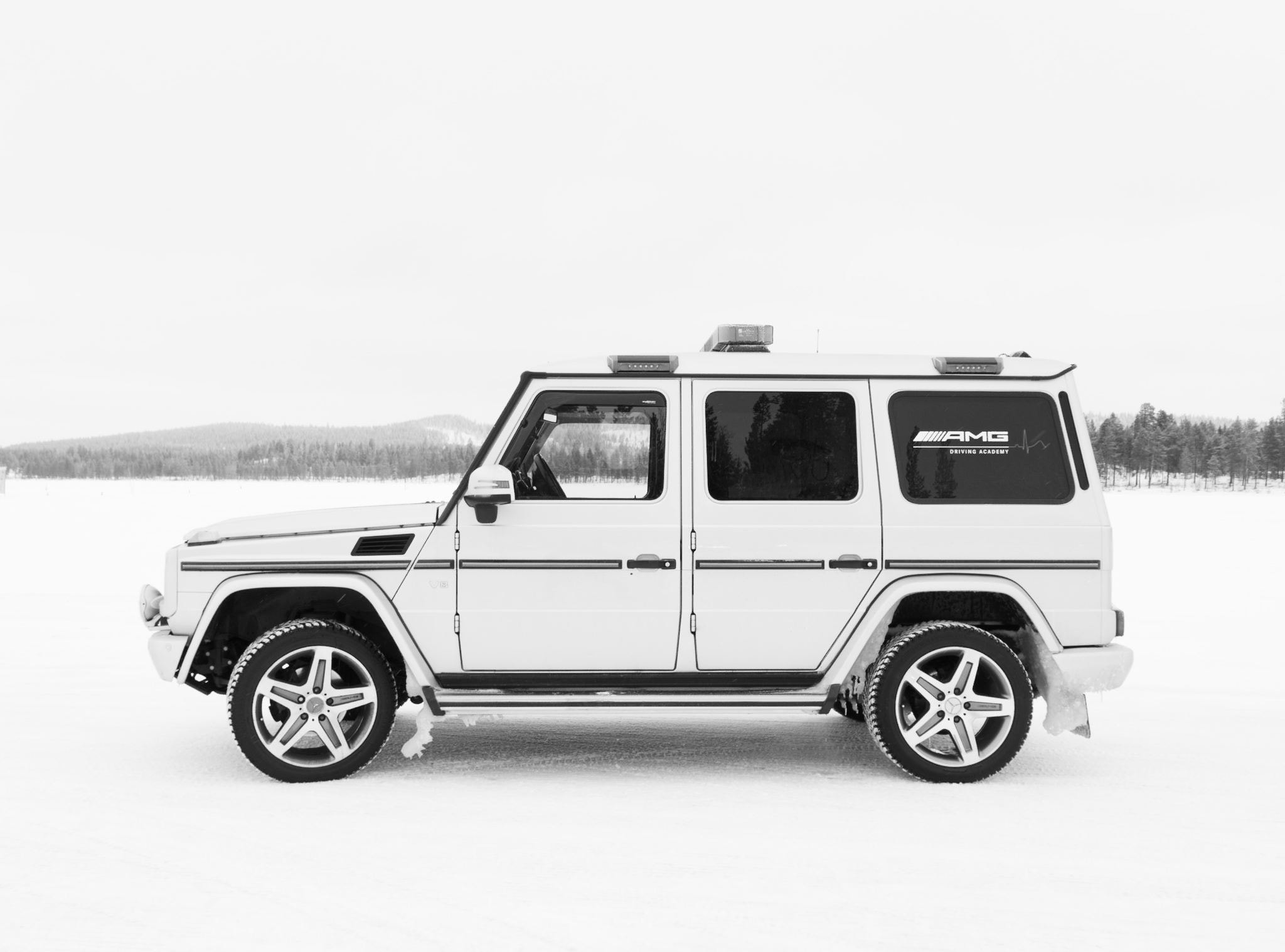 The Mercedes-AMG G63 SUV used to tow cars out of the race track snowbanks.
11:00AM  Hairpins on the "Hairpin" track. Gabrio charges into the course. He's clearly gotten comfortable with the C 63's rear-wheel insanity. Evidence of another team's learning curve is gouged into the first snowbank. Our heads swivel as we drift from turn to turn, looking more through side windows than the windshield. "Look as far into the turn as you can, steering through the apex" coaches Pro Driver. Even in fourth gear the biturbo V8 engine powers through low speed metal-studded traction, screaming as it bumps against 7,000rpm. "You have to find the balance," says Pro Driver seconds before Gabrio understeers and we end up in the snowbank. Gabrio stays on the pedal, and momentum helps us punch a hole through the bank's backside and onto the track.
"Guys, we're driving on the ice, not on the snow," Pro Driver teases.
Still charging. Drifting through turns at perpendicular angles. Gabrio closes in on the car ahead. It's hard to judge our velocity. The wheels are spinning 80km/h, according to the speedometer. We're actually moving nearer to residential neighborhood speed. But down the straightaway you get a sense, inertially, of what 700-horses and metal studded rear-wheel drive can do, even in the worst of winter's conditions.
The team gathers car by car, gets out and helps to push. Breath streaks the air. The image of Santoni shoes put to work gripping the ice in this manner can not be overstated, I note.
Driver change. My turn. Step down to Sport mode. Mercedes pioneered traction control with their Electronic Stability Program or, fittingly, "ESP". The engine will only distribute gas powered torque to tires with traction. Those tires turn as long as they do not slip, the car will go only as fast as physics allow, quietly.
I charge less aggressively than Gabrio into the first turn. No drifting, just a slight shudder at the wheels, then into a stretch towards the second hairpin. A little thwap of the throttle and a timed steering wheel jerk rends the rear tires' grip and the C 63's ass end comes around. "Gas, gas, gas," says Pro Driver. I give it gas, gas, and gas. The Mercedes growls as it glides. Turning right means looking left. If the back end comes too far along, throttle down. If it lags, throttle harder. In the hairpins you steer with gasoline. The machine's power is obscene fun, once you get the hang of it.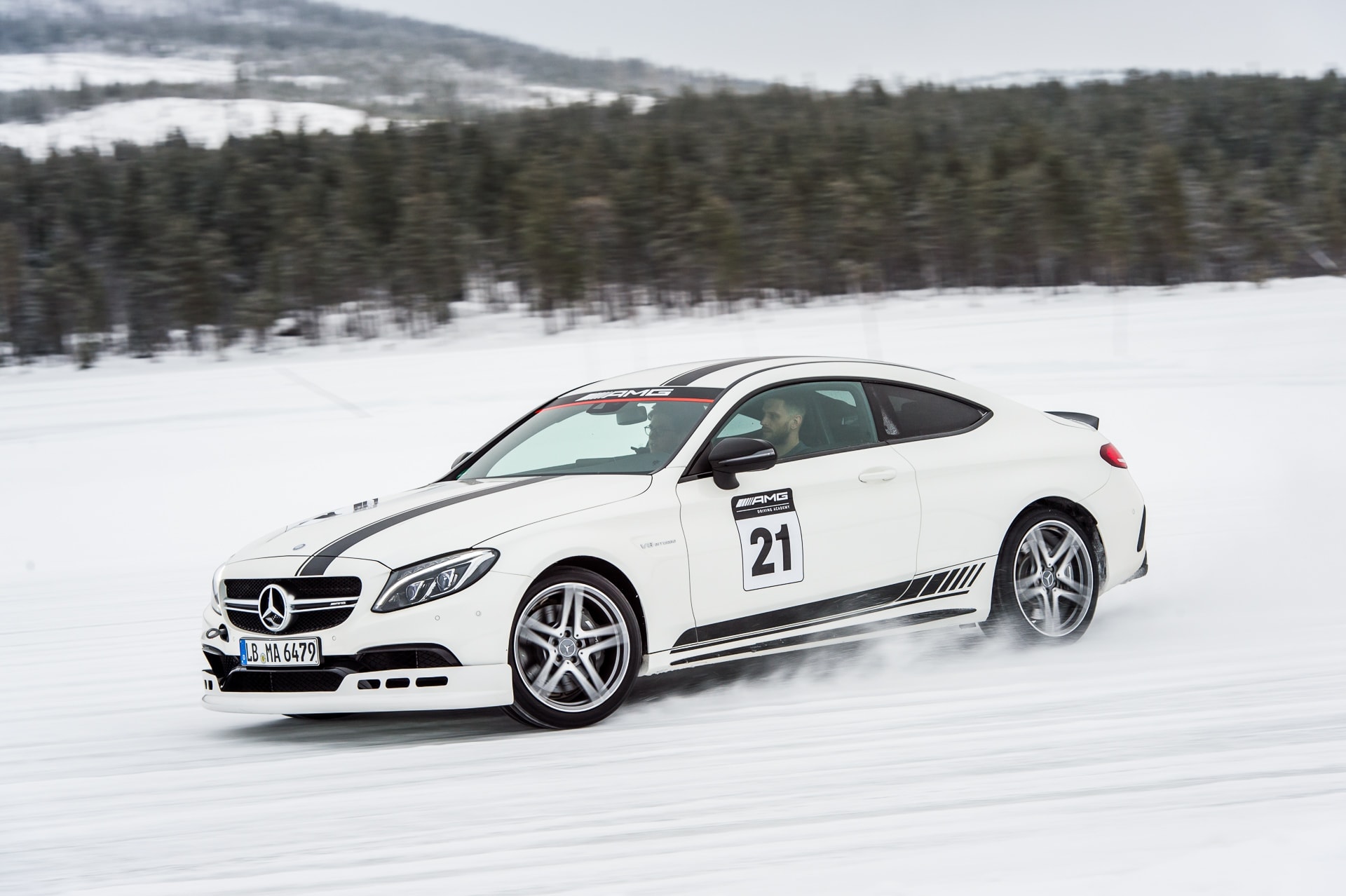 Erik Rasmussen drifting the Mercedes-AMG C 63 S Coupé, AKA "the crazy motherfucker," in the "Hairpin" track.
Confidence is another variable. Too much or too little are equally dangerous portions. Naive and inexperienced on the Circle track, my first wipe out set my confidence level near prepubescent. Now whipping through hairpins, my balls have descended. I make it through the circuit with only one spinout. Reset to Sport Plus, ESP off. Then down the first stretch at freeway speed. Hard brake. Turn in, thwap the gas. I bring her around the turn as if the C 63's on rails. But throttling too hard at the apex sends us spinning. A field of snow and distant pines whip pan across the windshield. Great arches of blended ice crisscross as we plow through the snowbank, backwards.
"Less aggressive on the gas, Erik."
The team gathers car by car, gets out and helps to push. Breath streaks the air. The image of Santoni shoes put to work gripping the ice in this manner can not be overstated, I note. The soles on G69 ankle boots are thick as bibles, the cold has no chance. But this time, even with the Germans' help, the car is stranded.
"Do we need the G, guys" the pro asks. With its front wheels dangling over the snow bank, the Mercedes looks like a shot lion propped for a photo.
Waiting for the G Wagon is no fun, and ball receding. After fixing a tow line to my car's eyehook and dragging it onto the track, the G's operator punches a hole through my badge with a tool that looks like boot spurs mounted to pliers. I'm not sure why it's done, but someone is keeping track.  
12:00PM Switch cars. Silver Mercedes-AMG A 45 4MATIC. Listed as an "entry-level model" on the PDF, but also as "the world's most powerful compact performance car." It's Gabrio's favorite, by yesterday's experience. It's light, responsive, and four-wheel drive. Hit the gas and it leaps. "And the sound is the best," Gabrio adds.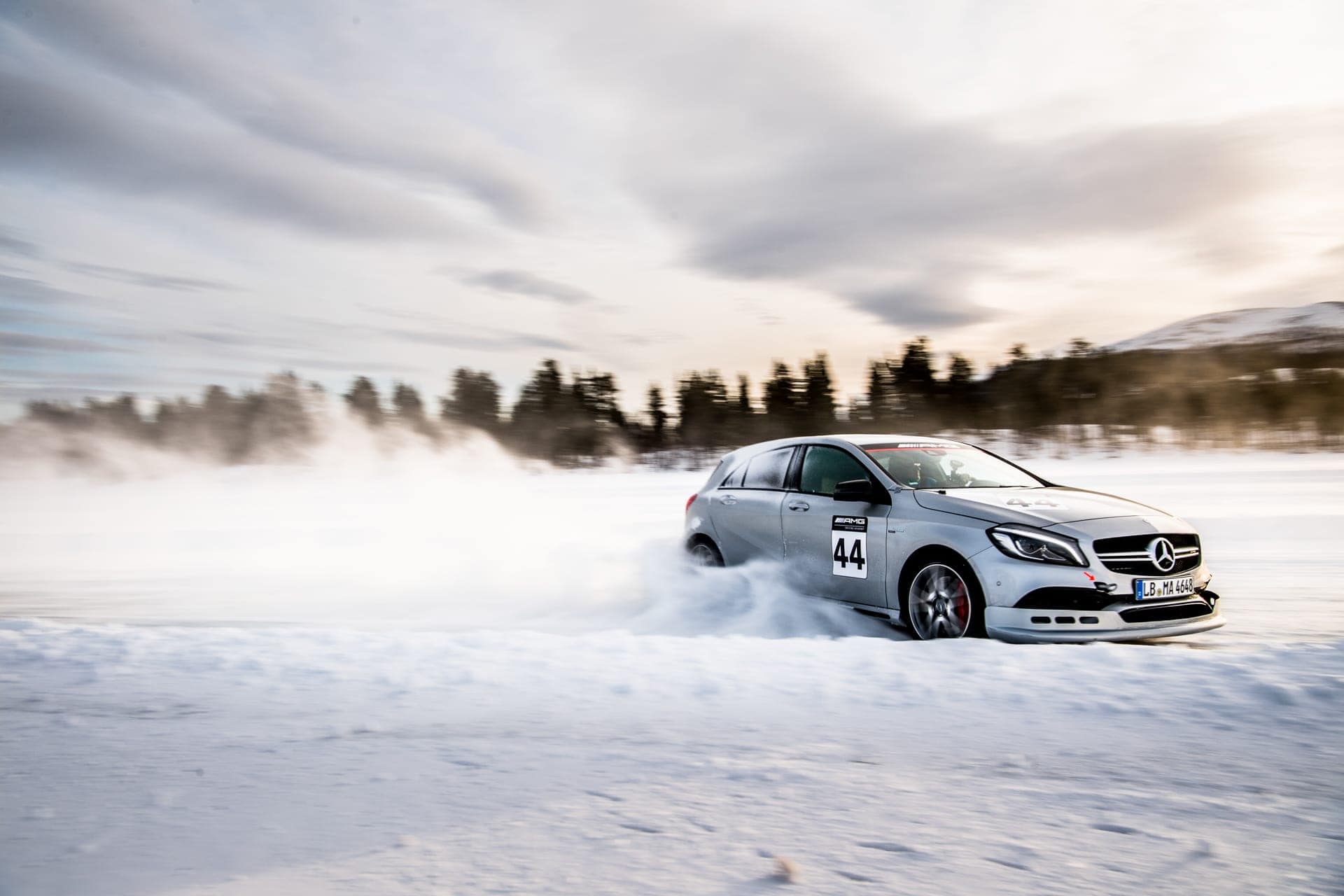 An A 45 4MATIC in "beast mode"
We're on the "AMG Arena" track, a 1500 meter oval with a hairpin-ish hitch at the halfway mark. By now the two other teams have run it and the snowbanks are destroyed. Tracks lead in and out of snowbank "holes". Getting stuck here would require intent and effort. The Santoni team is going ape shit through the circuit. The sound is like a lumberjack competition's chainsaw buzz. I won't even attempt to decoct the technicalities, but let's just say stomping on the gas solves most steering problems. Autobahn speed on the straightaways. Gliding through the oval's wide turns is a mere sway on a hammock. After four or five laps I'm actually hoping for a break. It occurs to me there might be such a thing as too much fun.  
Luckily, we break for lunch in the TeePee.
1:42PM Car change. Mercedes-AMG GT S, its color a lurid red. We're on the 2100 meter "Laguna Seca" track. It is hard to believe we've been handed keys and given a car such as this to abuse. Its interior is a dark carbon fiber, the panel looks like what I assume a fighter jet's looks like if a fighter jet had a touch screen. Actually, this car is capable of way more than my abilities, and therefore safe in the soft flats of the frozen lake. Those abilities show on the track. In its default mode the GT thinks for you, interprets your wishes, practically drives for you. I did a full, ball-descending lap with the gas pedal pinned to the floor without losing traction or ending up propped on the bank.
But set to Sport Plus, manual shift, traction control-less — what can legitimately be called "beast mode" — the GT becomes masochistically submissive.
And earns me two more holes in my badge.  
4:19PM Caravaning back to the AMG garage. 
The C 63 is a very nice car. In a moment I will beat the living shit out of it, but I still knock the slush off my shoes before getting in.
SANTONI / AMG DRIVING ACADEMY — DAY THREE
8:42AM Everything is speeding up.
10:30AM New car. Silver Mercedes-AMG CLS 63 S Coupé. This time I'm partnered with Giuseppe Santoni. We're on the longest track yet, the 2800 meter "Portimao".
This is not Mr. Santoni's first rodeo. He's a longtime Mercedes-AMG customer, and he's been through the Driving Academy before. It shows. He's the fastest driver on the team. And it soon becomes apparent he has no allergy to snowbanks. As long as you're going fast enough, momentum will carry you through. His spotless badge attests to this, and so does his demonstration in the next turn.
It's a sharp right hander we enter at 45km/h+. The rear end whips way around. We're practically looking through the rear window coming out of it. Hitting the snowbank actually straightens us out. I mumble something about bumper bowling. Mr. Santoni stomps on the accelerator. A wide left turn approaches at 60km/h+. Mr. Santoni, placid, smacks the wheel left and countersteers for a long, even drift, holding the wheel against the line a split second too long — brute force entry through a snowbank. The alternate side of the bank is a swept path, about a car's width, that Santoni follows a few dozen meters until he finds a "hole" and bounces back onto the track.
"We're driving on the ice, Giuseppe, not the snow," Pro Driver says with scripted timing.
Actually, his badge is not so spotless, I remember.
My philosophy is, I have to have fun. Otherwise, what's the point of working so hard?
Yesterday, in the A 45 4MATIC, he was the sole driver needing the G. "But that was not my fault," he protests. This is partly true. Track conditions are so slick and curvy it's impossible to build true, reckless speed with rear-wheel cars. But the four legged A 45 4MATIC gets close. Mr. Santoni was redlining along that limit on the second "AMG Arena" arch when he plowed into the chicane. Pieces of the car ended up further down the track. "The engine would not restart. I could have gotten it free without the G." I have a distinct memory of Mr. Santoni emerging from the wreckage like snow wouldn't melt anywhere on his body, holding a piece of Mercedes colored fiberglass aloft and saying, "German cars are not strong enough for Italians!"
The first badge hole doesn't count, Mr. Santoni tells me.
I still don't know what they amount to.
"Far as I'm concerned the holes keep track of who's having the most fun," I say.
"My philosophy is, I have to have fun," says Mr. Santoni, pinning the throttle and spraying jets of pureed iced through the air. "Otherwise, what's the point of working so hard?"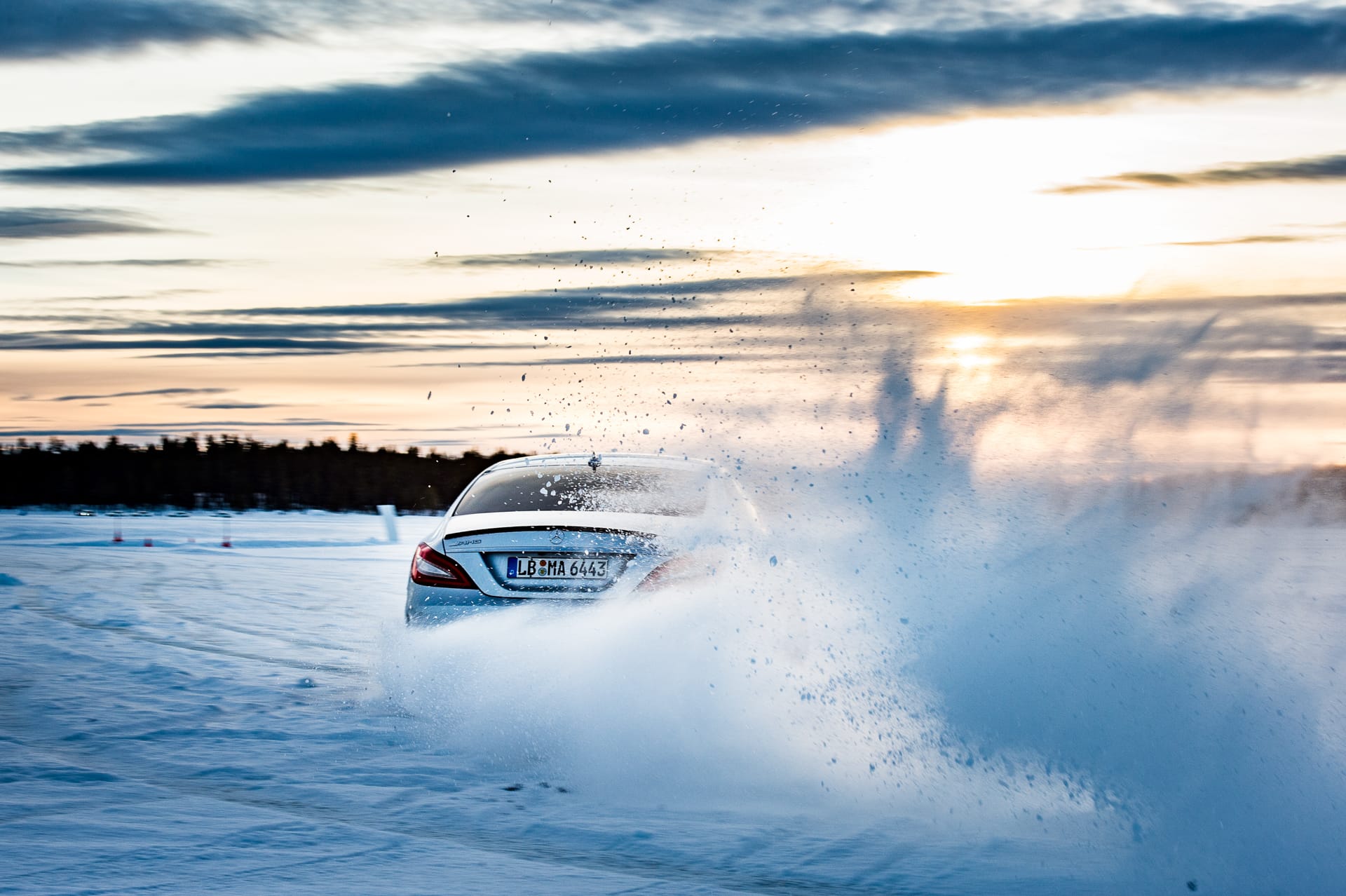 Giuseppe Santoni pilots the Mercedes-AMG CLS 63 S Coupé through the 2800 meter "Portimao" track
1:15PM  Mercedes-AMG C 63 — not clear on the difference between it and the CLS 63 S Coupé. Could be power, maybe features, probably price. I hear murmurs that this particular subclass is "a beast". And here on the "AMG Arena" track we're going to race them against each other.
The C 63, like the rest, is a very nice car. In a moment I will beat the living shit out of it — I am in fact given Pro Driver encouragement to "push it out there" — but I still knock the slush off my shoes before getting in.
I'm with my partner, Gabrio. The rules are explained. We each get three laps. The first is a "formation" lap, the two following are timed. The four shortest times from among all teams will compete later today in the "Championship Race," right here in the Arena.
We're lined up in the pit. The C 63, Gabrio explains, is a combination of the A 45 and the CLS 63 S: it is not four-wheel drive, it's more like 75-percent rear-wheel, 25-percent front-wheel, when in the correct mode. The PDF verifies none of this. It's still "the crazy motherfucker" to me. We're maybe second in line. Amazingly I feel no performance anxiety. I lead all drivers in badge holes. Little beside fun is expected. The car is in Sport Plus mode, manual shift, but I leave the ESP on. This is about time, and I can't afford to crash.
The good news is nobody crashes. Gabrio keeps unofficial time on his IWC watch. "Everybody gets 58, 59 seconds," he observes. His father, Giuseppe, is down around 57. I'm in the unofficial average. But I've missed a lap.
Our three allotted laps turn out to be four. Crossing the digitally timed finish line means you're through a stretch and into a right hander before you have the chance to throttle down and brake. I entered the pit on my third lap instead of tripping the timer. Pro Driver gives me one more chance after everyone's through.
"I want you to really be aggressive through the turns," Pro Driver says. With one good lap time already in the books, I have nothing to lose but control. I turn the ESP off. Full "beast mode". Gabrio's got the exhaust tuned to something seismic.
There's an emotional gap between being in control and feeling in control. In default mode —  traction control engaged, manual transmission, etc. — you've ceded responsibility to the machine: no matter how hard you stomp the gas pedal the engine will hardly rev above idle, the tires won't purée, the rear end refuses to yield, the brakes don't seize, etc. Obstinate and sobre, the car refuses to be bossed around. One's inertia and the speedometer both register residential velocities. The car, and by extension the driver, is being in control. Mercedes-AMG's engine-sound enhancement is all about bridging the emotional gap, sonically.
It also piques emotions when the car is in "beast mode". I can report first-hand that when smacking the steering wheel and thwapping the throttle to swing the rear around — ripping a sonic hole through the frozen subarctic air — you feel in control, and mighty.
The real judge here is time.
Hurtling through the Arena, Gabrio sitting shotgun and counting out the seconds, more than feeling a command of the C 63 I feel connected in the following way.
Mercedes was a top tier car company before Aufrecht and Melcher began tinkering with their engines in a barn. Similarly, Santoni began in a garage, when Guisppe's dad left a secure job making shoes for "a big shoe company" and applied his own proprietary mix of obsessive knowledge and passion, tuning footwear into a statement of modern sophistication, and of objectively high quality. And so why I've been invited here by Santoni has to do with illuminating these connections; to risk, to can-do, to the knee-knocking brass of tuning known quantities into new qualities. "Twelve years after my father began making shoes in that garage, we moved to a bigger house, and started making shoes in that garage," Giuseppe proudly told me between snowbanks on the "Portimao". His point was that Santoni didn't lose its independence, nor control. You'll never drive an AMG-tuned Mercedes at the limits of its abilities, but that's not why you buy one. Similarly, you choose Santoni footwear for what it represents. And yes, also because they look good. While Santoni and AMG have provenancial similarities, the connection between them turns out to be an emotional one.
Gabrio counts up from 0:49 while Pro Driver says encouraging things in the walkie. I drift through the last hemicycle so smoothly that the Arena appears picture-still in the windshield frame. If I don't blow the chicane near the pit's entrance I'll trip the timer at a personal best 0:58 seconds. I make the last few narrow turns, fishtailing harder than salmon past the pit and across the finish line.
"That was a good time," Pro Driver says and no more. We have to wait for the official results.
The C 63's drift synchronously through a right-hander, engines pitched in harmony. It's easily 20 degrees below freezing, with wind. The race is going to be close.
2:52PM The fire in the center of the lakeside TeePee is so intense you can't see through it. The temperature is up to about 80 degrees Fahrenheit, and the wood walls give off a sauna odor. Most of us drink coffee and eat cookies while the race results are read. Fourth and third places go to a Dutch and Russian, respectively. "In second place," a pro driver announces, "with the second fastest time on the track today," he obviates either in racetrack-ish hyperbole or for the drama, "is Giuseppe Santoni". Applause. Mr. Santoni jokes about having paid the timekeepers, to smattered laughter. In first place is a big, silent Russian with hair down the backs of his arms. The pro drivers have nicknamed him "Commandante" because there are four other Vladmir's on his team.
"Now it's going to cost more money," Mr. Santoni says as we shuffle out of the TeePee. "It cost me to place, and now I'll have to pay to win." Laughter all around.
I make a joke about a second place discount, which bombs.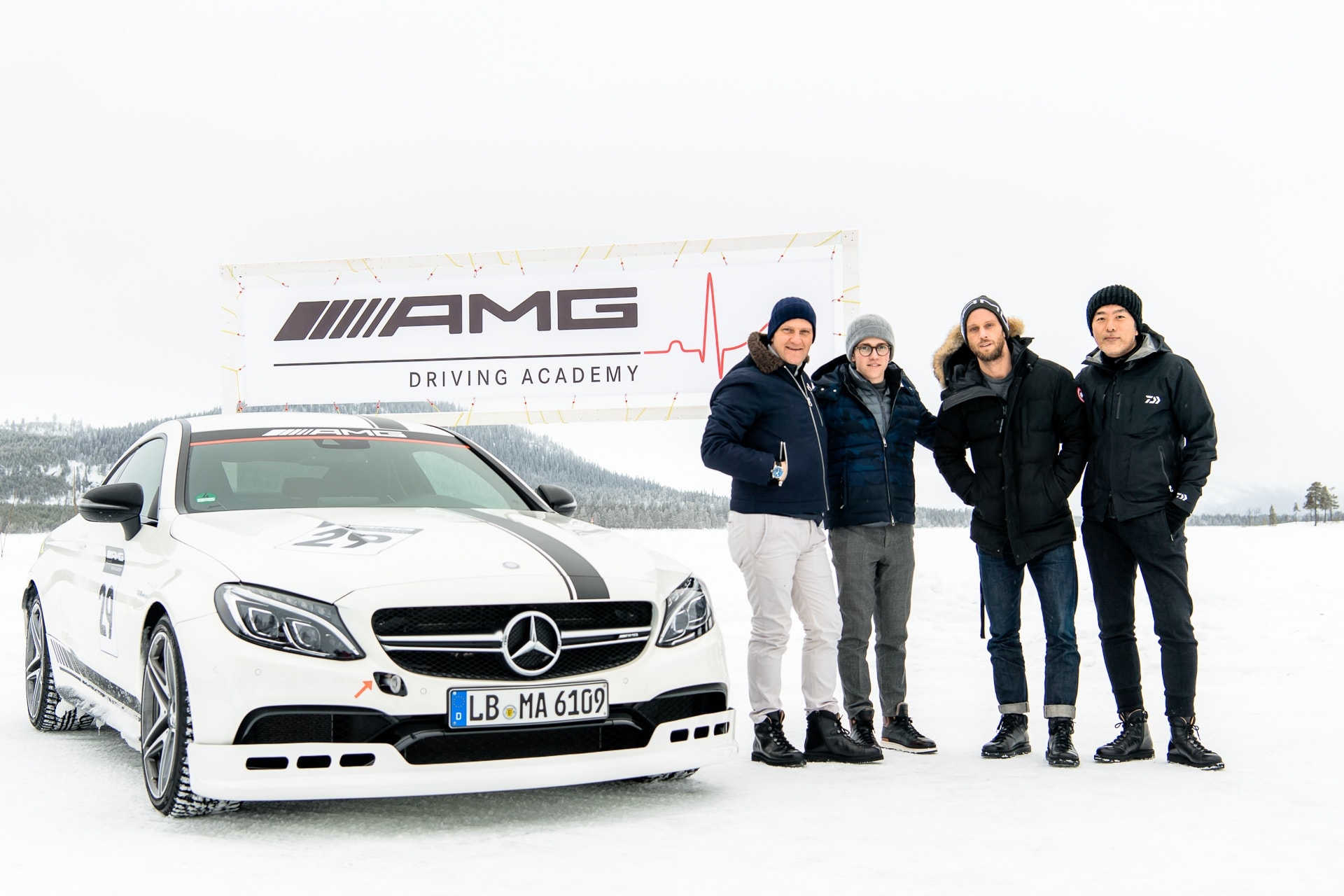 (From left) Mercedes-AMG C63 S Coupé, Giuseppe Santoni, Gabrio Santoni, Erik Rasmussen, and Mr. Maeda on the AMG Driving Academy ice track. Giuseppe and Mr. Maeda wear the G63 leather ankle boots. Gabrio and Erik wear leather high top sneakers.
3:00PM Choose-your-own-car free driving. The GT S's fill up first. A pro driver pairs me with a another big, though unsilent, Russian in the CLS 63 S Coupé. In the car, he turns the walkie talkie up to its maximum decibel output. I expect him to be an immaculate ice driver. I imagine him speeding through Moscow's frozen streets piloting getaway cars. It's not that he's especially voluble or loquacious. In fact he says little. But he emotes. Joy, excitement, disappointment, surprise, even fatigue comes out in grunts and airy whistles on the lake's longest track: the 3130 meter Spa-Francorchamps.
Giuseppe and the three other low-timers take practice laps in the Arena. The Championship Race begins at 4PM.
4:00PM All teams gather at the Arena. The course is now differently configured. There's an inside track that was not open to us earlier. Two cars race at a time. One takes the outer course, the other takes the shorter inside course. At the completion of the first lap the cars cross onto the other track. The car on the inside track moves to the outside and vice versa. The added danger of a crisscrossing smash-up makes spectating in the harsh cold more exciting, and tolerable.
Giuseppe races in the first heat against the "Commandante".
Screaming engines, too-close-to-call advantage, arrhythmic cheering, the crowd leaning in empathy through the synchronized final drift.
Giuseppe begins on the inside track.
Because they're driving unequal distances it's impossible to get a sense of who's in the lead until they switch tracks and come around the final turn, one inside in the other. The crowd shout things in different languages. The C 63's drift synchronously through a right-hander, engines pitched in harmony. It's easily 20 degrees below freezing, with wind. The race is going to be close. I'm surprised and excited by my own involved shouting while I cheer for Santoni.
The cars cross the finish line side by side. It appears, to me at least, that Santoni won.
The four pro driver judges at the finish line consult with another. Everybody's hands are on their heads waiting for the results. This has never happened before, the judges tell us, but it was too close to call.
The contestants line up for the tie breaker.
Deja vu: screaming engines, too-close-to-call advantage, arrhythmic cheering, the crowd leaning in empathy through the synchronized final drift. This time the Commandante crosses the finish line a bumper's width ahead of Santoni. And it's all over.
Well, not yet. Giuseppe still has to compete for third place.
Which he wins by a car length.
9:10PM Back at the lake for a special dinner in the TeePee. Surprise birthday cake for one of the Russians, who glows red from embarrassment, and maybe also from the wine.
Awards are given, too. For his third place finish in the Race of Champions, Giuseppe is presented with a painting of a Mercedes-AMG race car. He passes it around for the team to admire. The teams have also been ranked. Team Santoni ended up with zero points. In yet another AMG Driving Academy first, no teams are in the negative. But that's little consolation to us after we learn we've placed third. My four G tows added (subtracted from, really) to this. If I'd gotten towed only once we'd be in second place, behind the Russians. The Germans look especially disappointed.
But I feel no shame. After the official results are handed out on printed spreadsheets, and the TeePee has grown quiet with study, one more prize is given: I win the "Golden Hook" for accumulating the most badge holes, which also draws the loudest applause of the night. For, unofficially, it's the award given to whoever had the most fun. And after all, that's really what I'm here to do. Otherwise, what's the point of working so hard?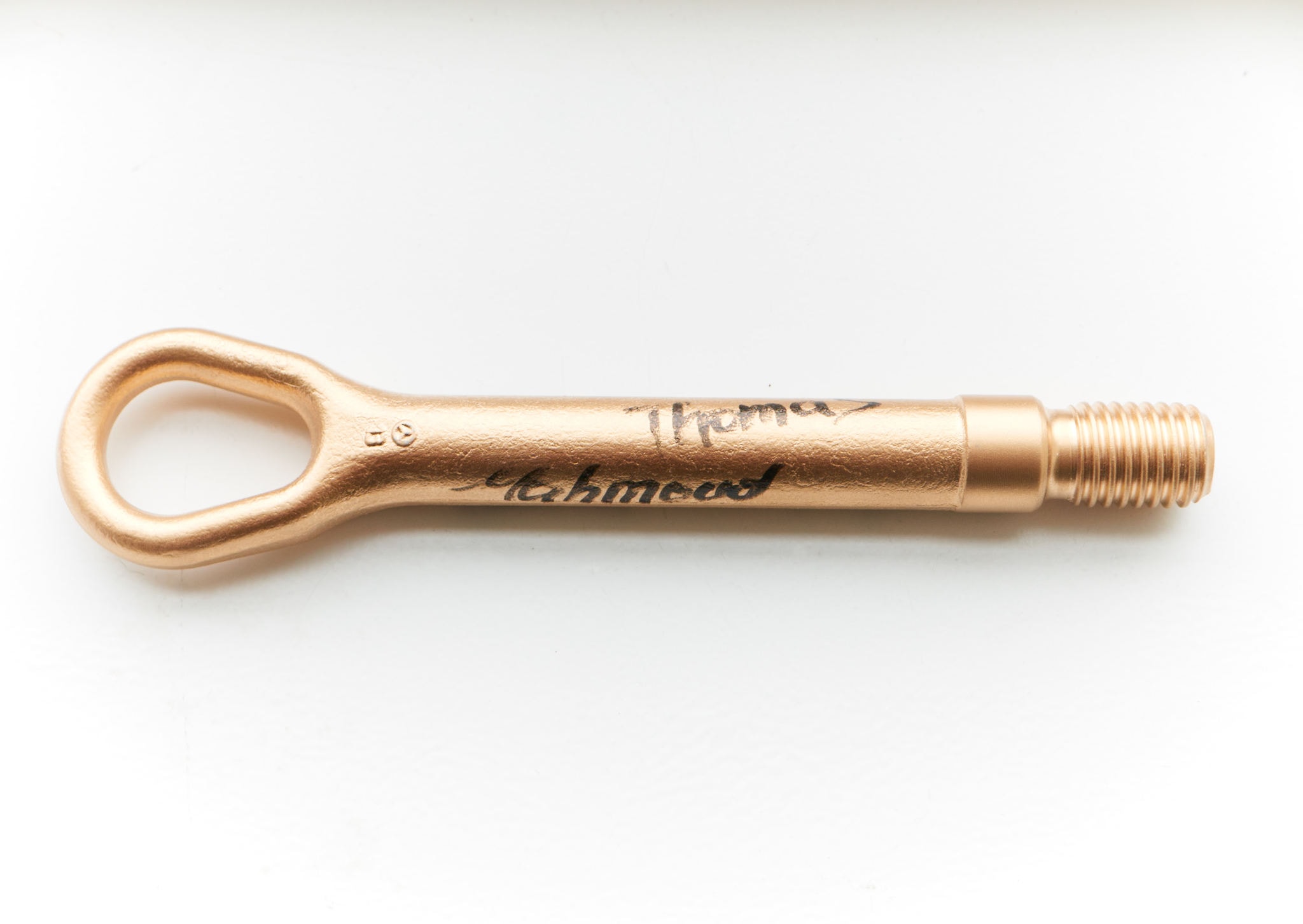 The Golden Hook, awarded to the driver who accumulated the most tows by the Mercedes-AMG G63 "G Wagon" SUV. In other words, a prize for having the most fun.
Special thanks to Jeoffrey Romano and Gloria Biribei at Santoni SpA, Karla Otto New York, and of course to Mr. Giuseppe Santoni. The First Class, non-stop flight home from Stockholm, Sweden to New York was an especially nice touch.