Music, 

Gods

&
Dead Men


The New Pirates of the Caribbean star,
Brenton Thwaites, Tells His Tale
Written by Chris Lee
Photography by Randall Mesdon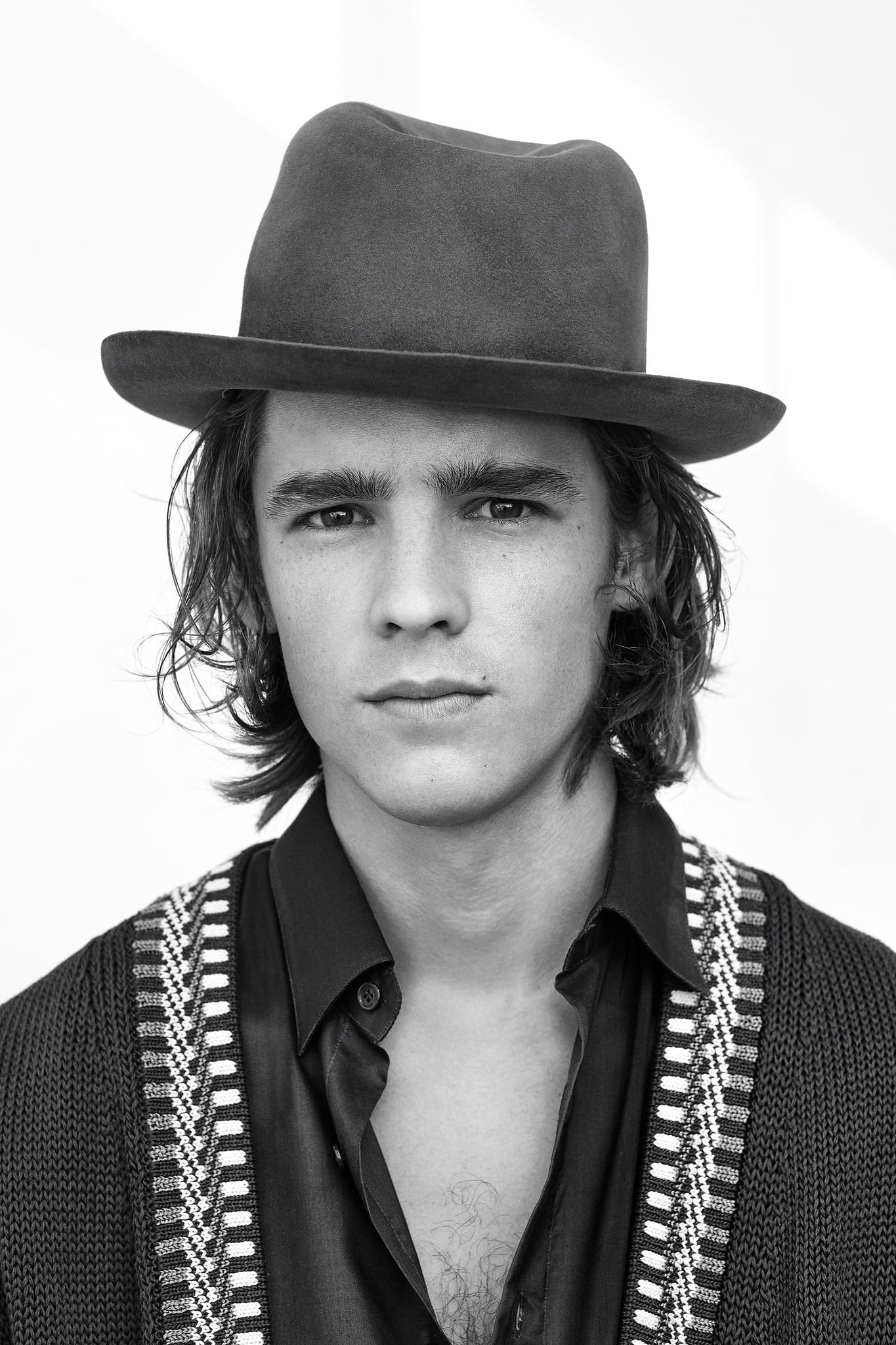 Cardigan and shirt  SALVATORE FERRAGAMO Hat  WORTH AND WORTH
HAD THE ACTORS BEEN A DIFFERENT CALIBER OF PEOPLE — had the castmates been content to bide their time with small talk, or perhaps been more apt to wear their hearts on their sleeves — their private discussions might have taken a different tenor. But on the set of Pirates of the Caribbean: Dead Men Tell No Tales in Australia, jointly enduring the kind of hurry-up-and-wait production delays — stunt tests! light rigging! arranging motion capture ping-pong balls on barnacle-encrusted nautical zombies! — that are part and parcel of mega-budget filmmaking at its most decadent, Johnny Depp and costar Brenton Thwaites never broached the existential complexity of modern movie stardom. They kept it real with one another. At least as real as could be, under the circumstances.
Among the things the two did not discuss: the impending dissolution of Depp's marriage to the glamorous ingénue, Amber Heard (which reportedly began playing out there surrounding production on the Gold Coast in 2015). Nor the fact that Thwaites had traveled halfway around the world to forge a successful career in Hollywood, appearing in one gigantic studio movie after another leading up to this gig, only to have circumstances return him here, to this sun-kissed corner of northeastern Australia, 1,100 miles from his hometown.
Instead, the laid-back 27-year-old actor and Depp talked about staggering works of musical genius — and their own ambitions as actor/musicians. Specifically: Thwaites' abiding love of bluesmen such as Muddy Waters or Robert Johnson, "and his deal with the devil at the train tracks." "Johnny was one of my favorite actors — still is," says Thwaites. "Our conversations were usually along the lines of his opinions about certain guitars; we both have a pretty big passion for guitars. And he was about to go off with the Hollywood Vampires, his group with Alice Cooper and Joe Perry from Aerosmith. But there were a few things I was asking [Johnny] in terms of the acting books he'd studied, the actors he admired as a kid. He was pretty open to me about all that stuff. He has such a great energy. He's so positive. And in between 'action' and 'cut,' he's amazing."
It wasn't so long ago, after all, that the erstwhile Captain Jack Sparrow wasn't yet a household name, and he found himself in a situation not dissimilar to the one facing Thwaites. The Cairns native has come to rank among the most consistently employed, top-billed and, yes, genetically blessed twenty-something leading men working in movies today. Exhibit A: His part as one of three coprotagonists in the $320 million Pirates reboot (due in theaters May 26). To land it, the now Los Angeles-based actor beat out a Murderers' Row of young up-and-comers said to include Taron Egerton, George McKay and Ansel Elgort.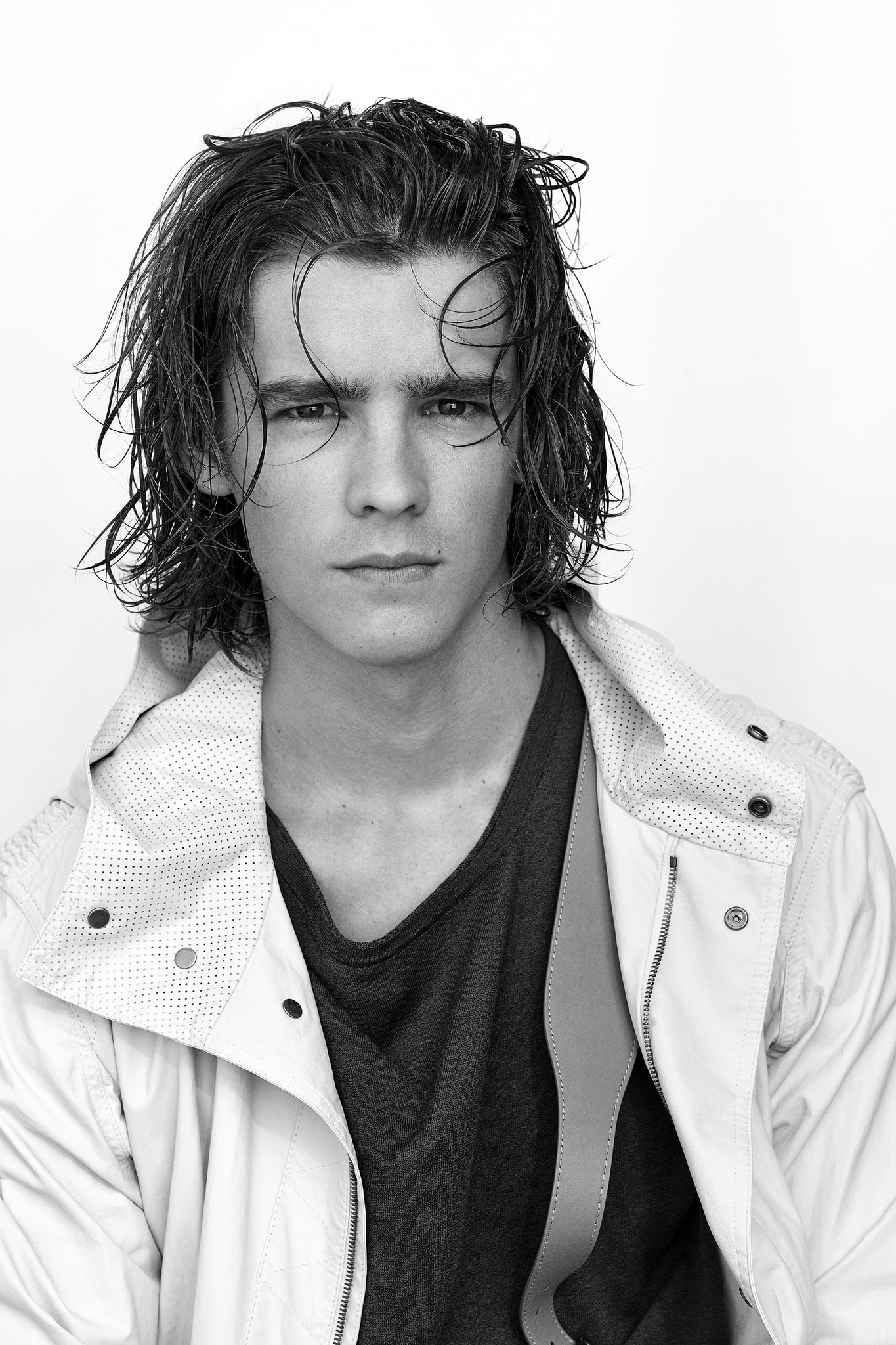 Jacket and T-shirt SALVATORE FERRAGAMO

And as befits so coveted a role in so impending a blockbuster — Dead Men Tell No Tales arrives as the latest Pirates installment after a six-year franchise hiatus — there's been no small amount of fanboy rumormongering surrounding Thwaites' character. Namely that he's the grown-up lovechild of Keira Knightly and Orlando Bloom's swashbuckling characters Elizabeth Swann and Will Turner. "I play a young soldier in the Royal Navy called Henry," is all Thwaites will cop to. "He makes an unlikely alliance with Jack Sparrow and Carina Smyth, who's played by Kaya Scodelario, in order to find a certain treasure that they're all looking for; something that will help each of their individual causes and all of their problems."
To hear the rangy performer tell it, he always assumed things would shake out this way. Never mind that he hails from a place as geographically and psychologically remote to Hollywood as you can get, he basically always saw himself doing his thing there. In broad strokes, the Thwaites Ascendancy goes like this: Drama classes and Shakespearean plays in bumfuck middle-of-nowhere Queensland at age 16. Getting cast as a series regular in Home and Away (the long-running Down Under soap opera that unleashed such Aussie supernovas as Chris Hemsworth, Naomi Watts and Heath Ledger). Crossing over into Stateside consciousness as co-lead in the 2012 Lifetime original movie Blue Lagoon: The Awakening ("Lie in the sand in a pair of knickers on a Maui beach with twenty paparazzi taking pictures of your ass? I don't know if I thought I'd 'made it.' But I'm definitely thinking: I've got my visa!" Thwaites recalls). Then, the big time. Alternating splashy studio fare such as Disney's Maleficent (his screen foil: Angelina Jolie), The Giver (with Jeff Bridges), and director Alex Proyas' Gods of Egypt with exquisite indies (i.e., The Signal, Sun of a Gun). Rinse and repeat.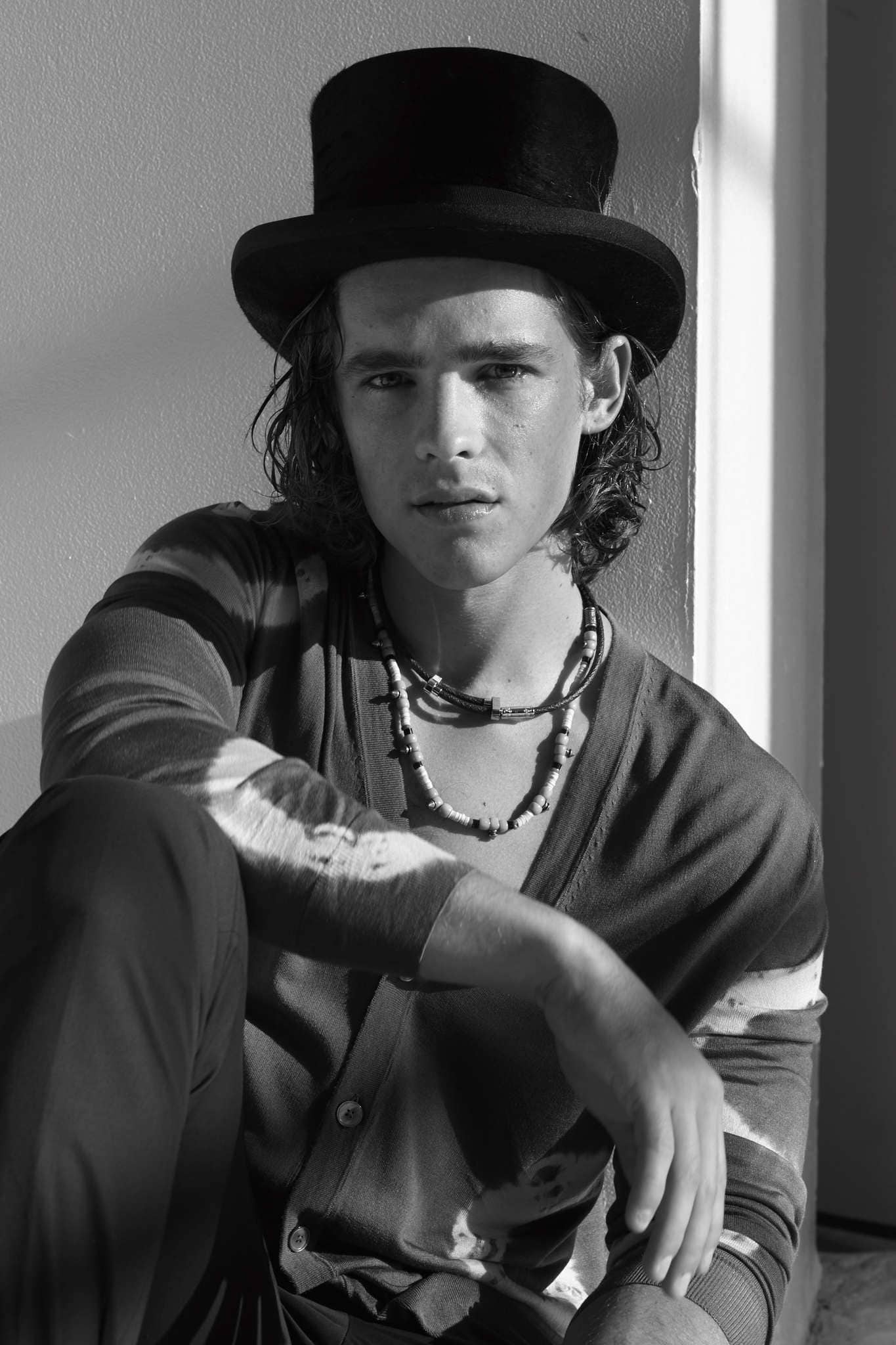 Cardigan and pants HERMÉS  Hat WORTH AND WORTH Necklace LOUIS VUITTON Necklace DIOR HOMME
Hair by THOM PRIANO of GARREN NEW YORK for R & CO. Grooming by SCOTT PATRIC@CONTACT NYC using MARIO BADESCU

 Nowadays, however, Thwaites balances those career concerns with his domestic partnership and fathering his nearly 1-year-old daughter, Birdie. He and his girlfriend, Perth-born artist Chloe Pacey, met on the Aussie version of Craigslist; he needed a house share during the filming of Pirates and she was one of the roommates. Now, they refer to Birdie as "the bird" on shatteringly precious Instagram posts, even while racking up tens of thousands of frequent flier miles in the service of daddy's job. "Our kid loves traveling as much as I do — she cries when she's not on a plane," he says. "We're kind of one big happy traveling trio. The trick will be when she's 4 or 5: to see what's going on later in my career, where we're going to raise her, where we're going to live."
It's fair to say Thwaites' tenure as an actor has been distinguished by a nearly unbroken run of success upon success (shortly after moving to the U.S., he tried and failed to land a lucrative job tending bar at a West Hollywood gay bar, but that's another story). So I ask him if he has a game plan in place for the future.
"There's this idea to get more serious about playing guitar in four or five years," Thwaites allows. But he backs off answering the question directly. "I've learned that if you have a plan for something, you're basically telling the world that's what you don't want to happen," the actor says with a laugh. "So I have a tendency not to plan."