Big Sean

From high school mixtapes
to platinum records

Photography by Randall Mesdon
Written by Sasha Frere-Jones
Styling by Ade Samuel
All clothing Dior Homme Fall/Winter 2017–18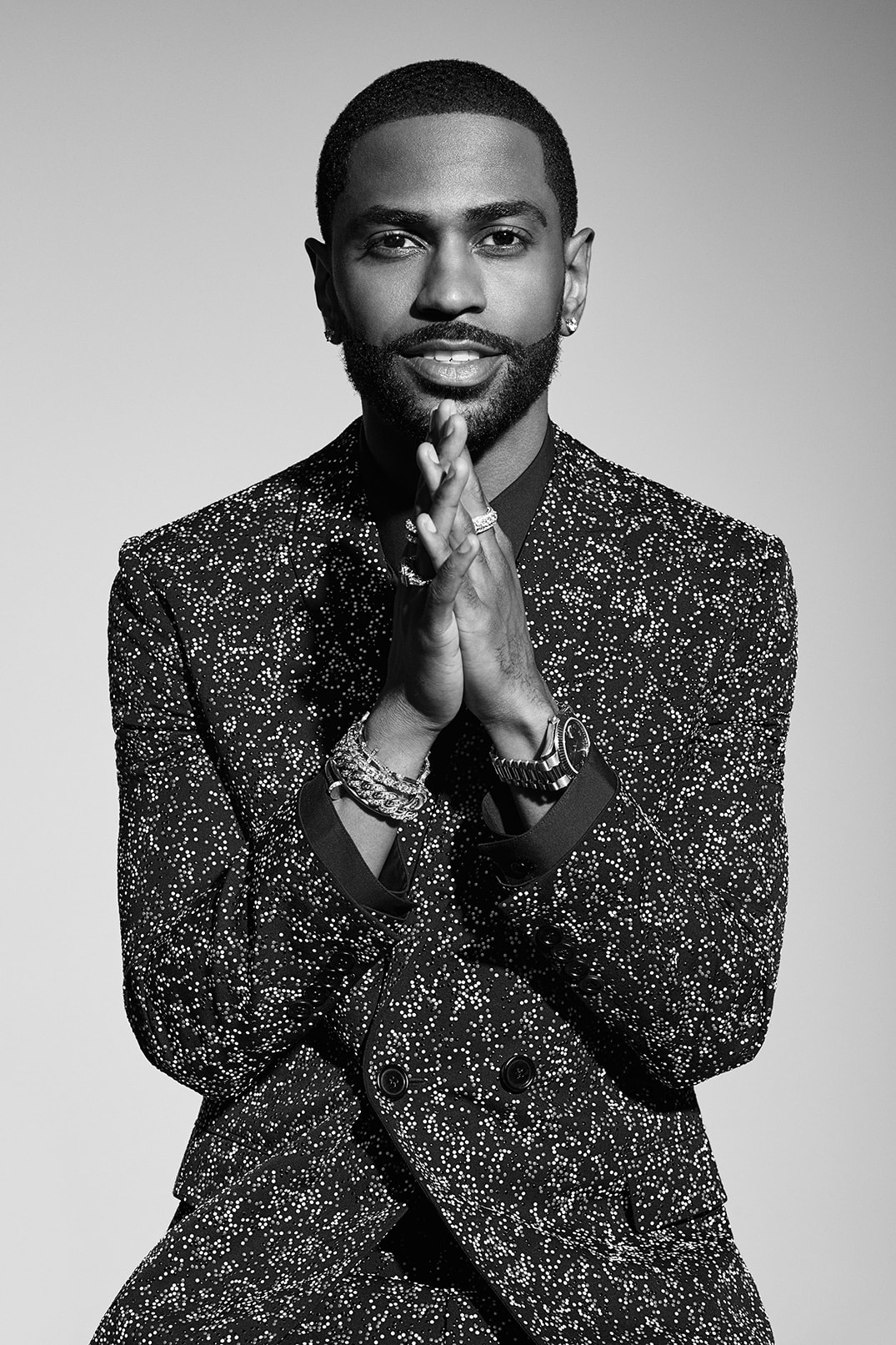 Big Sean — born Sean Michael Leonard Anderson — is the kind of star we think we know without remembering exactly why. The 29-year-old Detroit native has the good looks and grooming of someone who could be big in any version of entertainment. He is entirely of hip-hop, though, and has already staked out territory in several different areas. His fourth album, I Decided, has already gone gold and yielded one Top Ten hit, Bounce Back. A simple shout to the powers of resilience, Bounce Back has the same kind of rally music bravado as 2014's I Don't Fuck With You, or the song that introduced him to a wider audience, Mercy, the 2012 Kanye West posse cut. Sean is good at this kind of big tent work — his rhymes are clean, calm and collected, and he has always seemed like he belongs in the room. Stars belong with stars.
Were he rapping twenty years ago, Sean's rhymes would have landed him with the backpackers. There isn't really a passionate nerd base for language the way there once was, but should another one organize, Sean would belong there. One of his heroes, Eminem, included him on the 2014 posse cut, Detroit vs. Everybody, which, with a less corny beat, might have been massive. Next to rappers like Em, Royce Da 5'9" and Danny Brown, Sean wins the day. In his verse, he spins out variations, including this compact elaboration of a single number:
Reminiscing on listening to 50 fifty times a day
Back when tenth grade was like fifty days away
Trying to get paid fifty ways a day
Used to put fifty on the layaway
Now my closet fifty shades of grey
Moving to numbers in general, he plays with the meanings of "number" itself:
26, and I done lived a lifetime a few times
From futons to Grey Poupons
In church, tryna get a little savings, yeah,
a coupon
I spit that A1 every day, I'm hittin' new primes
Now the stakes high, n****s surprised
at the new lines
Takin' down my number, like, "You still
ain't got a new line?"
Sean also steals Meek Mill's 2015 single, B Boy, with a single line about gerunds that doesn't use the word gerund: "And I put everything in motion like I-N-G." Boom.
As Sean moves into voice-overs and acting, his solo records are likely to stay huge but, if he keeps stowing his best verses inside guest appearances, we'll have to watch anything and everything with his name on it.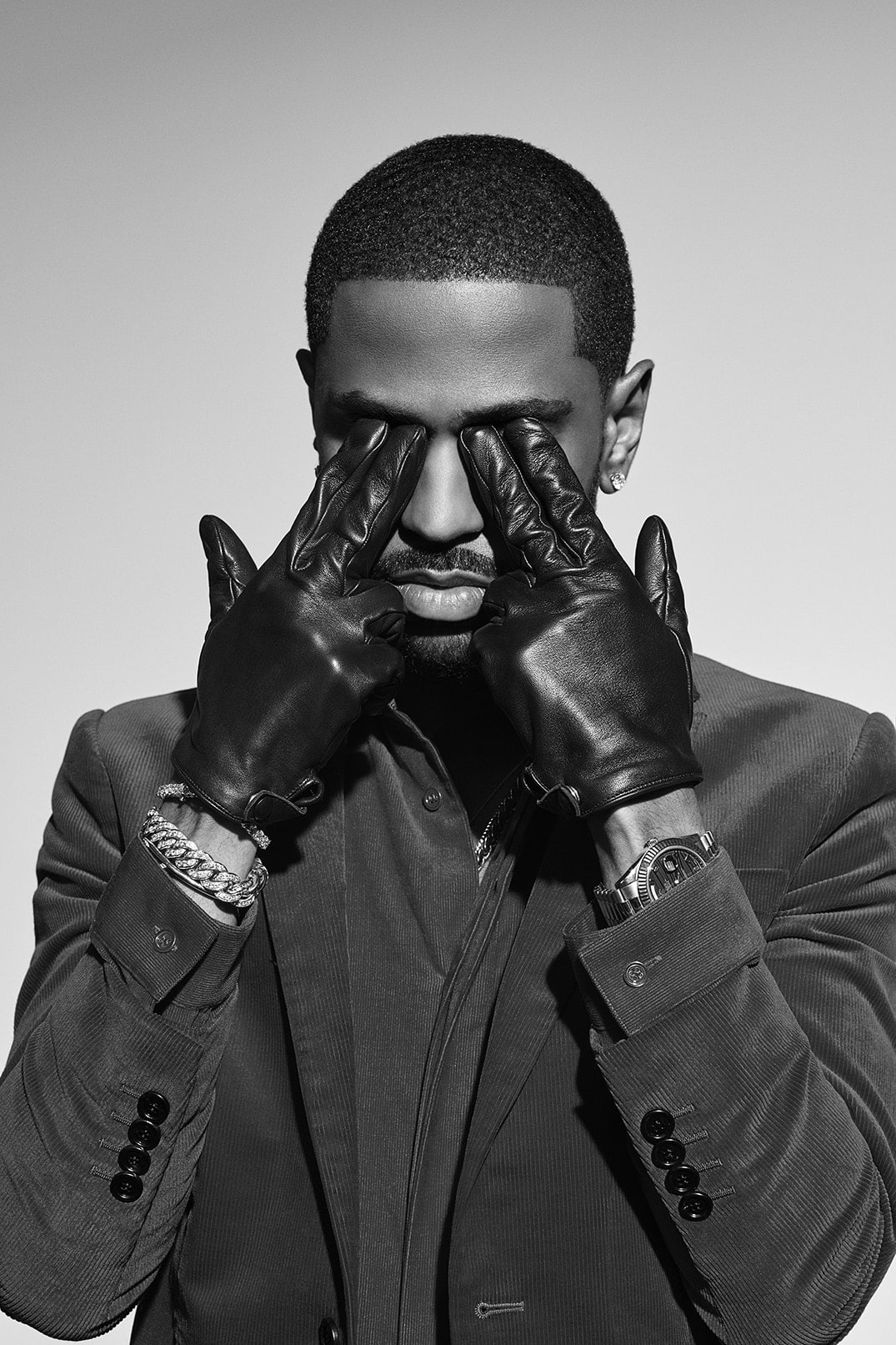 At Large caught up with Sean recently by phone from his home in Los Angeles.
SFJ What's going on now?
BS A lot. We're rehearsing for our festivals and we are also actively in the studio with a lot of different producers. I'm shooting my first animated movie, too. I can't say what it is, but it's been made by people who have done a lot of classic animated movies in the past. It's cool working with experienced people. It should be out next year in theaters. I'm voicing one of the characters in the movie. One of the main ones, actually.
SFJ How much movie stuff have you done before?
BS Not that much. I just shot a little part in the movie with Jaden Smith and Cara Delevingne, a movie called Life in a Year, but that was super quick. That was kind of my first experience in an action movie. It's coming out next year, 2018.
SFJ I Decided seems pretty different from Dark Sky Paradise. Can you talk a little bit about the inspiration behind the album and what your state of mind was recording it?
BS I feel like our whole lives are based on the right or wrong decision, so I think that was the meaning behind I Decided. For instance, I know what it's like to be the underdog, and the thing about the underdog is, if the underdog stays at it, the underdog turns into the big dog, and I know what it's like to be in that position. I feel like that's what Bounce Back really is. The underlying theme of Bounce Back, which is the biggest song off of there, at least so far, is that.
SFJ You've got Eminem on the album, which is sort of a big deal. He doesn't jump on everybody's record. How did that come together?
BS The Slim Shady LP was one of the first albums that I really loved the whole album of. I remember that Jay-Z's In My Lifetime, Vol. 2 was another one I really connected to. For sure, The Slim Shady LP was probably my favorite. I can just remember my mom buying me that CD, probably bought it from Costco.
I remember I did the verse on Detroit vs. Everybody basically on the spot. He loved it, so then I reached back out to him and I was working on I Decided. I sent him No Favors and I didn't think he was going to get to it because I was pretty sure he was working on his album, but he reached back and said he really loved the song. He sent the verse back and I feel like the verse was monstrous. It reminded me of when I first heard him and how excited I was. He went crazy. I said to him, 'Like, a sixteen-bar verse,' and he sent back that long verse, which felt like hitting the jackpot or something.
SFJ Sticking with Detroit for a second, are there things about the city that influenced you and inspired you when you were there?
BS I mean, I'm still there. I still live there and go there.
SFJ You go back and forth?
BS Yeah, all the time. I mean, my family's still there. My mom has a house there. The influence of Detroit is real. My mom was always playing Marvin Gaye, Stevie Wonder, the Isley Brothers, Jackson 5, Diana Ross, Temptations. Honestly, when I was younger, I used to kind of hate it a little bit. When I got older, I just couldn't believe it — that was some of the greatest songwriting, some of the greatest melodies, some of the greatest production. It definitely did have an influence on me, but I feel like, the older I got, the more I appreciated it. They didn't have the luxury that we have with all these effects and Auto-Tune. Even the way they edited their music was a completely different process, and I just respect that so much. One thing I could say about my next project—this is just in my head — is that I want to somehow capture that feeling again, that spirit.
I have to keep a lyrical dignity about myself. You can ruin the song trying to be too complicated or too lyrical, but I always try to keep a certain level of lyrical content or lyricism that doesn't mess the song up. I represent myself. I like to have respect for myself on these songs, and I think that's something I learned from those guys — Eminem, Royce, J. Dilla, Elzhi, Black Milk. I mean, Detroit will always mean a lot to me. I just got the key to the city of Detroit. That was a real emotional thing for me.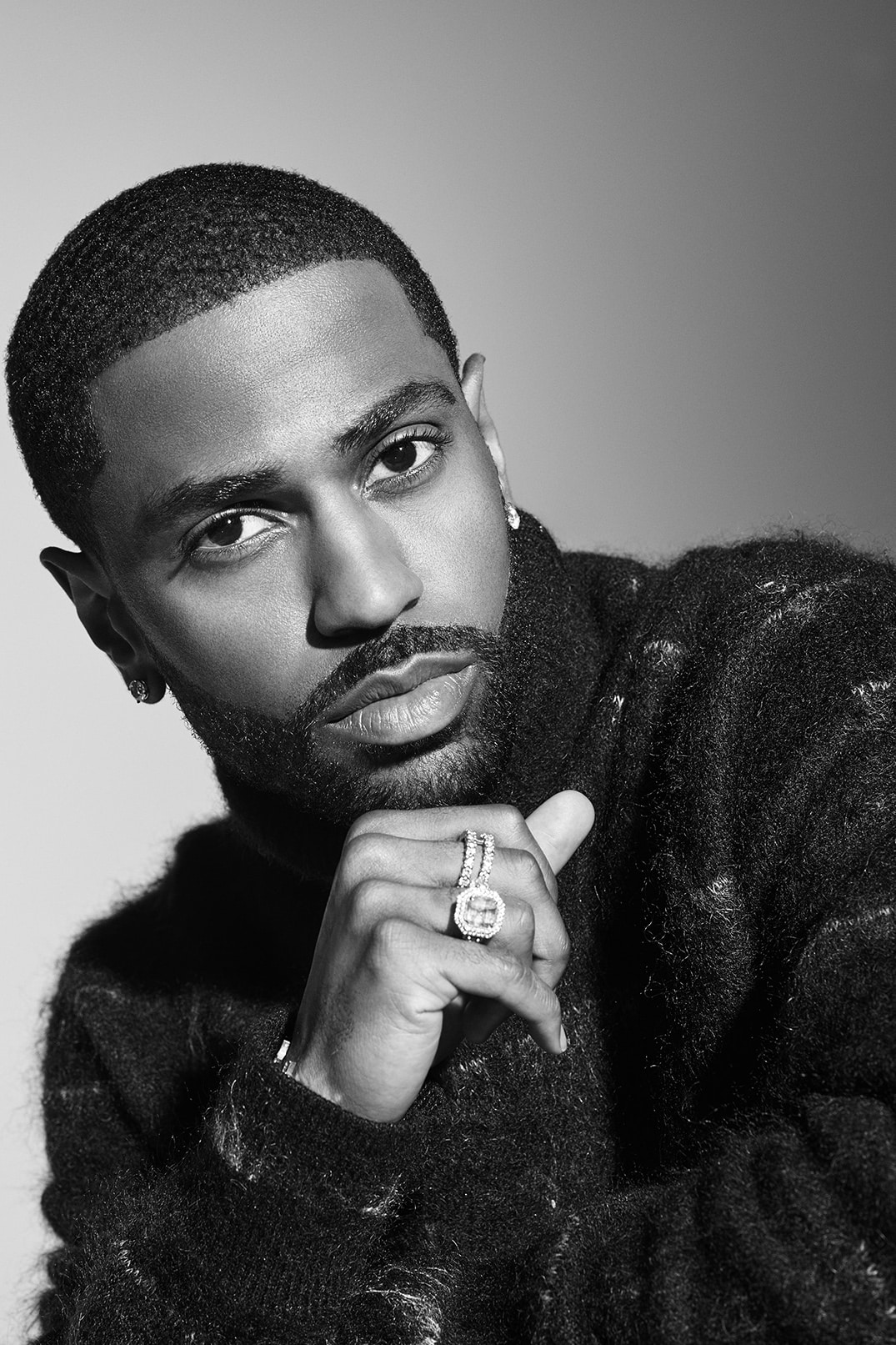 SFJ The younger musicians in Detroit must be coming up to you. Are there people you're really into that haven't blown up yet?
BS Sure. Neisha Neshae, Sada Baby, Icewear Vezzo, Tee Grizzley. The city of Detroit is exploding, I feel like there are definitely people who are on the rise. Grizzley is one of the people who are on the newer side. He's on his first smash record and stuff like that. You got Danny Brown. The list goes on.
SFJ The story of you rapping for Kanye is famous, but let's get it totally straight. Do you mind?
BS Not at all. It was 2005, and I was still in high school. I was selling my CDs. Every semester, I'd have out a new CD. I used to do this radio show called the Friday Night Cipher, where people would get together. Rappers of all different ages would battle-rap. If you win the battle, you get to rap on air, on the radio. I was always making sure that I had my new CDs, new raps every week to rap on the radio. It kept me sharp and it kept me on my game, kept me getting better and better at a younger age. It gave me a sense of being competitive. I had to make sure that I was on the radio. I was doing that for about a year. I was 16, and I met Kanye when I was 17. I was there every Friday and he came on a Saturday morning. One of my homies said, 'You go in there and rap for him.' At the time I was telemarketing, so I was cashing a two-hundred-dollar check or something that I got every week.
SFJ Really? What were you selling?
BS We were selling a whole bunch of crazy things, like prosthetic limbs to paralyzed veterans. It was so random. Trying to get donations for different things. I don't know, man. It seemed pretty sketchy to me, but it was a job and it was legal.
I didn't want to miss Kanye down at the radio station. One of my homies gave me some gas money to get down there. He was like, 'I've got to ride with you, to see if you can do it, if you're going to rap for him,' and I was like, 'Okay, cool,' and he hopped in the car with me. We got some gas, got down there, and he was still there.
I lied and said that I left my phone back there in the station and had to go back in there and get it, and they let me go back. I ran into Kanye and just shook his hand. I was nervous, but I had gotten used to being nervous by rapping on the radio every week, because that was nerve-racking already, so I was used to being nervous and rapping under pressure. I shook his hand, told him that he inspired me. I listened to College Dropout all the time, and he let me rap for him on the way out. He told me he was running late and didn't really have time, but he was like, 'You can rap while we're walking out of the station,' and I ended up rapping for him. I told him that I had sixteen bars and I ended up rapping for, like, ten minutes. He was in it as soon as I started rapping.
It took a couple years after that to actually get signed to him but that was the initial contact, sending music back and forth, and I flew out to meet him and all sorts of things.
SFJ What's your relationship with Ye like now?
BS It's great. It's cool. Kind-of like a big brother, a mentor, a friend. I don't see him all the time, but I definitely see him. He always gives me great advice, with the last album, and with Bounce Back. He was very heavily involved in all of it.
SFJ There's a project on the album that you brought forward, Twenty88. It's you and Jhené Aiko. How did you come up with that idea?
BS I like collaborating — it's a natural thing. We were being hit up by a lot of our fans, they were asking us to do something. It created a whole different world, just the different dynamics between a man and a woman. I love that project.
SFJ Are you guys going to do more together?
BS Yeah, for sure.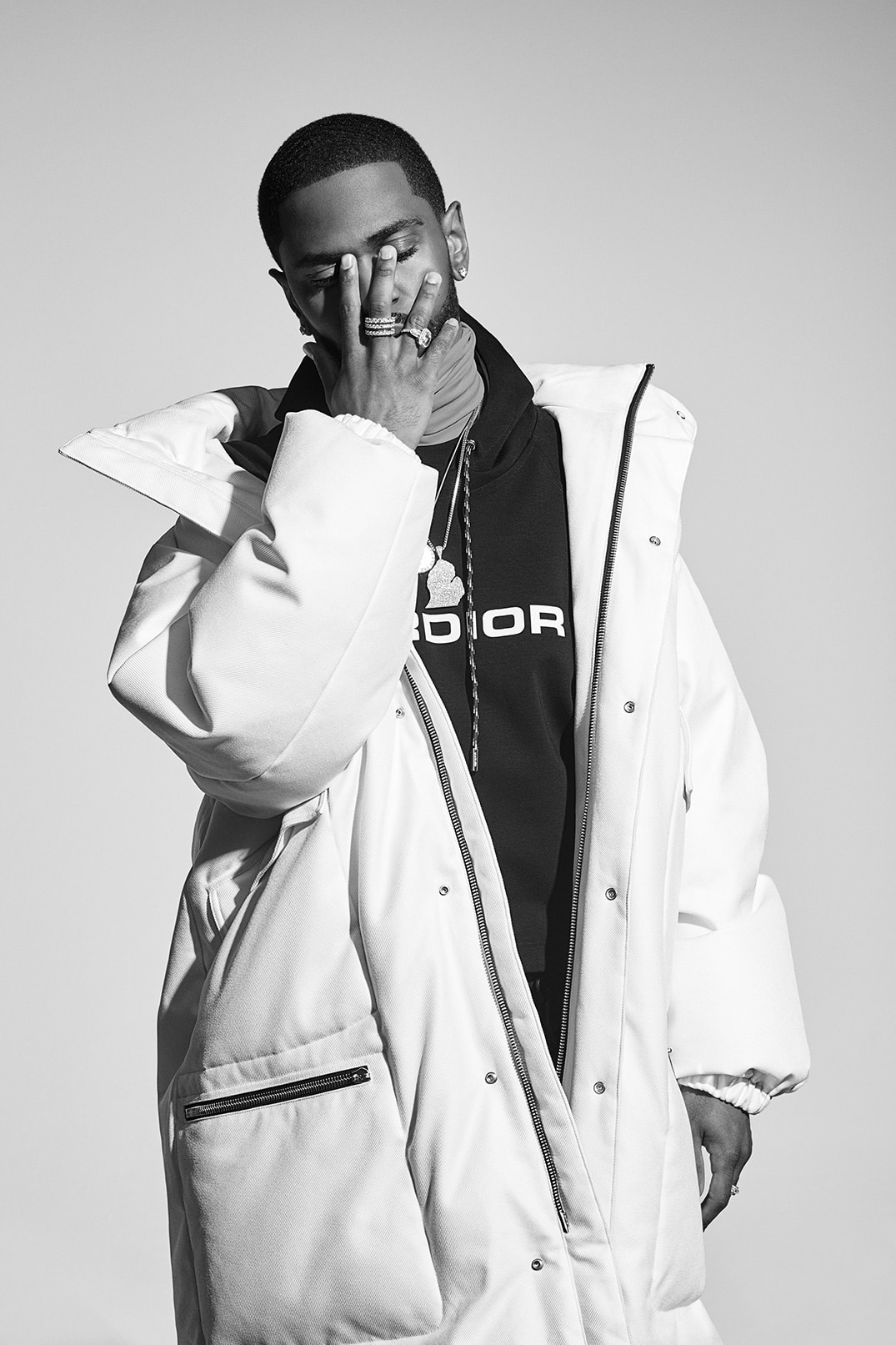 SFJ On Light, you zoom in on race and identity, talking about your dad and Louisiana.
BS Yeah, my dad used to tell me stories about when he grew up in New Orleans, just how he got beat up a lot and he had to run for his life just because he was black. Horrific stories. It's crazy how much pain he went through. I was paying respect to that, because that's a part of my blood, too. There are certain things that my family has done before me and gone through before me that I've found made me who I am. My grandma was one of the first female pilots in World War II and one of the first female cops on the streets of Detroit. My dad was somebody who went through so much pain growing up in New Orleans, Louisiana and just making it out of there was a big deal for him and, on that song, I was just shouting that out.
SFJ Do you feel more like doing tracks like this than you did when you were doing Dark Sky Paradise? Has everything going on affected how you see that kind of work?
BS I don't really think about it that much. I just do what I feel, so that was just how I was feeling. I don't try to make an effort to be like, 'Oh, I'm going to be more conscious.' The inspiration starts coming and those lyrics start pouring out, and you just let it flow, you know? So that's how I was feeling, and I honestly just believe you should say whatever you feel.