Joan Jett and the Blackhearts documentary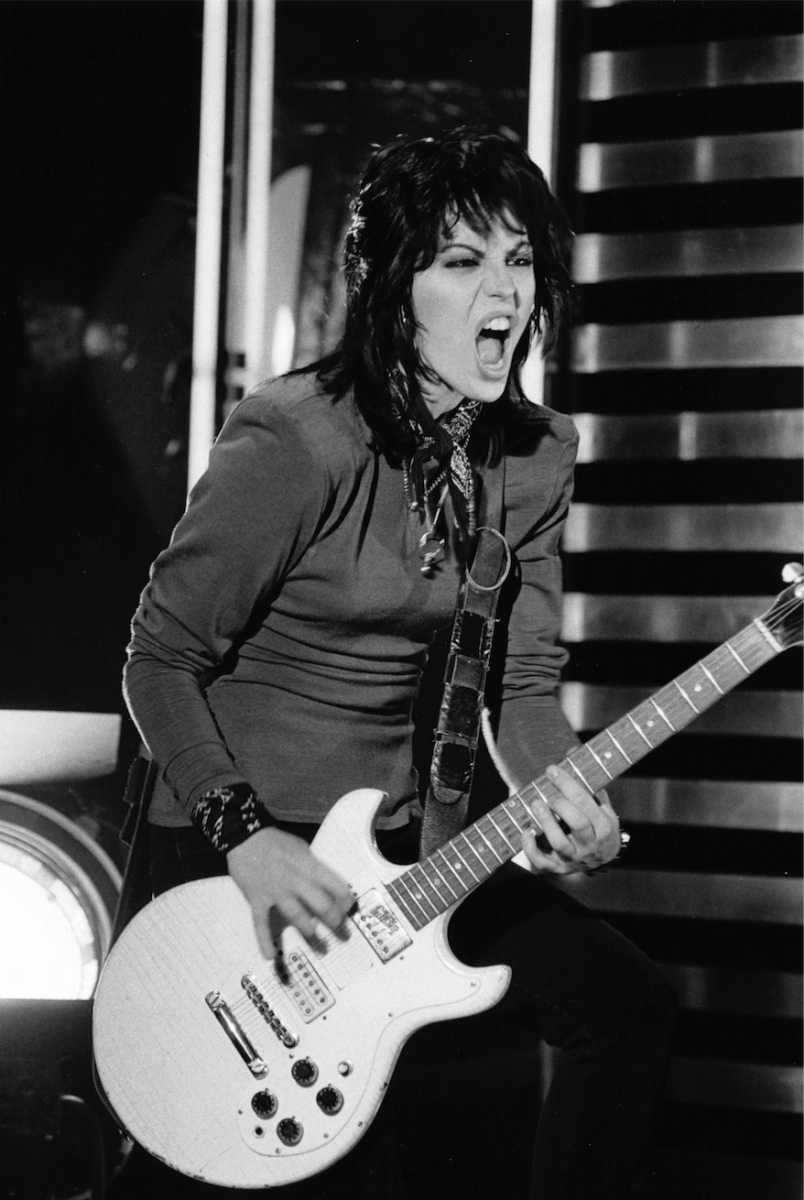 The first time I heard Crimson and Clover, I don't think I liked it. Let me step that back, I didn't like all of it. I loved parts of it. I hated others. I knew it had something to do with sex. It made me embarrassed and the mofo got stuck in my head. Over and over. Joan Jett and the Blackhearts released the song in 1982 on the I Love Rock n' Roll album. It was January, I was in the last half of 8th grade in a school that I hated more than acne and the last thing I needed was one more thing to remind me about sex. Growing up in Southern California, listening to KROQ and being the emo equivalent of a goody-two-shoes and an angsty, lonely, compulsive reading, parent hating, friend envying, boy crazy, cosmetically challenged 14-year-old with hair that became frizzy with the slightest whiff of humidity and skin that I still can't talk about, there was something about Joan. It wasn't what she was singing, it was how she was singing it. I found her mesmerizing. Joan Jett roared my frustration with the world. The lyrics seemed secondary. It was all about the delivery. It screamed confidence. She sang for me when I couldn't speak for myself. Too shy, too quiet, too bashful—my thoughts ping-ponged around my head.
And like Joan, I had a Bad Reputation. Not for the usual reasons that eighth-grade girls are often ostracized. I just couldn't seem to be part of a crowd, part of a group. I was pushed to the side and I hated it. No one wanted to be my friend no matter how hard I tried to fit in. I sported all the right clothes (circa 1982 preppy). I was neither too skinny nor too fat, too tall or too short. I showered on the regular, religiously wore deodorant and tried to get my hair to behave. I avoided dark colors (shocking I know to people who know me now) so that my flakey scalp didn't cause me undue embarrassment. I brushed my teeth after meals so that nothing got stuck in my braces. My classmates didn't want to be around me. Some teachers pitied me, others found me to be irritating. Being more than a bit risk adverse, instead of experimenting with alcohol and drugs, I got into music and I guess you could say, I never got out.
Now, I'm into other things like writing about music and movies.  If I can combine the two, even better which is why I love Bad Reputation and why I am still a teetotaler. I disbelieve I've lived vicariously through others but I benefited. We've all experienced pain, loss, sorrow, frustration, fear and anxiety. They drank so I didn't have to. They took drugs, so I didn't have to. They screamed out their pain, so I didn't have to. Joan Jett proved that a girl with a thirty-dollar guitar and amp from Sears could become a rock n' roll legend. Her parents said she could do anything she wanted to do, and they meant it and she believed them. Joan was never rebelling against her parents. She was crashing down barriers that said girls can't. Girls can't be rock stars, Girls can't be master guitar players. Girls can't front a band. Girls can't be ambiguously sexy. Girls can't put out a song in 1982 that is still popular in 2018 that will still be popular in 2029.
I would love to tell you that the best part about director, Kevin Kerslake's Bad Reputation is the music or interviews with Deborah Harry and Chris Stein. The vintage footage of The Runaways is hot. Editor, Joel Marcus peppers Joan's wack-a-do friendship with her producer Kenny Laguna (it is worth checking out his website, he is pop music history) as comedic relief in just the right moments. What makes any film compelling is a good story and really, Bad Reputation is a good old-fashioned love story. The film is a tribute to a former shy girl who was too bashful to front a band who grew into the first lady of rock.
Watching the film I realized I missed the entire point of the song, Bad Reputation has a dynamite message that I wish had permeated my junior high brain:
An' I don't really care
If ya think I'm strange
I ain't gonna change
An' I'm never gonna care
'Bout my bad reputation
Oh no, not me
— Joan Jett