From The Middle
Photography by Marley Rizzuti
Written by Whitman Bedwell
Styled by Jason Rembert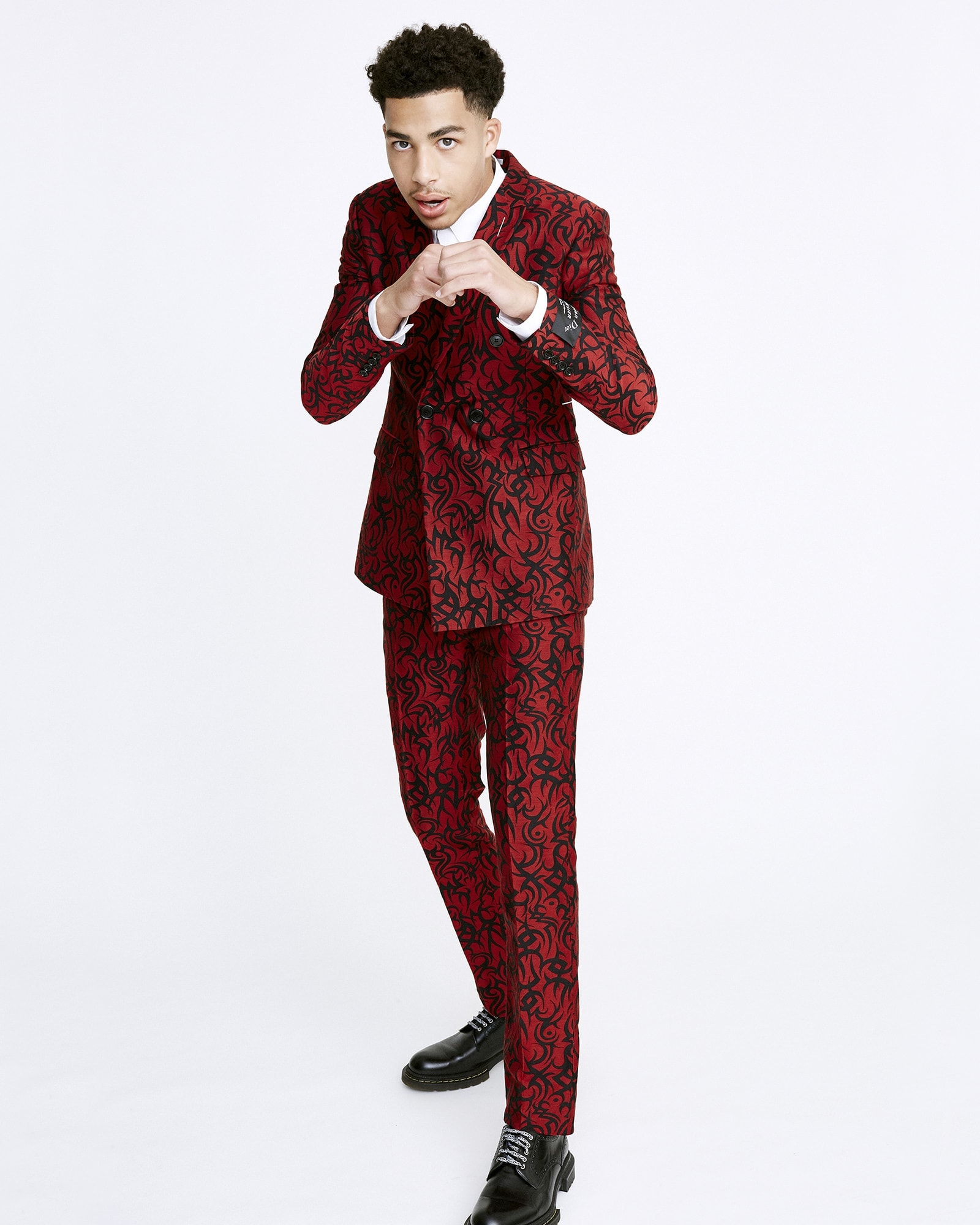 Full look Dior
There is probably no physical place in the modern world that holds more broken and bleeding and dying dreams than Hollywood. There are many, many people who would like to be famous, and so many, many people move to Hollywood to become a star on television or in the movies.
Some strike it big, and they strike it big fast because they are talented or pretty or know the right people or just lucky. They often do not know struggle and that is fine. Good for them.
But many, many more people try and try and try only to get nowhere. So they are forced to serve tourists who tip poorly in themed restaurants and wear Batman and Darth Vader costumes outside of the famous theatres. They are fed false promises and outright lies by power-hungry leeches that give themselves importance with titles like "agent" and "manager," while their clients wait for some big break that is unlikely, odds-wise, to ever come.  They hope and that hope is preyed upon.
Then there are those people in the middle, who struggle but work for years and years. They start with an acting class, then a public theatre production, followed by guest roles on a TV show, maybe a recurring role or two, do an independent film, and then finally a lead role on the big or small screen or, sometimes, both.
Marcus Scribner is one of those people in the middle. He didn't have to move to Hollywood and leave everything in his life behind to "make it." He's a Los Angeles native, through and through, and has never been bothered by the bright lights of Tinseltown. It's all just home. He got a bit of a head start, too. As a seven year old, he took an acting class, and it snowballed from there, culminating in his casting at 14 in a main role as Andre Johnson Jr. on the primetime sitcom Blackish.
Five seasons of that series later, Scribner is a seasoned show business veteran at the age of 18. With multiple projects always in the works—including feature length films, voice acting roles, and a Netflix series—Scribner isn't taking the payoffs of his hustle, or his position in an industry of mostly no's, for granted.
And in a town that better reflects a snake pit than it does a place to live and work, Scribner hasn't let it all get to his head. He is — and not just in the context of being young and famous and wealthy — engaged and polite. Engaged and polite enough to share a little bit about himself, his work, his path to film, where he's headed, and his town.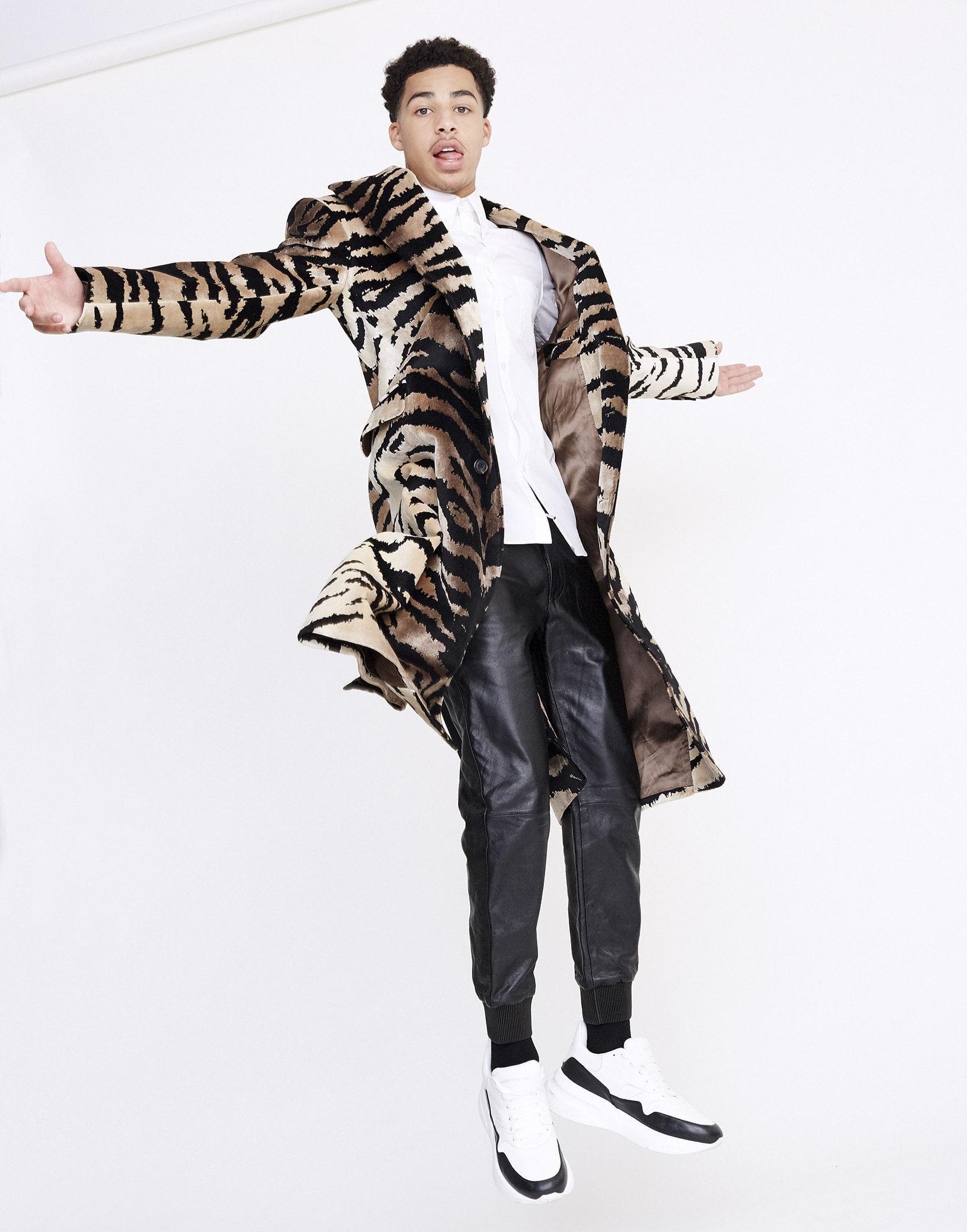 Full look Alexander McQueen
Whitman Bedwell: How did you get into acting?
Marcus Scribner: I was born in Los Angeles, California. There's no better place to try and have an acting career than L.A., obviously. I was raised in Central Los Angeles. A lot of people say they're from here, but they're actually from the outskirts of the city. I've always felt like I'm from the heart of it.
I took my first acting class when I was seven-years-old. I didn't have any hobbies at the time, so my parents asked if I wanted to try out for basketball or football or baseball, the usual stuff. I did, and I was pretty average at sports. So, I decided to try an acting class. I ended up falling in love with it. The first class I ever took was a Christmas themed acting class, and everyone was handing out presents. I was so hyped on it. I thought that I was going to get presents every single time I acted. So, I just continued doing it. For a while, I never thought about doing it as a career. I was just a kid. Eventually, we found a manager and started doing auditions. Everything just felt natural about it, being here and then starting to act.
WB: When you booked Blackish, did you feel it was a breakthrough moment for you?
MS: Booking Blackish was a strange moment for me because I'd been acting for seven years without booking anything. I'd done some guest star roles, but never booked a series. I'd gotten close a few times, but it felt like I just couldn't land one. I'd go on callbacks, but things just wouldn't go anywhere. With Blackish, I went on seven callbacks. I was so excited when I finally got it. And, I was 14 years old, not knowing that pilots usually don't even get picked up by a network. I just assumed that we were going to be on television for a long time, and not knowing how lucky it was that we were even on the air at all. I know all of that now — how blessed we are and how important it was that we worked really hard. Everything paid off.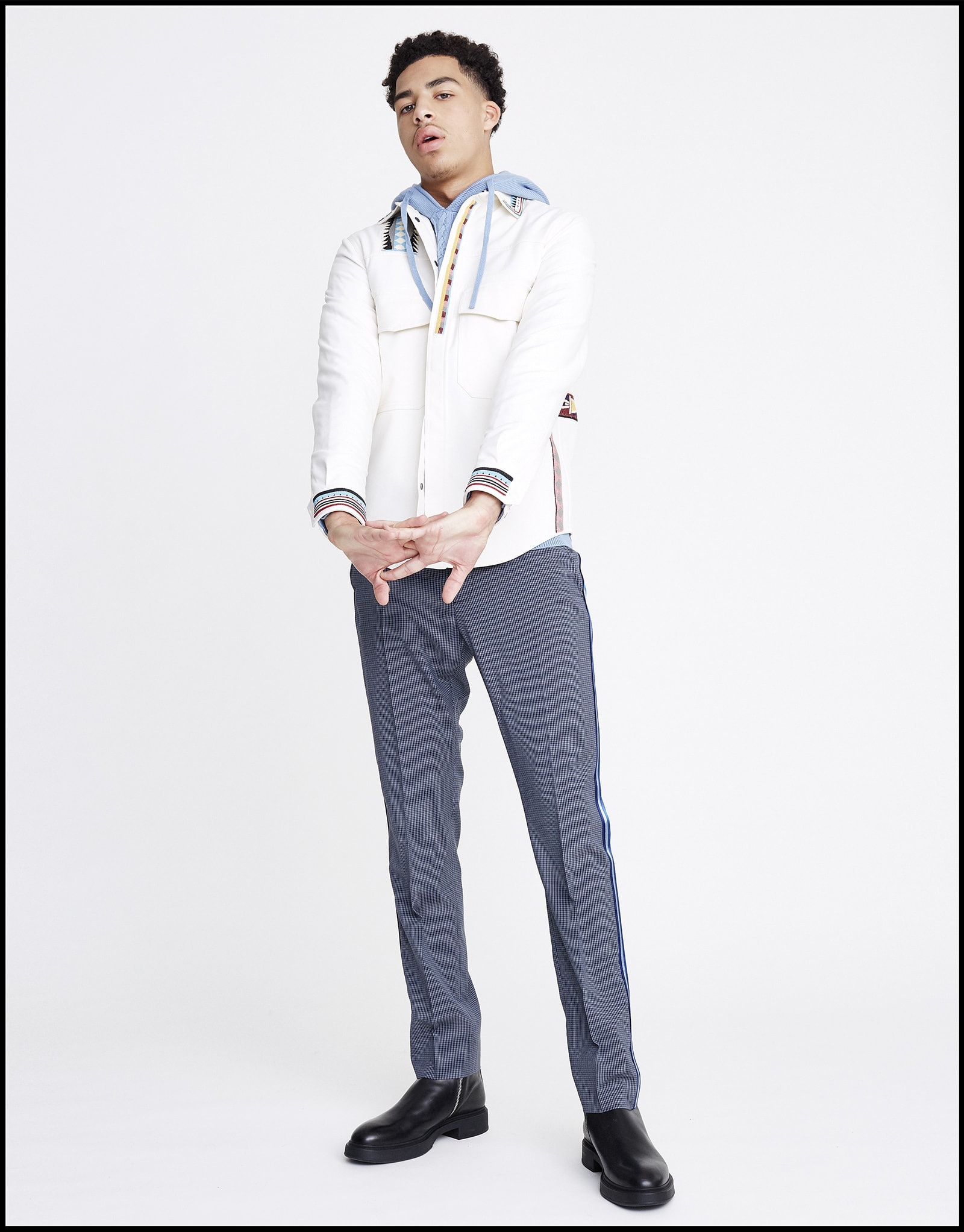 Jacket Valentino sweatshirt Kenzo pants Valentino boots Hermés
WB: What's it been like to be able to play one character for a long time?
MS: I've really been able to get into the head of my character, Junior. I can immediately pull from dialogue that I know he would say, or not say things I know he wouldn't say. At first, I felt a huge connection with my Junior. We're both into anime and video games. But those interests are where it stops. Personality-wise, we're really different. Junior is a really energetic, high-on-life type of person. He gets really excited. I'm a little more chill. But that's what is fun about it. I get to play someone who's a lot different than myself, and put my own spin on that person. It makes it interesting.
I've been able to grow a bond and chemistry with my cast members. It's like we're teammates on a basketball team or something. I've learned to understand their choices, and what they would say in certain scenarios. Honestly, after the second week of filming, we already felt like a family.
WB: Acting gets pegged as a glamorous job. What's the toughest thing about it for you?
MS: Even though I've been acting since I was young, performing in front of other people was hard for me at some points. I'm always nervous. But I learned from Lawrence Fishburne that if you're not nervous, then you're not alive. I told myself that if Lawrence Fishburne still gets nervous, I'll be okay. It's taken me time to build up the confidence to meet new people and things like that. But that all comes with the territory, so I had to learn to do it.
Jacket and pants Landlord sneakers JW Anderson Converse
WB: Do you watch yourself in the shows or movies you've been in?
MS: I watch the show because we live tweet, so I have to watch it. Sometimes I do close my eyes. I'll cringe every once in a while over certain scenes, and certain choices that I made. At first, I couldn't handle it. I'm a little better at watching myself act now. It's like an out of body experience — that moment where you're watching yourself do something. It's always little details, like a facial expression or the way my eyes move. I tell myself that most people don't notice those little things.
WB: You're still young, and you've had a lot of success with acting up to this point. Do you think you want to do it forever?
MS: I also want to get involved in filmmaking things that go on behind the camera. I definitely want to get into producing. I also would like to learn more about the creative writing process. I've never seen myself in a director's chair, but who knows what will happen once I get more experience in the industry. I don't know too much about camera angles or lighting. After five years of doing Blackish, I'm still always asking a ton of questions about that stuff. Directing seems really difficult, but actors know how to communicate and get what's needed out of other actors. I won't rule that out completely. It's a tough job, though, for sure.
WB: Has the city changed for you at all, now that you're on TV? Do you think you might ever move out of L.A.?
MS: Los Angeles hasn't really changed to me now that I'm in the industry. Being from here, everything just seemed to be there already. When you grow up here, it's hard to experience through the lens of the industry. You just learn to know that the industry is such a big part of the city and all the places and people associated with it are kind of a part of the city, too. I look at certain neighborhoods not from where a famous person lives or a famous place is, but where one of my friends lives.
It's easy to get jaded living here. I've traveled to a lot of other places, but nowhere else, so far, makes me feel like I want to live there. There's so much to offer here. Everywhere else I've been has its own specific style, sure, but L.A. has everything. I might move somewhere else to gain a new experience, but I don't know if I'd leave forever.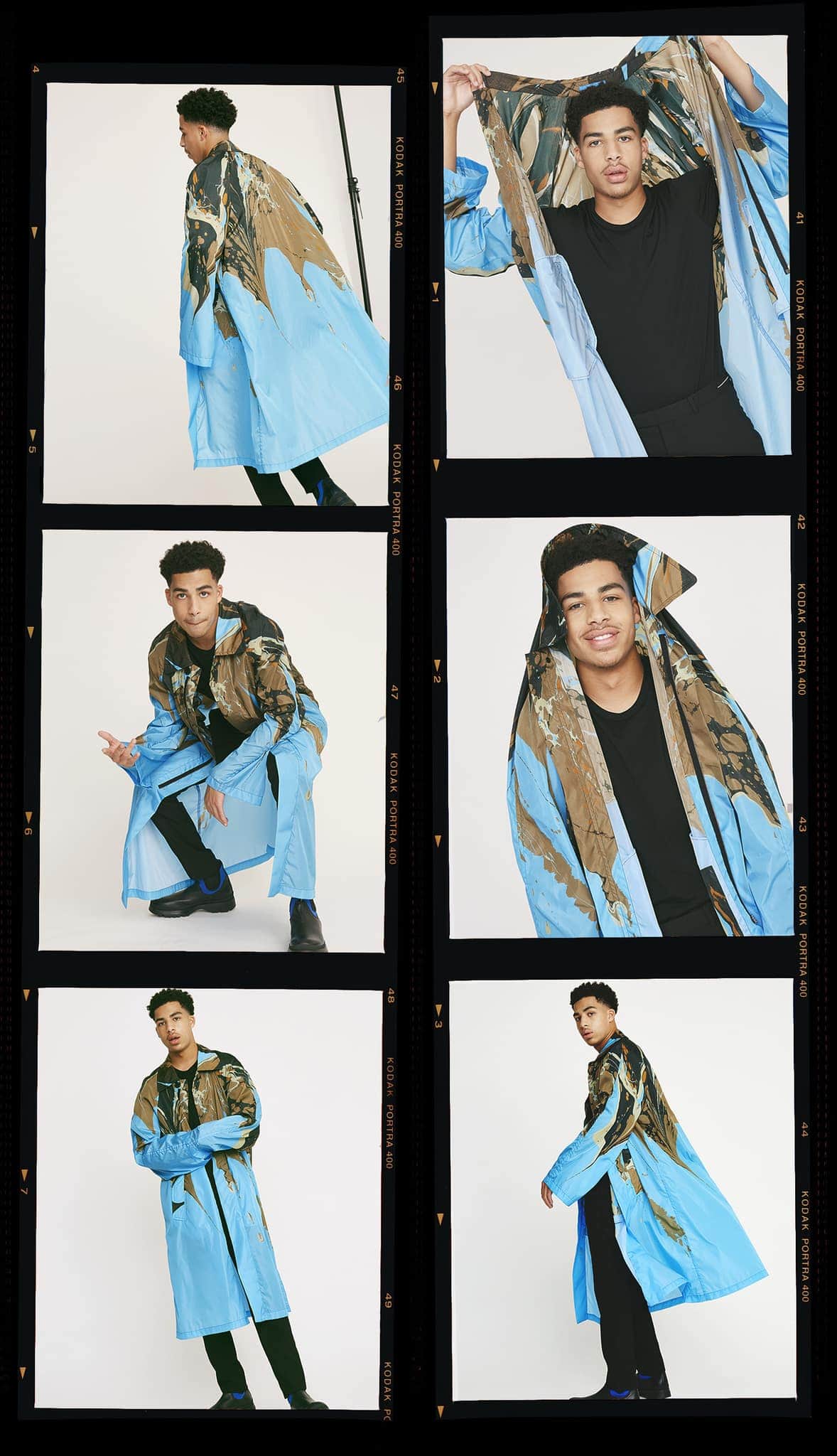 Jacket Dries Van Noten shirt Lacoste pants Dior shoes Prada
Grooming by Camille Thompson
Styling assistants: Daniel P. Lee & Shelley Roundtree