Jorge Lendeborg

Jr.
The 22-year-old has Hollywood buzzing with his latest film, Bumblebee
Photography by Erik Rasmussen
Written by Jennifer Parker
Styled by Jason Rembert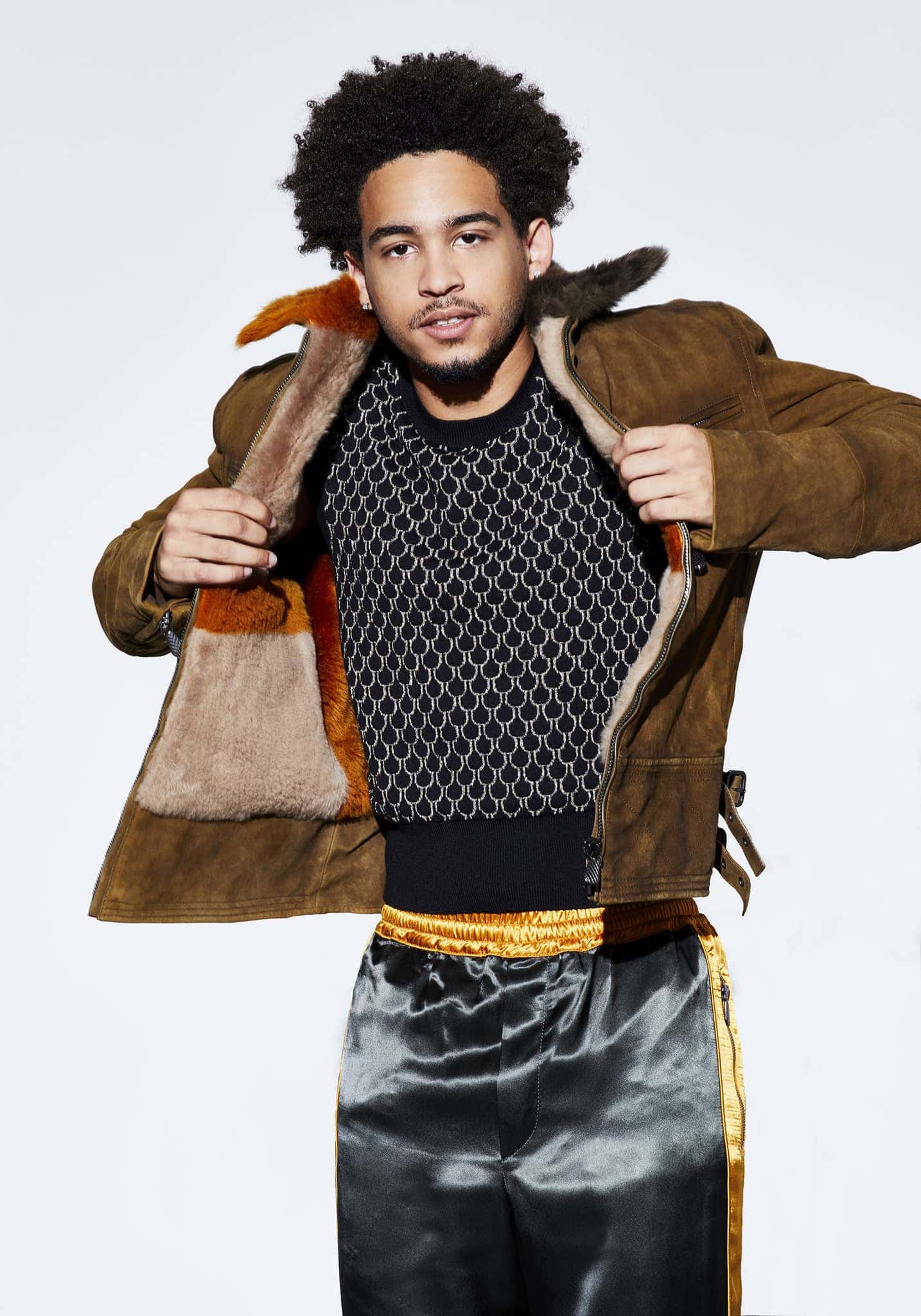 Jacket Pant Bottega Veneta Sweater Dries Van Noten 
Imagine being 22-years-old and bookending the year with two major films of completely different genres all while looking good in everything you wear and oh by the way being delightful to talk to? Meet Jorge Lendeborg Jr. He played Nick in Love, Simon at the beginning of 2018 and is closing out the year as Memo in Marvel's latest Transformers installment, Bumblebee. I caught up with the Dominican Republic born, Miami raised actor during his shoot for At Large magazine to talk about how he came to acting, alien robots, and the right way to ditch class.
At the age of 14, Jorge Lendeborg Jr. was an alto sax player. But making the adjustment from Junior High School concert band to High School marching band wasn't for him. He wanted something with more finesse. So, one day when the band teacher didn't show up and half of the kids were turfed to drama class, Lendeborg got a taste of stage combat and knew he was home. "There would be time that I had another class, and I would just kind of go to drama instead. And the teacher would be like, "Jorge, you've got to go to class." And I would be like, "Come on, for real?"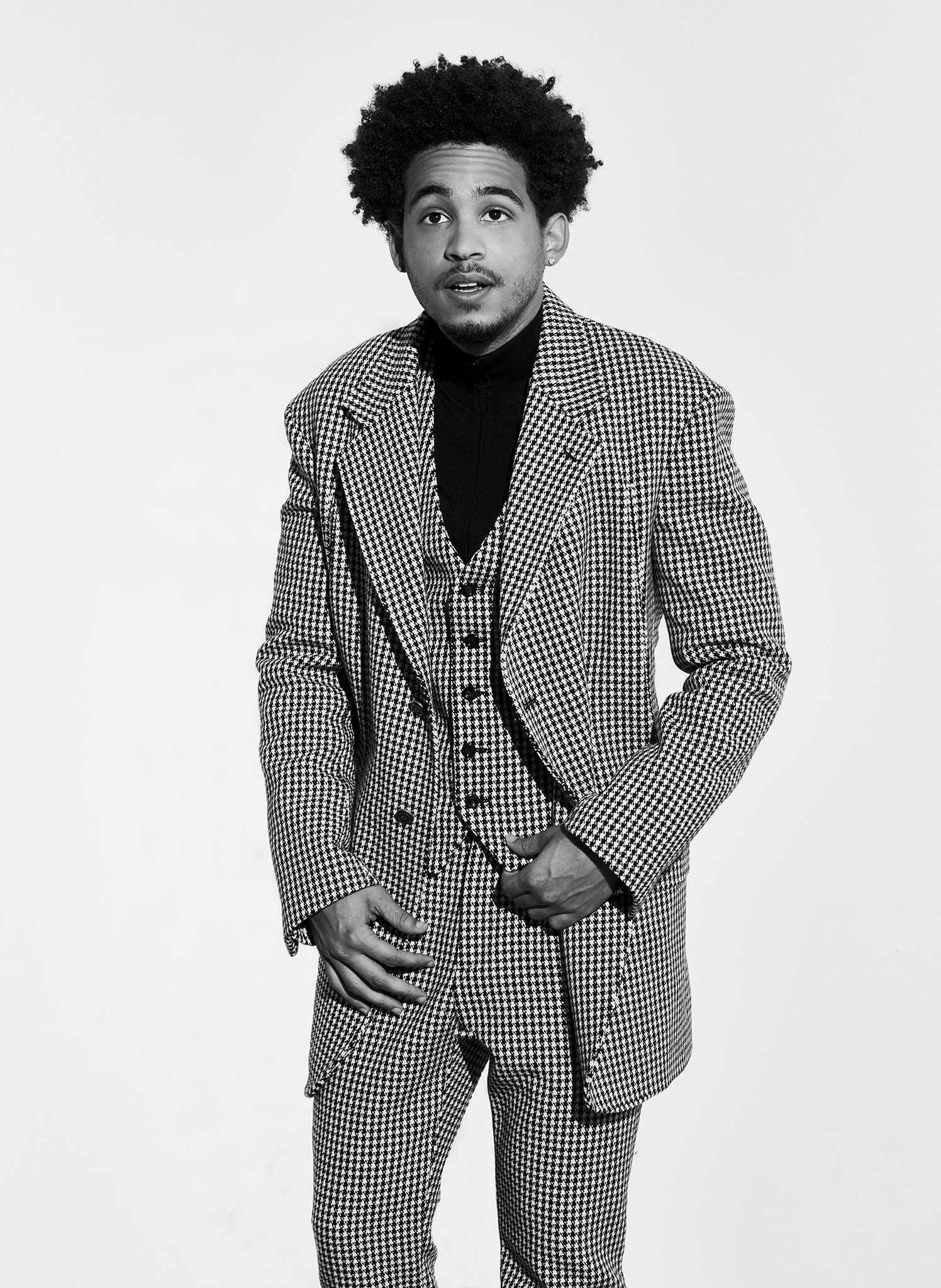 Blazer, vest and pant Gucci Sweater Valentino
For real, Jorge kind of took over the drama department and the instructor let him teach some of the time. Hooked, he convinced his immigrant parents to let him give acting a go in Los Angeles after graduation. His mom had college first in mind. Jorge Sr. said, "Go ahead, go and do it, people go to college and they pay all this [money].  You have four years. At the end, if you haven't had a job anywhere [go back to school]."
"I got very lucky that things happened pretty early for me," Jorge reflects. "I moved at 18, got an agent, and I started auditioning once a month."
Jorge and his father shared a bond over films like Goodfellas, which his dad let him watch when he was nine. The two of them would go to the video store every weekend and rent bootleg films. "My dad is kind of a bigger guy, so we never played basketball or catch or anything like that. But we'd go to the video store, and we'd catch five bootlegs for like $12.  [Goodfellas] was really striking to me. It showed me a lot of myself. It showed me a guy from a different … socioeconomic place still having a dream. It was the first time I saw a dreamer in the way that I related. You know, people have Spielberg or ET or whatever, but I liked the nature of these people. They were more real."
So, it's Memo and Charlie and space robots. And John Cena.
I asked Jorge about directors he wants to work with. "Off the top: Alejandro Gomez and Scorsese," he said without a moment's thought. Which brought me to my next question. I had to ask about his favorite movie of the moment, Creed. "My friend [Ryan Coogler] directed it, and when I saw the trailer I was crying. It was so dope. I loved what it's talking about. I like people who come from nothing. That's what I liked about Goodfellas. I liked how you can infer whatever you want from the images. Film language is the strongest thing."
Jorge wishes that his family lived closer to him in L.A. Besides having a great relationship with his dad, he said, "My mom is really nice. She used to call me pretty—but she did it in Spanish. You're amazing. You're great. You're a star, no matter what."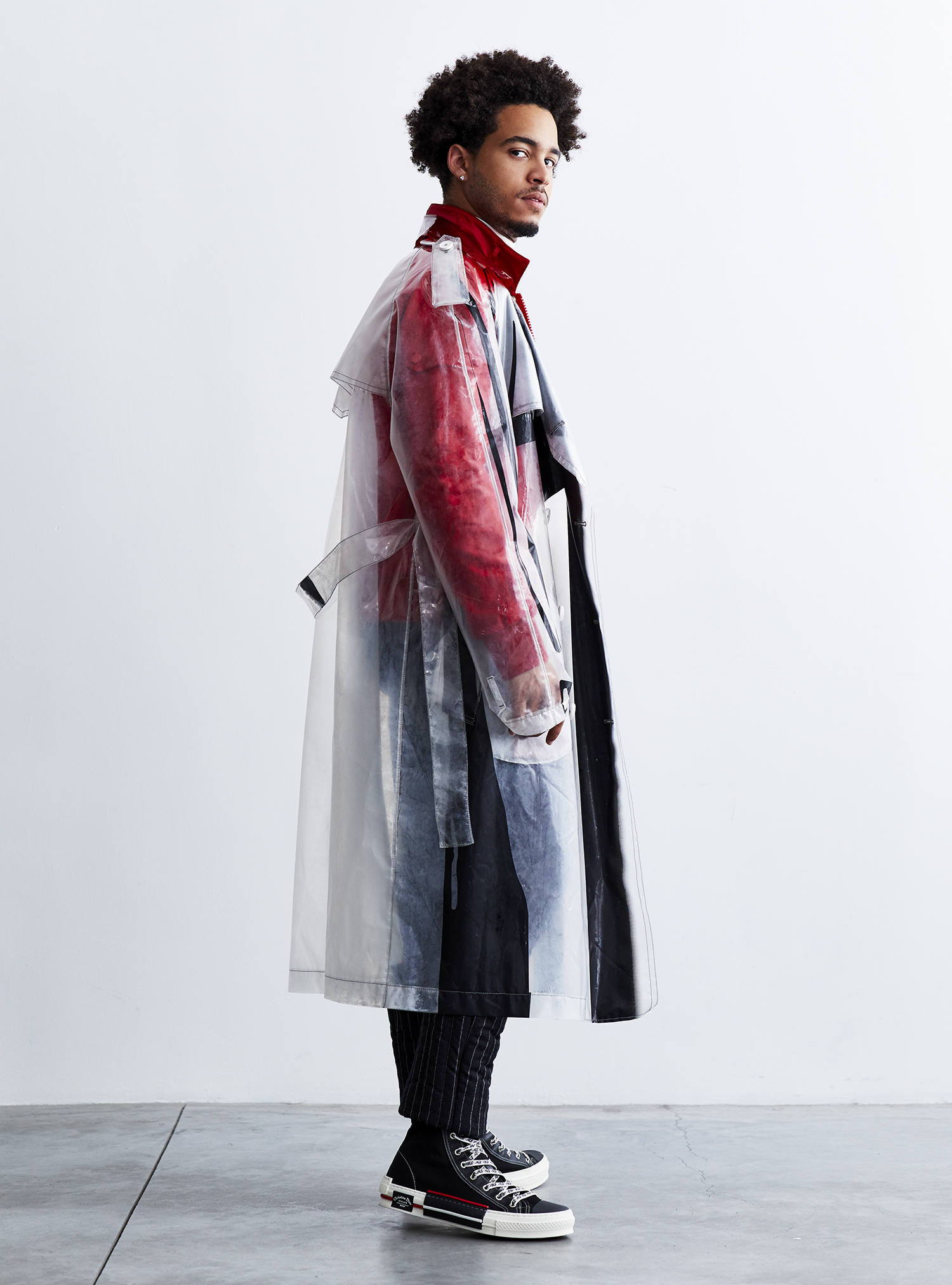 Trench coat and under coat Maison Margiela Sweater Alexander Wang Pant Thom Browne Shoes  Dior Homme 
Jorge credits his father for his self-confidence and for not being afraid to meet new acting challenges. "My dad always just let me try whatever I wanted. I played a little bit of drums, played guitar and saxophone, tried all that stuff." When it came to playing Memo in BumbleBee, he again circled back to the personal.
"Memo moves into the neighborhood right before the movie starts, in 1987, and meets Hailee Steinfeld's character, Charlie (which, funny enough, is the nickname of a girlfriend I had, and really liked, right before I got the movie). So, Memo moves in and thinks Charlie's cool, and he finds the courage to try and ask to hang out with her. And she's dealing with some crazy outer space shit, like BumbleBee. So, Memo tags along and [inadvertently] finds out about them. Then this whole world of adventure opens up, with Decepticons and stuff. They come through and Memo is part of the secret. So, it's Memo and Charlie and space robots. And John Cena."
So much about acting is in reacting, and I thought Jorge's performance as Nick in Love Simon brought just the right level of discomfort to the coming-of-age story. But he had Nick Robinson as a castmate. I wondered what it was like having to react to Bumblebee's CGI.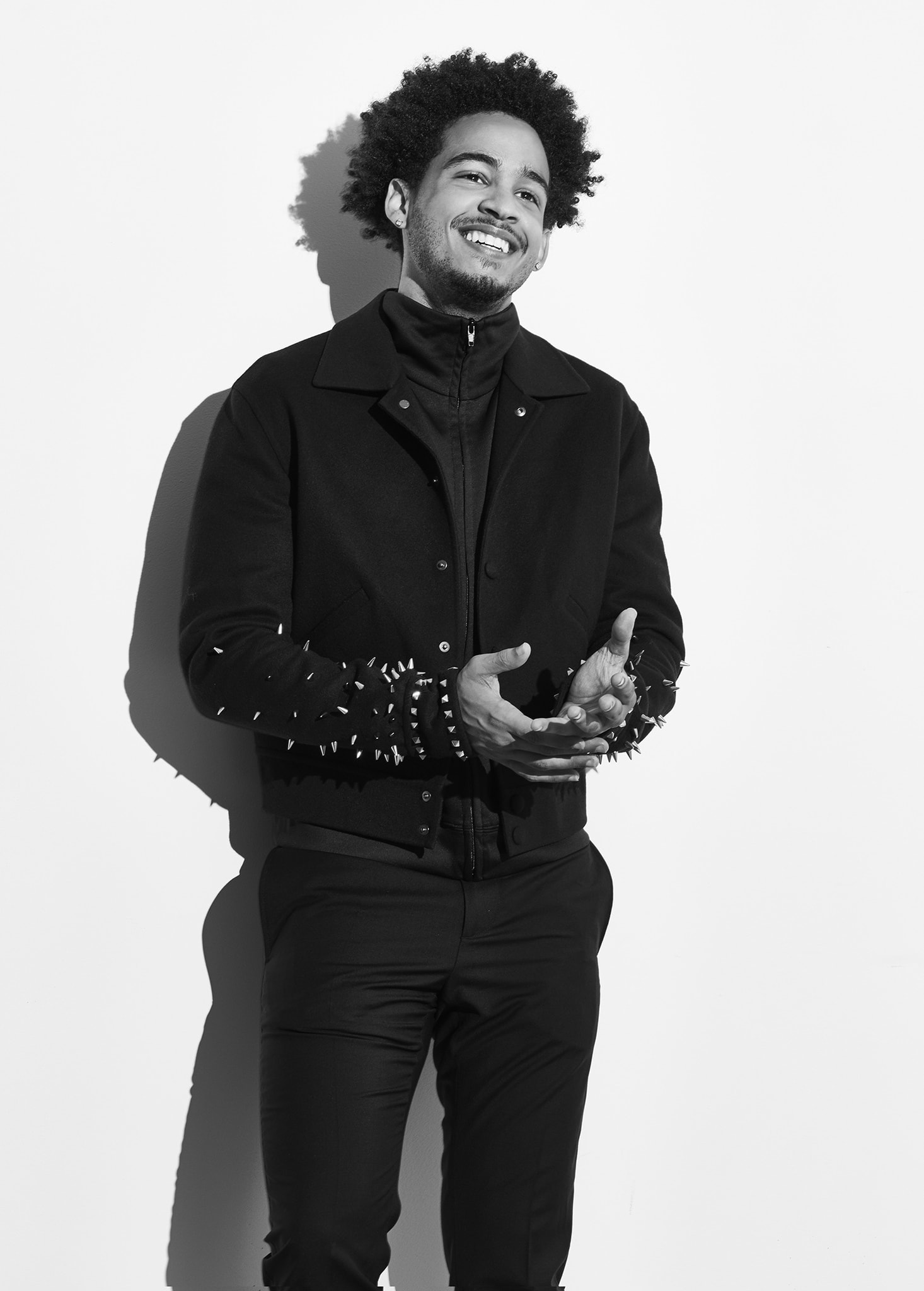 Full look Valentino
"The toughest parts about CGI things, if that thing is moving … I always feel like I want to match my eye line with them. I want to be able to track them accordingly. Some people want to move like this, or like that. I feel like more actors should maybe talk about what they're doing. No one ever says that. No one ever goes, "Oh, just do this."
I thought, yeah, that's the hard part about becoming an adult. No one ever goes, "Oh, just do this."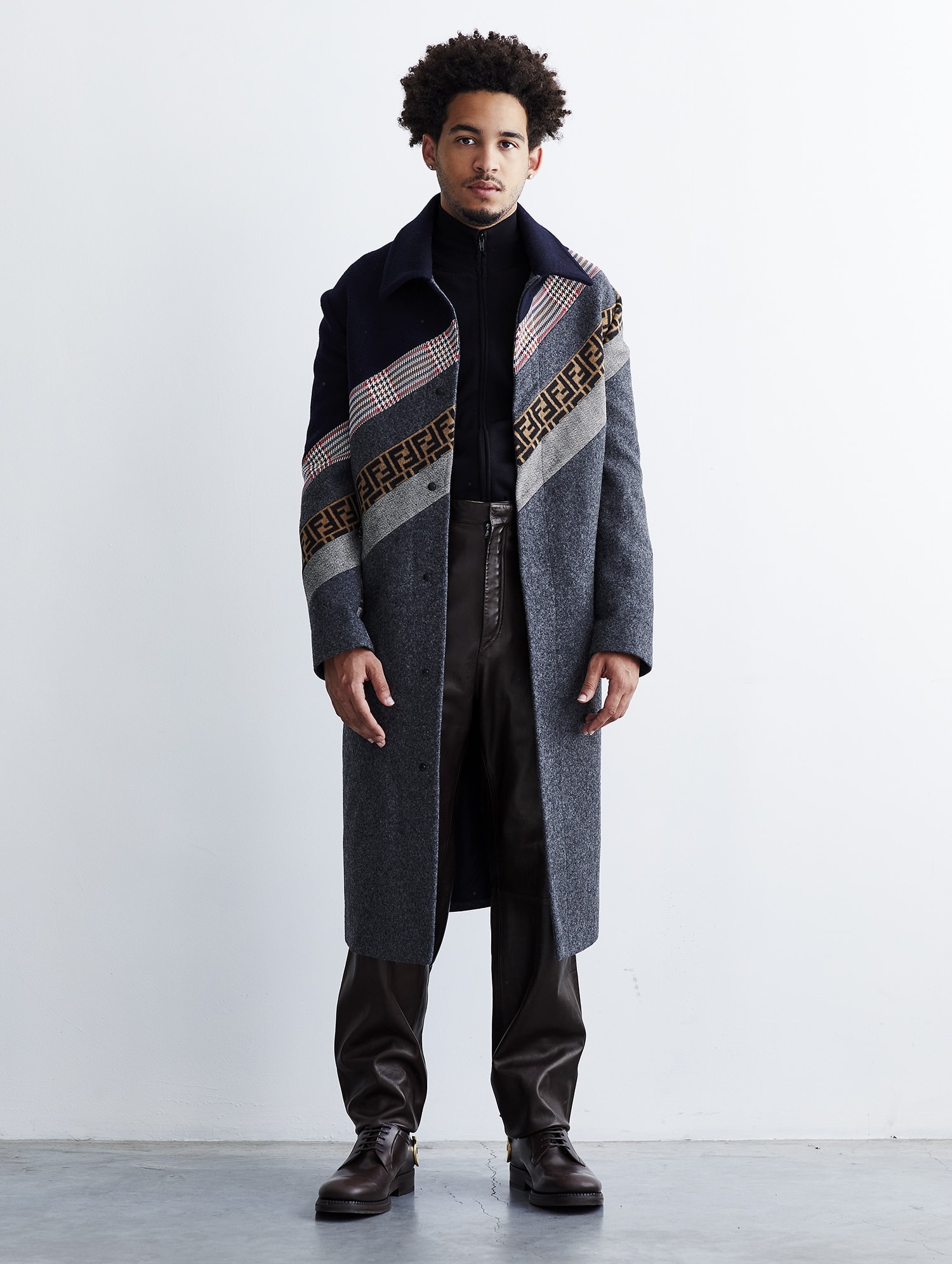 Coat Fendi Sweater Valentino Pant and shoes Salvatore  Ferragamo
Stylist assistant Kirsten McGovern Grooming by Jessica Ortiz
BumbleBee opens December 21, 2018
Special thanks to Maria Candida @ Imprint PR